By Ilana DeBare
The San Francisco Airport Marriott has had some unusual guests for the past two springs — families of Barn Owls.
In spring 2012, a Marriott guest discovered a pair of Barn Owls nesting in the recessed ledge outside an 11th-floor hotel room. The pair successfully raised four fledglings.
In spring 2013, a pair returned to that same ledge and raised another three babies. Then the hotel discovered a second pair with another three nestlings on the floor below!
The Marriott was more than tolerant of the owls – it made them part of the hotel family. Cleaning crews monitored the owlets' progress when they cleaned the rooms; other staff posted photos of the owls around the hotel and on Facebook; some guests made a point of requesting rooms with an owl view. (Because the hotel windows don't open, there was no risk of disturbing the nests.)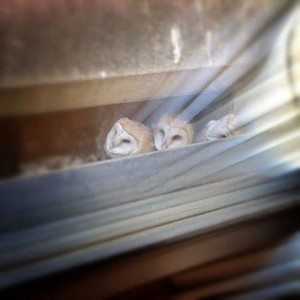 Now Golden Gate Bird Alliance is pitching in too. We worked with local Eagle Scout Matthew Turney on building  a Barn Owl box to encourage future nesting at the hotel. This week, Marriott Director of Finance James Last stopped by our office to pick up the finished box.
Delivering bird boxes isn't normally part of a finance director's job description. But he was totally into it.
"It's been fun watching the owls grow up," he said. "We're all wondering if the families will keep multiplying more and more."
We're hoping they do! And we look forward to seeing more owlets next spring… either on the ledges or in the new nest box.
Big thanks to Matthew and his family for building the owl box. And big thanks to the Marriott staff for being so welcoming to these amazing creatures.
You can read more about the SF Marriott Barn Owls in the San Jose Mercury News, the Marriott's Facebook page, or in this blog post by the National Wildlife Federation. The NWF shot a video of one group of nestlings over the summer: