---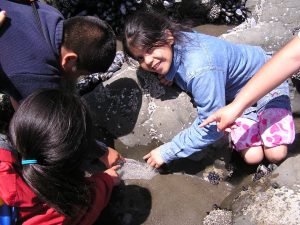 Eco-Education is Golden Gate Bird Alliance's award-winning youth program. Our educators and volunteers bring birds, bugs, and ecosystems to life through in-class lessons and field trips around the Bay Area. By bringing students into nature and fostering exploration through focused learning objectives, we are cultivating the next generation of nature-lovers and advocates.
The core Eco-Education program is focused on 3rd-5th graders and provides 4 in-class visits and 3 field trips. The curriculum follows the water-cycle through the watershed, visiting a marsh, creek, and beach. Students are encouraged to think about how animals and plants interact and how humans play a role in the ecosystem. 
We prioritize Title 1 schools where the majority of students and their families are low income, and provide the program free of charge to those schools. The communities we serve are majority students and families of color, historically left out of nature spaces and environmentalism. 
Golden Gate Bird Alliance and our Eco-Education program can be offered to community partners and other organizations outside of our regular programming. If you are interested in the full Eco-Ed program, learning more about shorter tailored programs, or volunteering with Eco-Ed please contact our Manager for Education and Outreach: Clayton Anderson at canderson@goldengatebirdalliance.org. Phone: 510-843-2222  Ext. 1005
Awards:
Governor's Environmental and Economic Leadership Award for Children's Environmental Education-2008 (GEELA)
Outstanding Service Award from the North American Association for Environmental Education (NAAEE)
Alameda County Watershed Confluence Youth Program Award – 2018
Our Current Funders:
The Flora Family Foundation
The East Bay Community Foundation
California Coastal Commission Whale Tail Grant