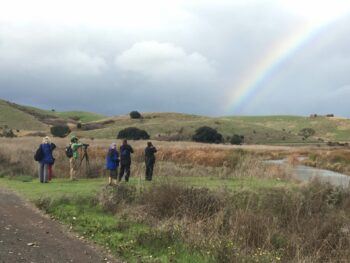 Golden Gate Bird Alliance offers more than 150 field trips annually for birders of all levels. Our trips explore local areas from Golden Gate Park to the East Bay shoreline and hills, as well as such wildlife-rich destinations as California's Central Valley and the Sierra Nevada.
Local trips are generally free except for any park entrance fees. Advance registration is required. For most trips, registration will open on the 3rd Tuesday of the month prior at 1pm.  We are currently limiting the size of most trips to allow for social distancing; no drop-ins, please. 
For the few fee based trips we offer our CANCELLATION POLICY is as follows: 
If you need to cancel, we will refund your registration fee if :
(1) You withdraw more than two weeks before the start of the class, AND(2) We can fill your spot with someone from the class waiting list.
Please note that there will be a $5 cancellation fee to cover the credit card transaction costs for your sign-up and cancellation. 
Golden Gate Bird Alliance Field Trips are sponsored by JoinBIRFA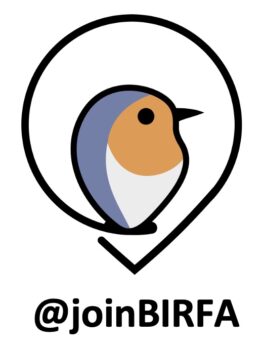 We also sponsor trips to other parts of the U.S. and to international destinations, including Latin America, Africa, and Australia.  See our Travel with GGBA page for upcoming travel opportunities.at
See the field trip list HERE for information on upcoming trips.
August field trips will be posted and opened on Tuesday, July 18 at 1pm. Once a trip fills to capacity it will marked as closed. Field trips open on the 3rd Tuesday of each month preceding.
About our Field Trips
Our trips welcome birders of all skill levels, especially beginning birders. We encourage experienced birders to help the newcomers in the group. And beginners: Don't be shy! We warmly invite you to identify yourself at the start of the walk so the leaders and more experienced birders can help you.
We welcome participants of all abilities. However, not all field trips will necessarily be accessible to an individual's particular needs. We have included information about terrain and length where known but we advise you contact the trip leader in advance to discuss your access needs.
Note that for many trips, it will also be possible to turn back early, making a trip shorter.  Contact your trip leader with any questions.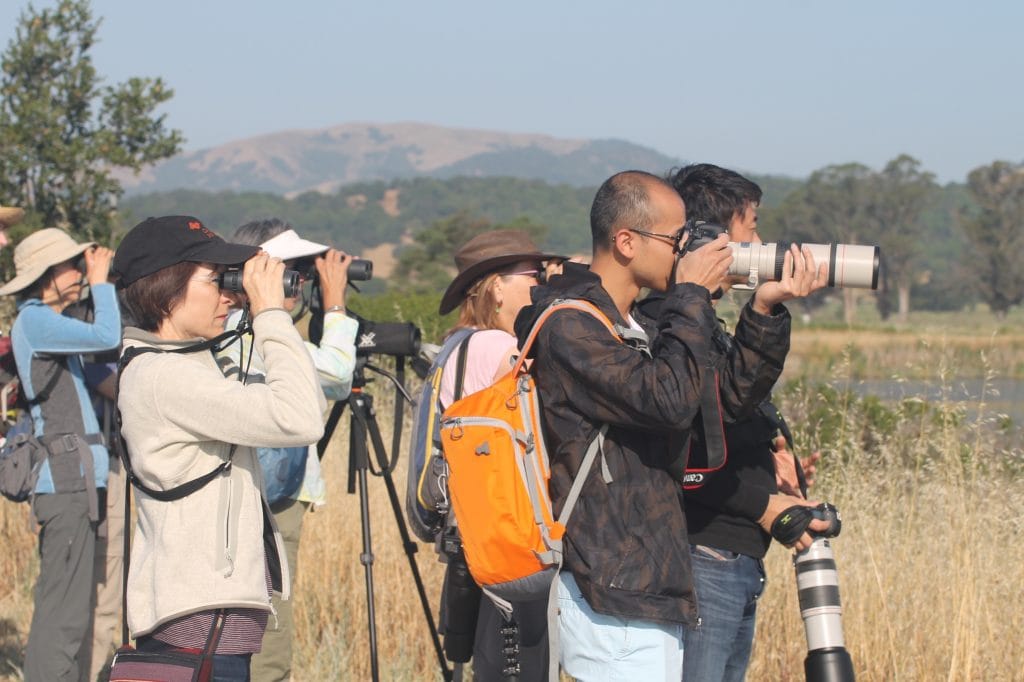 Cancellations: Heavy rain almost always cancels trips. If you're uncertain about whether a trip has been cancelled, please contact the trip leader.
We invite your feedback on any aspect of our trips (leadership, venues, schedules). Send an email to Field Trip Coordinator Christina Tarr at fieldtrips@goldengatebirdalliance.org. For questions about individual trips, contact the leaders. If you cannot reach a leader, contact our office at 510.843.2222 or email fieldtrips@goldengatebirdalliance.org.
GGBA chat group
Join our online chat group to get updates about field trips and share general birding/conservation discussions. Membership is free: visit groups.io/g/GGBA-Chat and click on the "subscribe" link
Pelagic trips, including the Farallones
We are not affiliated with these birding-by-boat trips but list them for your convenience. Please contact them directly for details, cost, and reservations.
Alvaro's Adventures
Web: alvarosadventures.com
Email: alvaro@alvarosadventures.com
Alvaro Jaramillo leads outstanding trips and brings experienced sea-birders along as spotters. His trips leave from a variety of harbors, including Monterey (with the submarine canyon in Monterey Bay). The Farallon Islands trips leave from Pillar Point Harbor in Half Moon Bay.
Oceanic Society
Web: oceanicsociety.org
They offer whale watching trips that include the Farallones. For these, look at the biographical sketches of the guides and ask which trips have guides who are enthusiastic about birds as well as marine mammals. These trips leave from Sausalito and San Francisco.  Follow the links for whale watching and then Farallones. Web site has phone numbers.
Grebe Courtship
Web: eyesofthewild.com
Email: faithrig@gmail.com
Watch the courtship rituals of the Western and Clarke's Grebe from a comfortable 10-seat boat on Clear Lake.  The best time to witness the grebe courtship displays is in late spring and early summer. 
Seeking New Field Trip Leaders
If you're a birder with favorite spots you'd like to share, consider joining our cadre of volunteer field trip leaders. It might sound a little scary ("Who, me? I can't lead a field trip!") but it's really fun and quite easy.
We can provide training walks and mentors, help you write trip descriptions, and find background resources on the birding spots you love. You don't need to be able to identify every bird: You'll be successful by organizing an enjoyable walk at an interesting location. 
If you're interested (even if you're maybe a little interested, but also a little nervous) contact Maureen Lahiff, Adult Education Committee chair, at 510.484.6529, MLahiff@aol.com or Field Trip Coordinator, Chris Tarr at fieldtrips@goldengatebirdalliance.org 
[tribe_events view="month" category="field-trips" tribe-bar="false" title="false"]
Birding Ethics Statement
Golden Gate Bird Alliance adheres to the Code of Birding Ethics of the American Birding Association and to the National Audubon Society's Guide to Ethical Bird Photography.
Please follow these codes whether you are birding by yourself or attending a GGBA or other birding event.
The golden rule of birding: When in doubt, first consider the welfare of the bird.
Thanks for being a responsible birder!