By Maureen Lahiff
My first adventure with Golden Gate Bird Alliance's birding travel program was the 2016 Memorial Day Weekend trip in southern Oregon led by Harry Fuller. A longtime Bay Area birder, Harry moved to Oregon when he retired. Fortunately for birders, he didn't retire from birding and sharing his knowledge of birds with others. I'd heard him at the GGBA Speaker Series a couple of times in the past few years, including a talk on Great Gray Owls, a species on which he has also written a book.
Detailed accounts of the birds we saw on May 28, 29, and 30 are on Harry's blog in the May archive.
As a solo traveler, I wondered a bit what it would be like. It was a very convivial group, which was a good thing since we spent three long, wonderful days together in a van! People were good about sharing the non-window seats, while being being sensitive to the needs of those with some maneuverability/mobility restrictions. There were two couples and one birder accompanied by a non-birder spouse who joined us for a few dinners, while the rest were solo travelers like me.
For this trip, we made our travel and lodging arrangements individually. Harry provided some tips on places to stay. I'm a fan of hostels, so I was pleased to find one in the heart of Ashland, a lovely old house build in 1915, with wonderful shared rooms and a great kitchen and common areas. One participant flew to Medford, which is about 15 miles away; everyone else drove up the 350 miles on I-80 and I-5. A few of us stopped at the Sacramento National Wildlife Refuge on the way up. The drive up I-5 provided a great introduction to the habitat and dramatic views of Mount Shasta, which was our compass for the next three days.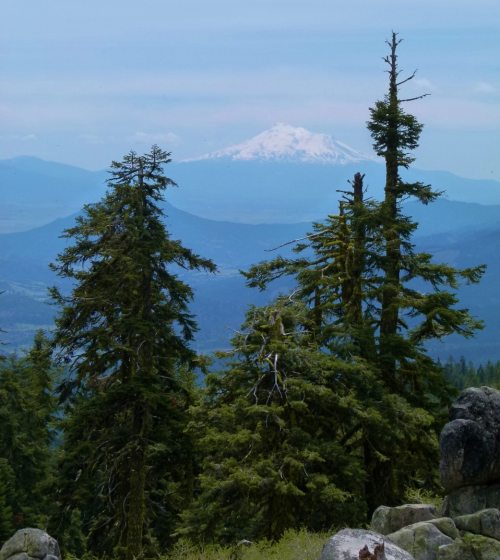 Traveling together by van was one of the great things about this trip. We started at 7 a.m. every morning and got back to our rendezvous place around 5 p.m. Harry was accommodating about bathroom stops and did his best with a Sunday afternoon request for caffeine. We covered a lot of miles every day, and I really appreciated not having to drive and caravan. We took some short walks, but a lot of the birding was fairly close to our stops.
What was it like in southern Oregon on Memorial Day weekend? In a word, empty. With the exception of a stop near a boat launch, we had places pretty much to ourselves and the birds.
Harry was a great guide, providing a lot of background information in an easygoing conversational style and very responsive to our questions. Having a trip leader who's invested time in getting to know the habitat and the birds really pays off, but some of the high points of the trip were pure gift.
I've been privileged to bird in Yosemite and the Eastern Sierra several times, so there were no "life birds" for me on this trip. But there were a lot of really good looks at some of my favorite mountain birds. Any day on which the group seems a bit blasé when a soaring raptor turns out to be another Bald Eagle is a very good day indeed. There were life birds for a number of the trip participants; it was fun to share their excitement and delight.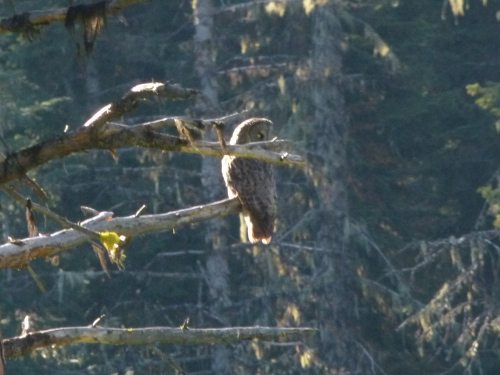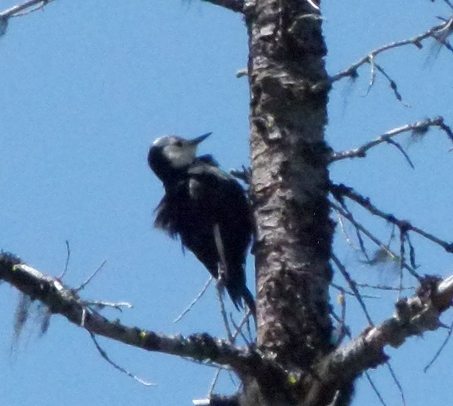 Our first day was in the Cascades, a new (in geologic time) and still active volcano range. Mount Lassen erupted twice in the first decades of the 20th century, and Mount St. Helens blew its top in 1980. Yes, one of our target birds was the Great Gray Owl. A small meadow with forest edges, perfect Great Grey Owl habitat, was our first destination on Saturday morning. The windy night had made hunting by ear harder, so the owl was still out hunting for himself, his mate, and his nestlings. He was perched low, as Great Grays do, and silhouetted in the sunlight. We got to see him fly three times in pursuit of prey, but never observed him catch anything.
Other highlights that day included a White-headed Woodpecker, and then two of them, and then copulation. We also had a pair of Sandhill Cranes; on close inspection, we saw their two chicks. It was also a treat to see Yellow-rumped Warblers in full breeding plumage.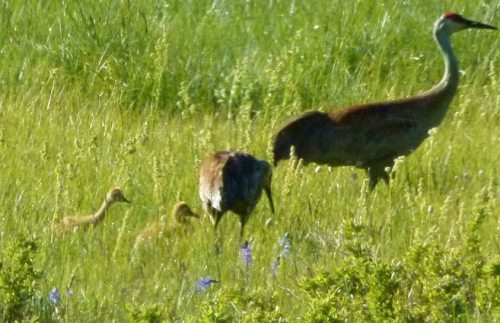 On our second day, we headed for Mount Ashland in the Siskiyous, a much older, granitic range. Harry really wanted to get us good looks at Mountain Bluebirds and Green-tailed Towhees. We succeeded at seeing both of these birds. We also saw a Bald Eagle perched in a tree at the top, joined by another, and then another copulation. Avian productivity!
Our third day was in the Klamath Basin. We were near water at a number of stops. Some of us saw grebes dance briefly at our lunch stop at a park in Klamath Falls, but it was a bit late in the season for lots of this activity. This was the raptor day. We were delighted by good looks at an Osprey, unfortunately dragging a long fishing line from one of his legs. (It did not seem greatly hindered by it at the moment. Harry called it in to the Oregon Department of Fish and Wildlife.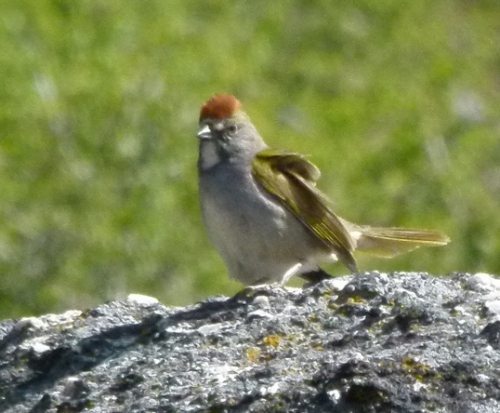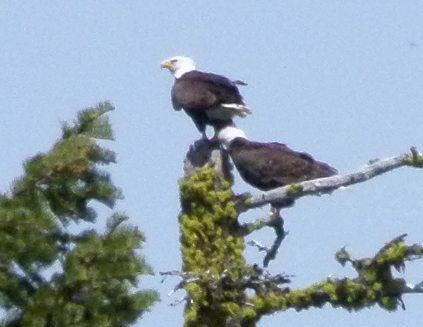 In addition to over a dozen Bald Eagles, we had a brief fly-by of two Prairie Falcons interacting with each other and good looks at both a Swanson's Hawk and an usually dark Ferruginous Hawk. We saw a lot of Red-tailed Hawks, and got a brief glimpse of a Golden Eagle. A local birder who knew Harry stopped to talk with him and told us that we had driven right by some splendid deciduous trees in which two branchling Great-horned Owls were being watched over by an adult.
I came away from this trip with a number of questions about the ethics of using recorded bird songs and calls: where, how loud, and how long to play them. Playing bird songs definitely attracts male birds during the breeding season. But every playing event costs the birds energy. On this trip, the birds for which we played were not likely to be subjected to repeated recordings by birders. Some birds responded only after what seemed to me like a long time. When he did respond, the Green-tailed Towhee male was really pissed off. He not only sang vigorously, he turned around, raised his tail and fanned it like a peacock. He did this from several prominent perches. I benefited from this, and I am grateful to the birds, but it does give me pause.
To end on a lighter note, we had dinner on our own the first night, but on Sunday and Monday nights we met at the Caldera Brew Pub to go over our checklists. Some stayed for dinner; they had really great food as well as beer. (Oregon is a major hops-growing region.)
I heartily recommend this trip and Golden Gate Bird Alliance's travel program in general.
The $299 cost was very reasonable. It included the van rental, three long, full days of expert guiding, our meet-up dinner on Friday night, and lunch at the Green Springs Lodge on Saturday. When you think about trip costs, plan on tipping your guide, too.
---
There are still two spaces remaining on GGBA's upcoming birding trip to South Africa in October 2016, which will be led by Rockjumper Tours, a top-notch guide firm based in that country. See our web site for info. The 2017 season of trips (including trips to be led by Harry Fuller) will be posted on the GGBA website in August. Because the trips are limited to small groups, sign up early if one strikes your fancy.
---
Maureen Lahiff grew up in the Midwest, where her interest in birds was first sparked on Girl Scout outings. Since she came to California in 1986, she's fallen in love with the mountains and learning about mountain birds, in Yosemite, the Eastern Sierra, and now in Oregon.