Editor's Note: Golden Gate Bird Alliance is sponsoring a birding tour to Ecuador in fall 2016. Here's an account of one member's visit to Ecuador this winter.
By Krista Jordan
In January, I traveled to Ecuador for a birding adventure with my friends Jack and Farley Connelly. Our small party spent the trip with one guide, Ecuadorian naturalist and guide Miguel Hipo. Over nine days, we traveled several hundred kilometers, stayed in three lodges, and ranged from altitudes of 2,300 to 11,000 feet. I wish I'd tracked miles walked, but I can guess we averaged five or six miles each day. We slogged through mud, waited in the rain, gasped for breath at high elevation, braved large creepy crawlies, and even took a night walk three-quarters of a mile through the rain forest. We asked for the most rigorous path in order to see the most species. We got what we asked for.
Was it worth it? Emphatically, yes! I wish I could do it all over again. We saw 293 species in that time, each one magical. Below is a log of our journey:
Farley and I flew from SFO to Panama City and eventually into Quito, where Jack was waiting for us. It was my first time in South America and I was amazed at the terrain. Quito is located in the northern highlands of Ecuador and, at around 9,340 feet, holds the title of the highest capital city in the world. It is flanked by volcanoes, some snow-capped and visible on a clear day. The city is 1,600 square miles with a population of 2.2 million. We drove along the edges — deep, dry canyons hugging the walls of the foothills. Everything was so different, with sparse vegetation and desert-like terrain. We passed through suburbs and barrios, eventually leaving the paved roads for a steep muddy trail leading up to our lodge – an 18th century Spanish hacienda located in the highland rainforest at nearly 11,000 feet!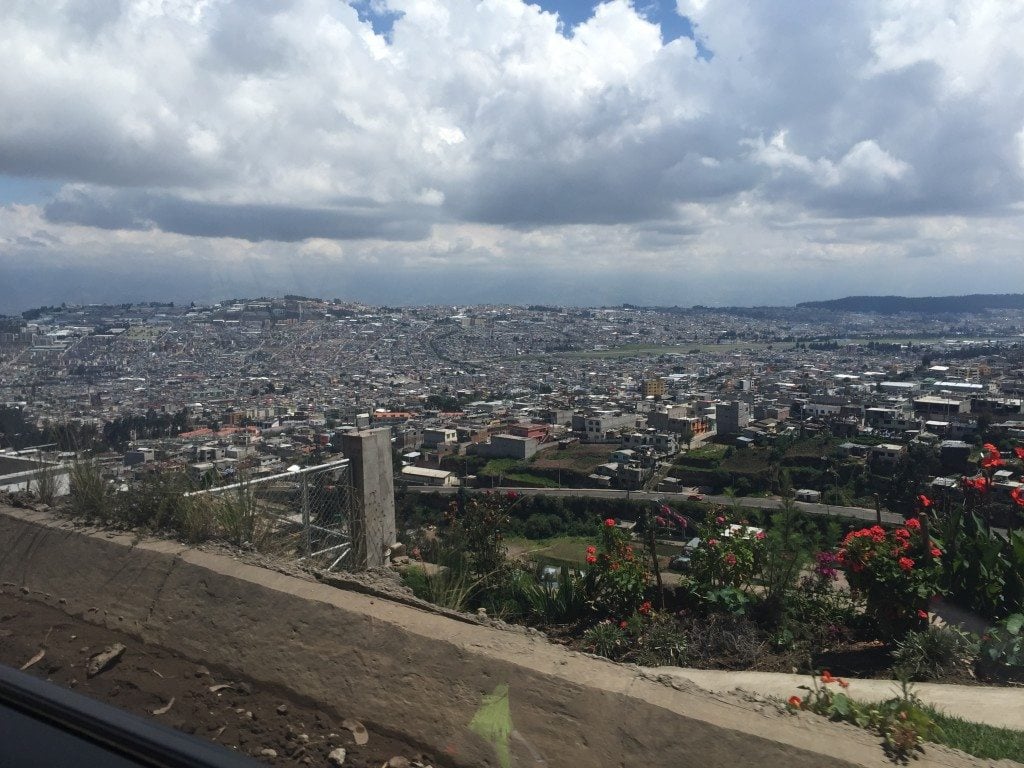 The San Jorge Quito Eco-Lodge sits on 230 acres of untouched, protected land. When we arrived, it looked like paradise. Beautiful grounds lined with gardens, all stacked with hummingbird feeders. We immediately pulled out our binoculars and field guides and forgot how hungry and tired we were from the travel. But eventually we sat down for lunch and watched Sparkling Violetears and Shining Sunbeams dive bomb one another, sometimes really close to our heads. As the trip went on, the hummingbird names sounded more and more like My Little Ponies! We were also lucky to see the Swordbill Hummingbird – the only bird in the world with a longer beak than body length!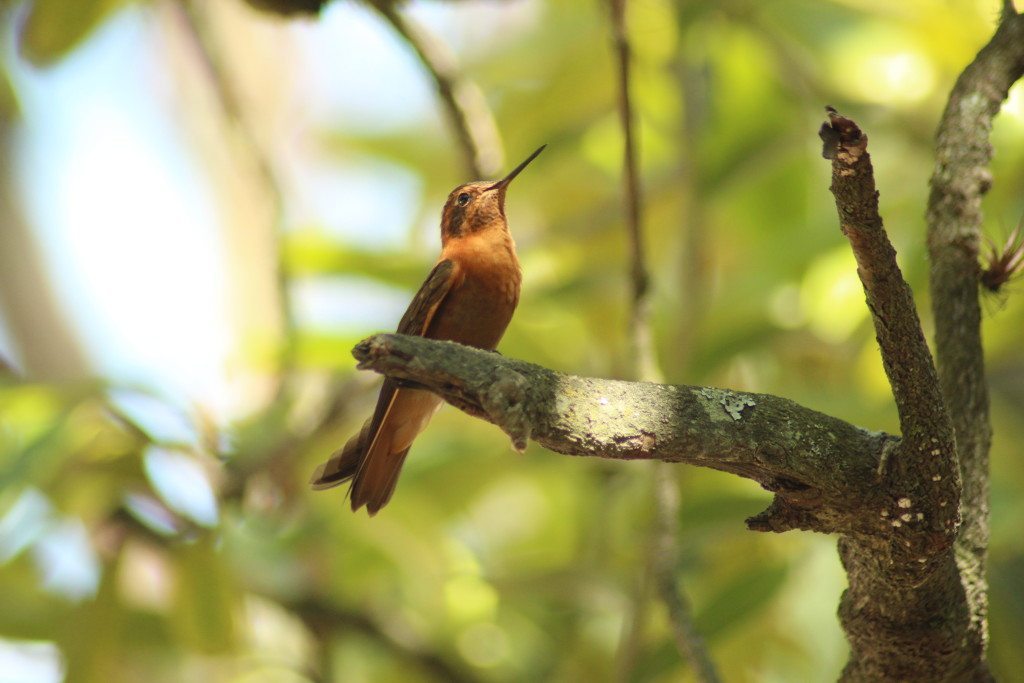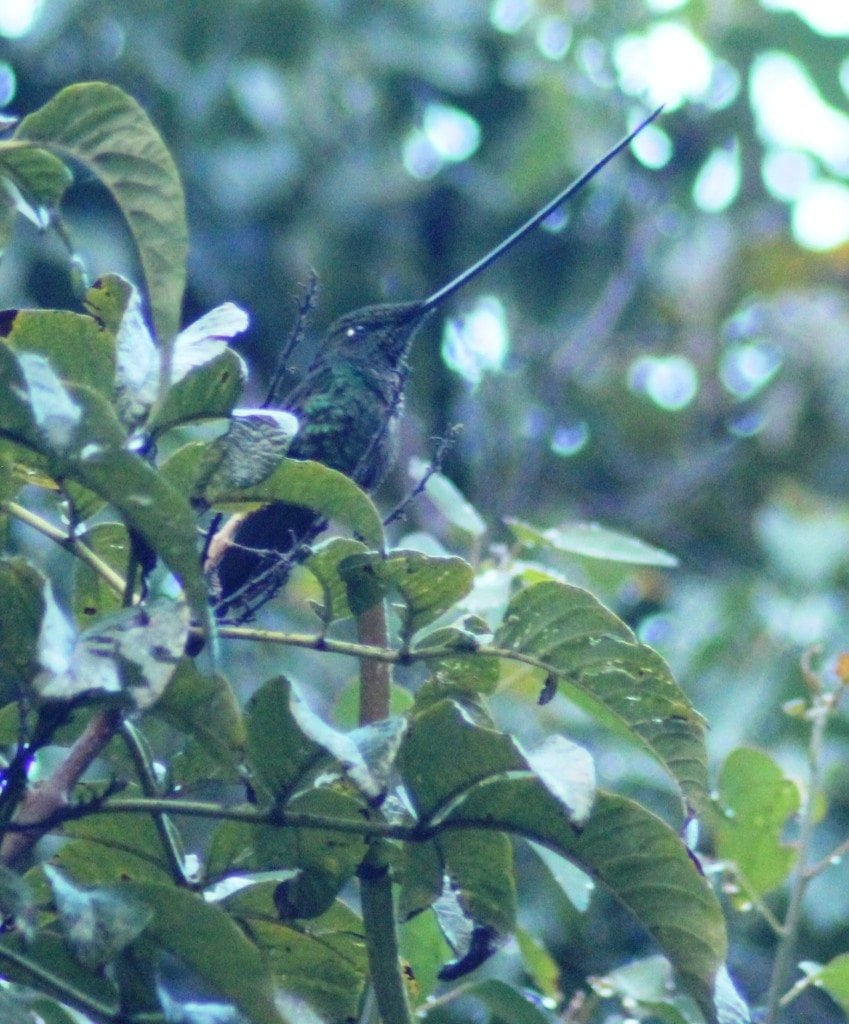 Our guide joined us for lunch and let us know the plan for the following day, which turned out to be the schedule for every day thereafter with little deviation:
Coffee and Snacks: 6:00 am
Birding: 6:30 – 8:30 am
Full Breakfast: 9:00 am
Birding: 10:00 am – 1:00 pm
Lunch: 1:00 pm
Birding: 2:00 pm – Sundown
Dinner: 7:00 pm
The next morning we ate and headed out for a six-mile round trip hike (almost straight up) into the foothills. Habitat transitioned from lush, green gardens to flat and spare eucalyptus groves and then dense highland rainforest.
We learned that eucalyptus was brought to Ecuador in the 19th century by President Garcia Moreno to stop soil erosion. In the eucalyptus trees, we saw Southern Yellow Grosbeaks feeding. As we continued, the trails narrowed and we found ourselves on the rim of a beautiful green valley with foliage so dense that at times we could not see birds until we came into a clearing. At this elevation and setting, our guide was able to call in Scarlet-Bellied Mountain Tanagers and we caught a glimpse of a Purple-Backed Thornbill (rare for that area). On the way down the hillside, we saw a Tufted Tyrant which stayed in view for nearly ten minutes! We were too tired to hike back up the mountain after lunch. After all, it was the first full day and we didn't want to gas out. We had already seen 36 species including Black- and Green-Tailed Trainbearers, Blue-and-Yellow Tanagers, and a Red-Crested Cotinga.
After two nights at the Quito lodge, we drove the famous Yanacocha and Upper Nono-Mindo Roads, birding along the way until we reached Tandayapa Hummingbird Sanctuary, our second destination. The drive was an all-day affair – about eight hours, though it would only have taken two without stops to see every bird! We drove higher and higher into grassy green hills and then descended into brushy foothills through agricultural lands, eventually hugging one side of a steep and impressively forested valley. Following the route, we eventually crossed the Alambi River where locals were fishing and picnicking, then wound deep into the carved-out valleys of the Upper Mindo cloud forest.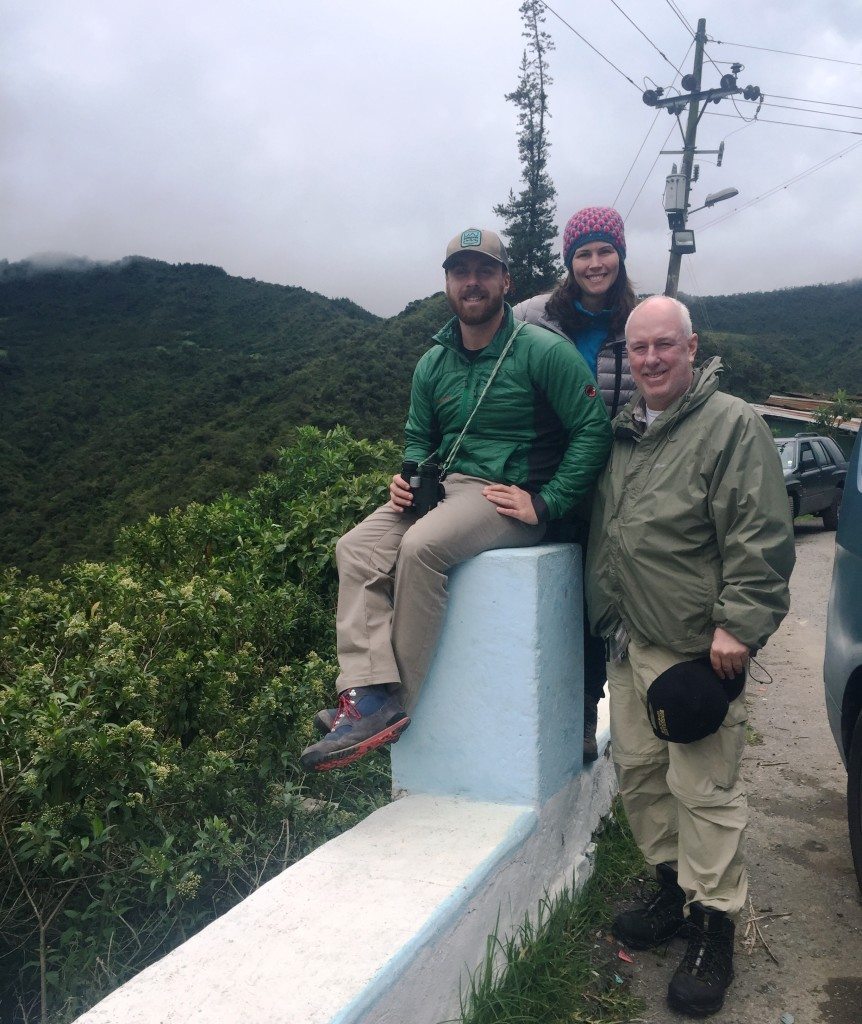 Tracing this journey "by bird" we spotted:
Two Andean Lapwings in a freshly tilled field.
An Ocellated Tapaculo foraging in bamboo thickets in high wet forest.
Brown-bellied Swallows flying above a deep valley as we stopped for coffee along the road.
A juvenile Carunculated Caracara eating worms in an open field.
A Hooded Mountain Tanager feeding, barely visible through dense fog.
Crossing the roaring Alambi River, we looked for White-Capped Dipper but did not see one. Just after the river crossing, we hit another bird hotspot! Our journey by car was punctuated this way. We wouldn't see or hear anything; then all of a sudden, it was like we stumbled into the Congress of Birds! We saw 22 species in twenty minutes at this stop including the stunning Beryl-Spangled Tanager, Cinnamon Flycatcher, and even some familiar faces including Black Phoebe and Red-Eyed Vireo.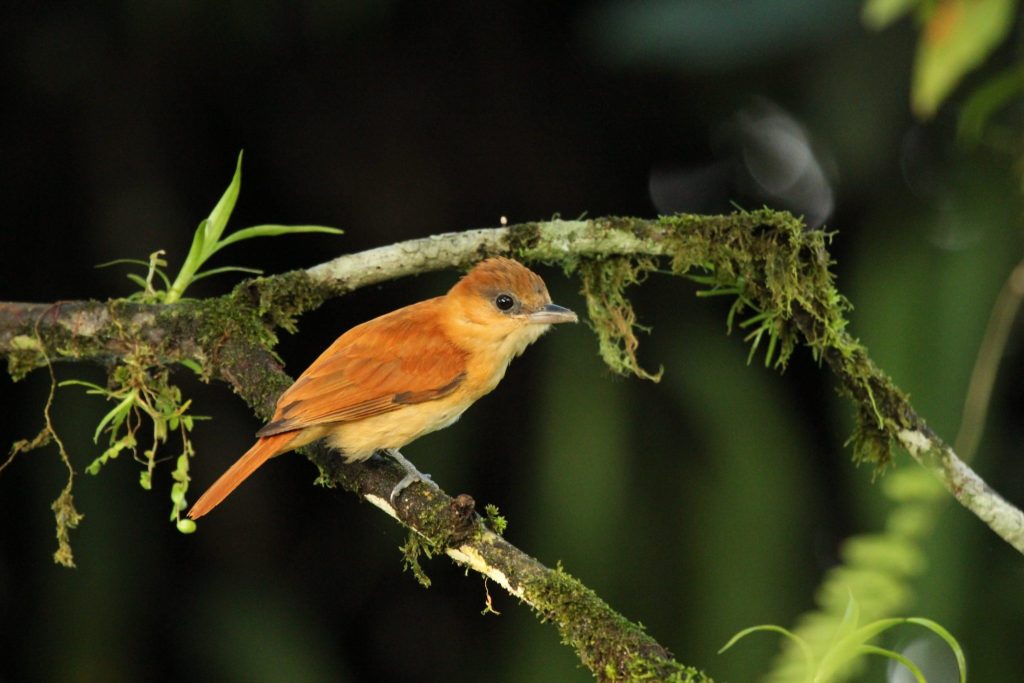 We continued on our journey up and onto a road with a high cliff on one side that then dropped into a deep valley on the other. We could still hear, but not see, the river. We also found a friend in the road — a five-foot giant earthworm. I had no idea they came in this size. (Shudder.)


We reached our lookout point and waited for the iconic Andean Cock-of-the-Rock. And waited. And waited. And waited some more. In the rain.
Fortunately, some friends showed up to feed on the fruits of the cecropia tree. One hint that I learned in Costa Rica: Cecropia bear fruit year-round and a lot of birds feed on them. While we were waiting, a Plate-Billed Mountain Toucan appeared as well as a Toucan Barbet! Our guide was still focused on Cocks-of-the-Rock, though. While we were waiting, I got into a debate with Jack and Farley (which I won). Plural for Cock-of-the-Rock is Cocks-of-the-Rock, not Cock-of-the-Rocks. There: Now you can impress your friends at cocktail parties, or win a thirty-minute discussion of the English language like I did!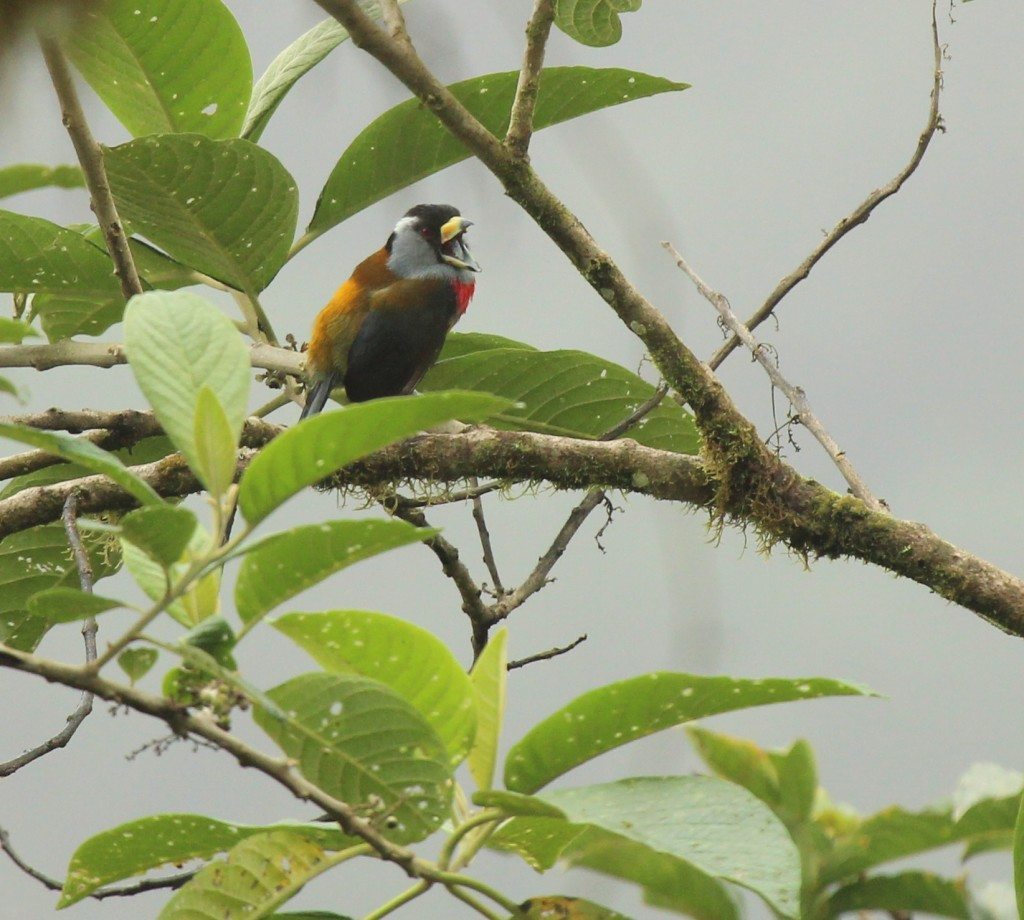 Finally, Miguel heard the call and there it was! A brilliant male. He was far away, across the valley but he was unmistakable. A female also appeared and then one other male. A Plumbeous Pigeon was perched nearby, possibly rolling its eyes at our excitement.
We reached our second destination, Tandayapa Eco-Lodge and Hummingbird Sanctuary, at nightfall. Nestled at 5,800 feet in a misty, wet, dreamy cloud forest, we weren't able to comprehend its beauty in the dark. We went to our rooms (so many bugs!) and got ready for dinner. I would say this trip was characterized by treacherous paths, including those at our lodging. The walk from our rooms to the open-air restaurant was like a mini Lombard Street… with no lights, slippery moss-lined steps and hand railings, and bugs of all sizes intermittently flying in one's face. This lodging was by far more rugged than the last. After a yummy dinner, I retired to my room but needed Farley to remove a purple and brown spotted praying mantis from my bedside lamp. I wasn't afraid of it; I was more afraid it would come say hello to my face while I was sleeping and I would accidentally crush it.
The next morning was a whole new world! The outdoor restaurant was lined with hummingbird feeders. At least seven different species were twenty feet away, feeding voraciously. This cast of characters included:
White-Necked Jacobin
Andean Emerald
Purple-Throated Woodstar
Rufous-Tailed Hummingbird
Fawn-Breasted Brilliant
Buff-Tailed Coronet
Booted Racket-Tail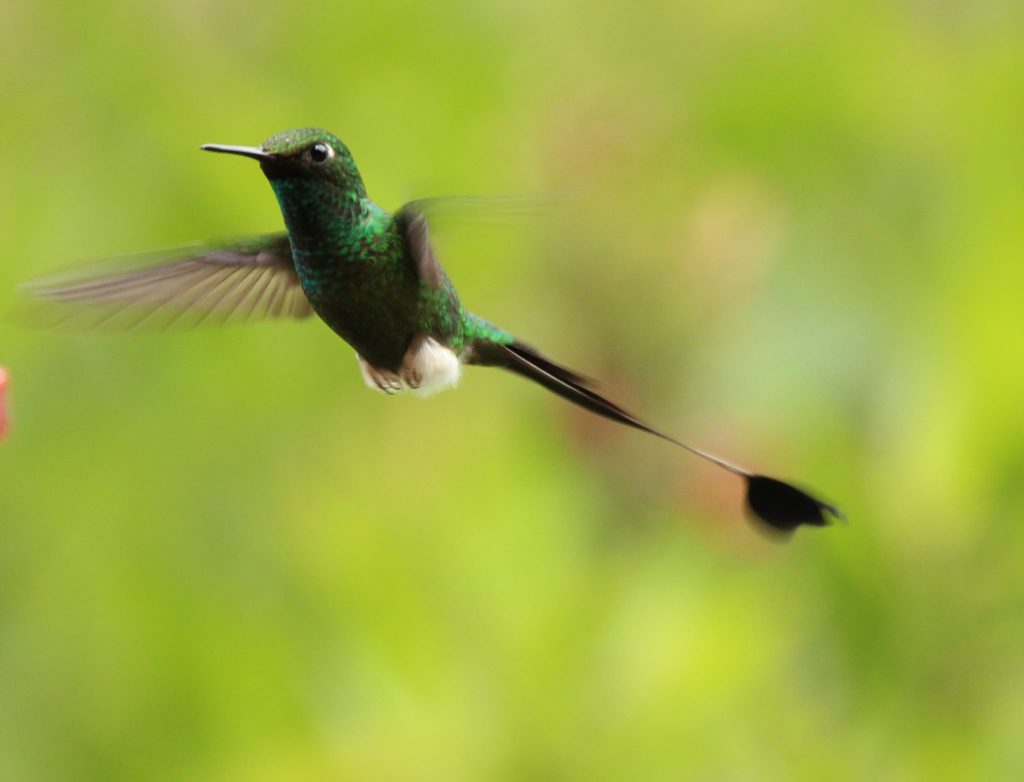 Rufous-Tailed Hummingbirds were the biggest menaces, chasing off smaller hummers from "their" feeders, but the Western Emerald proudly ruled three feeders, set away from the others. I usually savor coffee but in this case I drank it down as quickly as possible so I could get out and explore. The grounds were pretty open around the lodge with grasses and a few trees and bushes dotting the landscape. Before we started down the trail, two Golden-Headed Quetzals perched in a tree near the restaurant. I was so excited I cried. That happens to me sometimes while birding. Anyone else?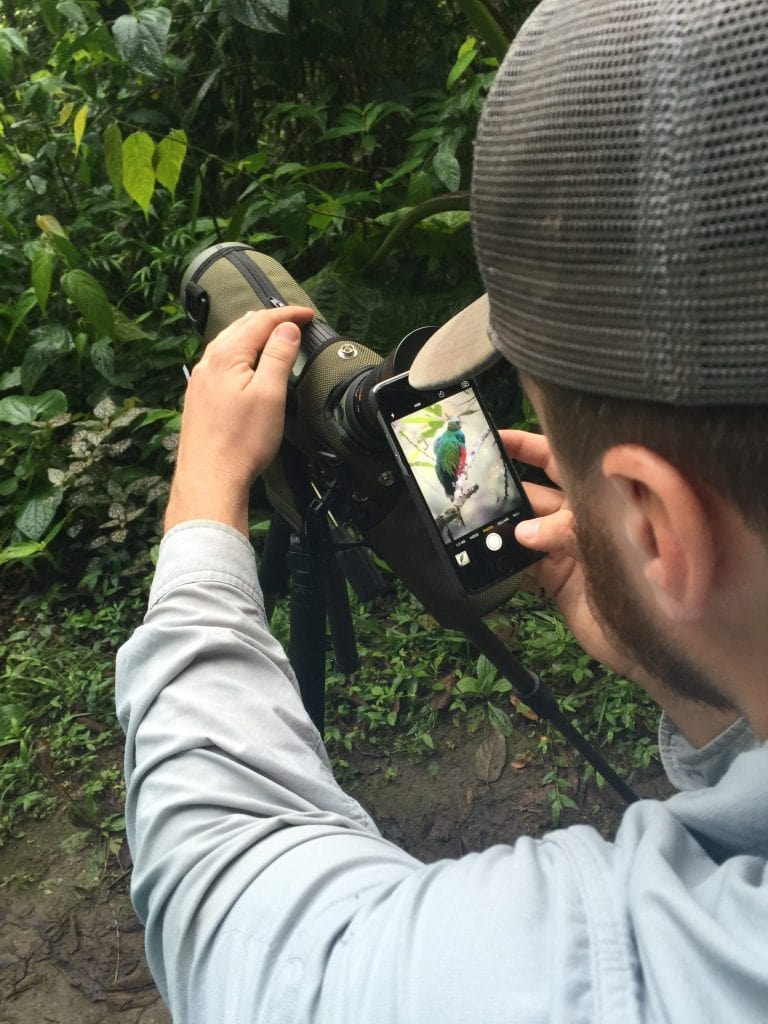 We continued through the open fields down a trail along which we saw a pair of Black-winged Saltators, which look like mini-penguins to me, Blue-Winged Mountain Tanagers, Red-Billed Parrots, a nesting pair of Orange-Rumped Euphonia, and a Barred Forest Falcon.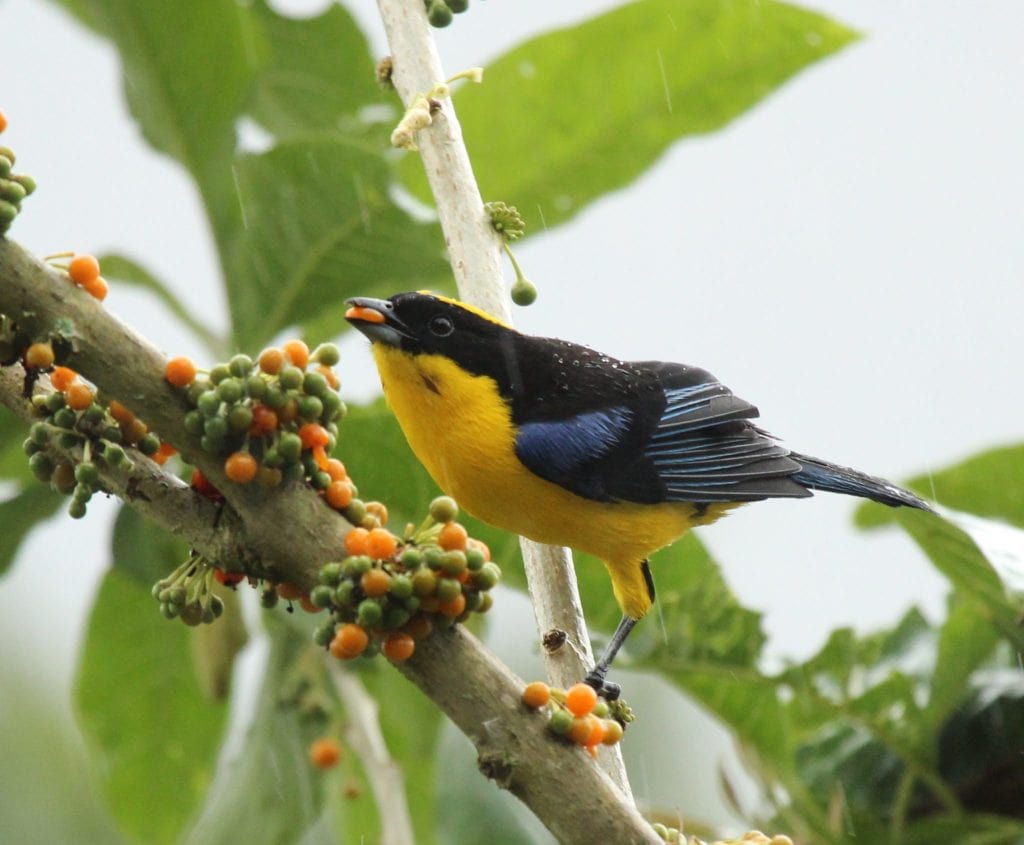 Other notables included Flame Faced Tanager, Flavescent Flycatcher, Streak-Capped Treehunter, and Scaly-Throated Foliage-Gleaner.
At dinner that evening, Farley and I reviewed our lists for the day and looked up each bird in our field guides to learn more. All of a sudden, something crashed in the bushes where hummingbirds had fed during the day. I saw a long tail and thought it must be a monkey! Farley and I ran around with our flashlights and found an olinguito – a mammal in the raccoon family that was described as a new species in 2013. A cute and peaceful creature, it just wanted to take the banana left by the tanagers earlier that day. The olinguito was a special treat, the only wild mammal we saw on the entire trip.
After three nights in Tandayapa, we drove to Milpe in the upper lowlands/tropical rainforest, possibly my favorite place of the trip. We stayed in older lodges, but about a half mile away there were new lodges and a three-story viewing tower. My first time on the viewing tower was almost overwhelming. At one point, we saw thirty-five species in just under two hours. Brightly colored birds popped out of the canopy or flew from tree to tree in plain view. One evening we counted seventeen Swallow-Tailed Kites and followed them (via our scope) to their overnight roosting spot. The tower also had a restaurant and bar so we were always served refreshments! It was quite comfortable compared to the rigorous hiking we had experienced up to that point.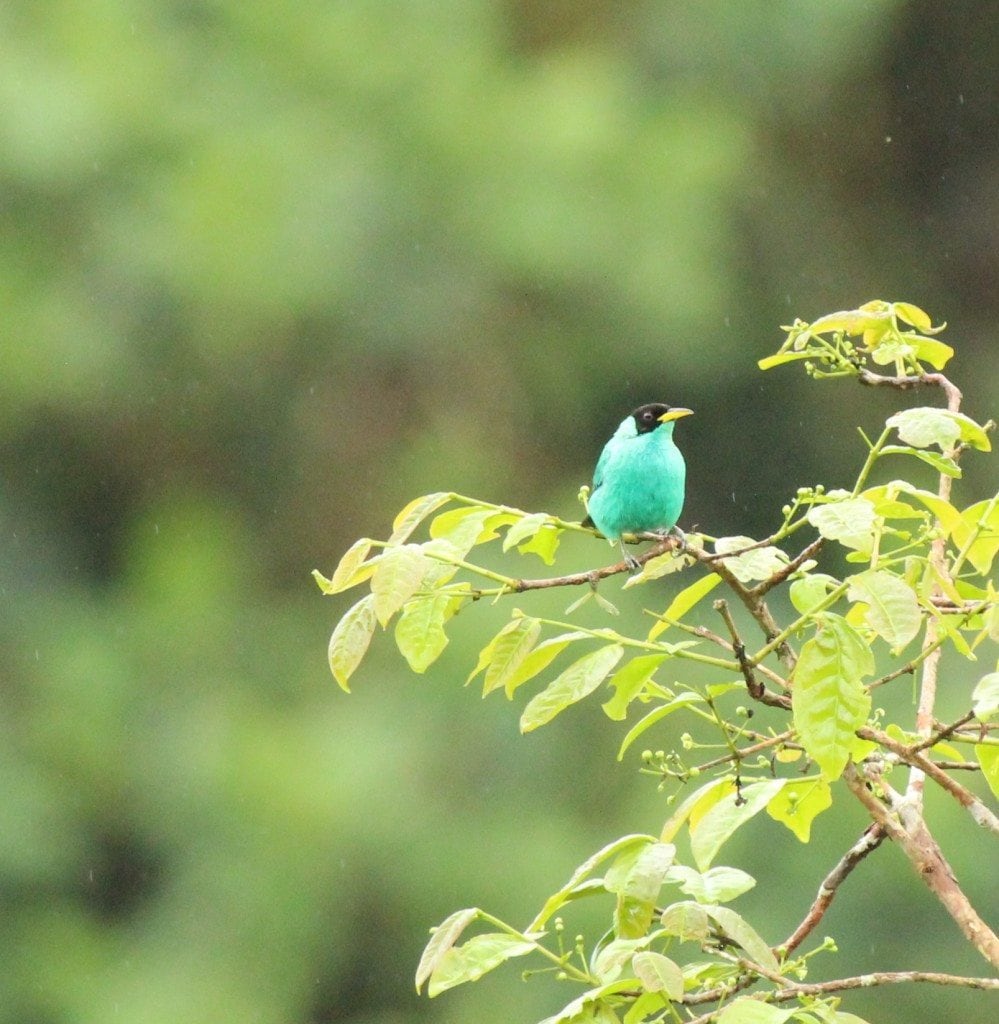 After one and a half days birding the Milpe Lodge grounds, we traveled about an hour's drive to Rio Silanche. We saw Scrub Blackbirds, Shiny Cowbirds and Groove-billed Anis from the highway. The terrain was flat and tropical. After about forty minutes, we left the highway and started down an all-weather dirt road that looked like red clay. A stray cow passed by at one point, minding her own business. We spent the day birding this sanctuary and saw thirty four new species including my favorite, the Purple-Throated Fruitcrow. Near a palm orchard, of which the main yield is hearts of palm, I saw a Pacific Hornero feeding a juvenile Shiny Cowbird! Other notables included Pacific Parrotlet, Hook-Billed Kite, Black-Faced Dacnis, Guayaquil Woodpecker and Great Antshrike.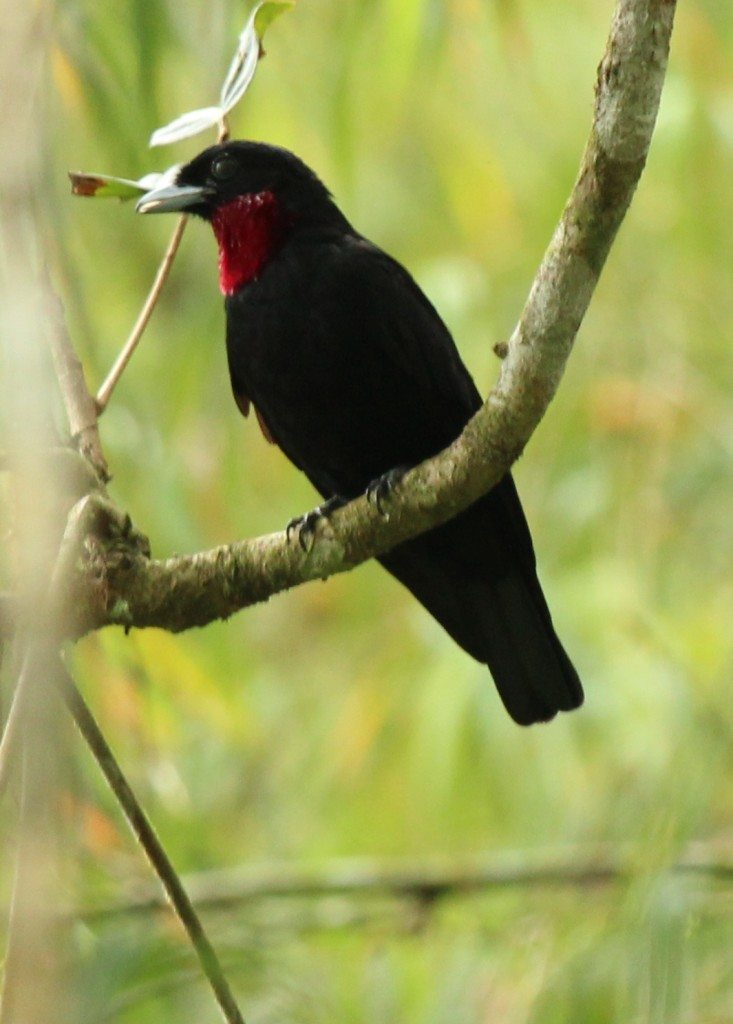 On our last day, we headed into the desert of Quito where we saw a Black-Chested Buzzard Eagle flying over, and a quick view of the Giant Hummingbird! We made it a point to go into Old Town for a few hours to explore the history and culture of the city. We didn't see any birds other than doves and pigeons, but we did tour some spectacular Jesuit cathedrals, including one made almost entirely of gold, and stopped at a brewery for beers and a bite.
Throughout the trip, I wrote down each bird we saw. Now, two months later, when I open my journal to review the species, it takes me right back to where I was when I saw that bird, what was going on around me, and how I felt. My birding journal is the closest thing to a time machine I have found.
I would have loved to extend our trip and spend time in Eastern Ecuador and the Amazon. We actually tried to arrange flights but it would have been too expensive. Apparently, it's a different world on the other side of the Andes! If you are able, take GGBA's upcoming trip to Ecuador. You will not be disappointed!
Questions? Feel free to email me at kristajordan8@yahoo.com. For a map including altitudes and distances, please click here. A full list of our sightings is below.
Click here to learn about GGBA's upcoming birding tour to Ecuador in October 2016, or email our volunteer Travel Coordinator Pat Kirkpatrick at patkirkpatrick14@gmail.com.
——————————————–
Krista's Sighting List
Little Tinamou
Rufous-fronted Wood-Quail
Cattle Egret
Black Vulture
Turkey Vulture
Hook-billed Kite
Gray-headed Kite
Swallow-tailed Kite
Black-and-chestnut Eagle
Sharp-shinned Hawk
Bicolored Hawk
Plumbeous Hawk
Barred Hawk
Roadside Hawk
Black-chested Buzzard-Eagle
Broad-winged Hawk
Andean Lapwing
Rock Pigeon
Band-tailed Pigeon
Plumbeous Pigeon
Ruddy Pigeon
Common Ground-Dove
Croaking Ground-Dove
White-tipped Dove
Pallid Dove
White-throated Quail-Dove
Eared Dove
Little Cuckoo
Squirrel Cuckoo
Striped Cuckoo
Smooth-billed Ani
Chestnut-collared Swift
White-collared Swift
Gray-rumped Swift
White-tipped Swift
White-necked Jacobin
White-whiskered Hermit
Tawny-bellied Hermit
Wedge-billed Hummingbird
Brown Violetear
Green Violetear
Sparkling Violetear
Purple-crowned Fairy
Gorgeted Sunangel
Green Thorntail
Speckled Hummingbird
Black-tailed Trainbearer
Green-tailed Trainbearer
Purple-backed Thornbill
Tyrian Metaltail
Sapphire-vented Puffleg
Shining Sunbeam
Brown Inca
Collared Inca
Sword-billed Hummingbird
Great Sapphirewing
Buff-tailed Coronet
Booted Racket-tail
Purple-bibbed Whitetip
Fawn-breasted Brilliant
Green-crowned Brilliant
Giant Hummingbird
White-bellied Woodstar
Purple-throated Woodstar
Western Emerald
Crowned Woodnymph
Andean Emerald
Blue-chested Hummingbird
Rufous-tailed Hummingbird
Violet-bellied Hummingbird
Golden-headed Quetzal
Ecuadorian Trogon
Masked Trogon
Rufous Motmot
Broad-billed Motmot
White-whiskered Puffbird
Lanceolated Monklet
Red-headed Barbet
Toucan Barbet
Crimson-rumped Toucanet
Plate-billed Mountain-Toucan
Collared Aracari
Yellow-throated Toucan
Choco Toucan
Olivaceous Piculet
Black-cheeked Woodpecker
Smoky-brown Woodpecker
Choco Woodpecker
Golden-olive Woodpecker
Crimson-mantled Woodpecker
Lineated Woodpecker
Crimson-bellied Woodpecker
Guayaquil Woodpecker
Barred Forest-Falcon
Carunculated Caracara
Crested Caracara
Rose-faced Parrot
Red-billed Parrot
Bronze-winged Parrot
Pacific Parrotlet
Maroon-tailed Parakeet
Great Antshrike
Black-crowned Antshrike
Uniform Antshrike
Spot-crowned Antvireo
Pacific Antwren
Slaty Antwren
Streak-headed Antbird
Dusky Antbird
Zeledon's Antbird
Undulated Antpitta
Scaled Antpitta
Chestnut-crowned Antpitta
Tawny Antpitta
Ochre-breasted Antpitta
Ocellated Tapaculo
Blackish Tapaculo
Nariño Tapaculo
Rufous-breasted Antthrush
Plain-brown Woodcreeper
Wedge-billed Woodcreeper
Black-striped Woodcreeper
Spotted Woodcreeper
Brown-billed Scythebill
Montane Woodcreeper
Plain Xenops
Streaked Xenops
Pale-legged Hornero
Buff-fronted Foliage-gleaner
Scaly-throated Foliage-gleaner
Lineated Foliage-gleaner
Streak-capped Treehunter
Spotted Barbtail
Red-faced Spinetail
Azara's Spinetail
Rufous Spinetail
Slaty Spinetail
Brown-capped Tyrannulet
White-tailed Tyrannulet
White-throated Tyrannulet
Tufted Tit-Tyrant
White-crested Elaenia
Sierran Elaenia
Streak-necked Flycatcher
Marble-faced Bristle-Tyrant
Choco Tyrannulet
Ornate Flycatcher
Scale-crested Pygmy-Tyrant
Rufous-crowned Tody-Flycatcher
Common Tody-Flycatcher
Fulvous-breasted Flatbill
Cinnamon Flycatcher
Flavescent Flycatcher
Bran-colored Flycatcher
Smoke-colored Pewee
Western Wood-Pewee
Acadian Flycatcher
Streak-throated Bush-Tyrant
Masked Water-Tyrant
Slaty-backed Chat-Tyrant
Brown-backed Chat-Tyrant
Long-tailed Tyrant
Dusky-capped Flycatcher
Boat-billed Flycatcher
Social Flycatcher
Golden-crowned Flycatcher
Snowy-throated Kingbird
Tropical Kingbird
Green-and-black Fruiteater
Red-crested Cotinga
Andean Cock-of-the-rock
Purple-throated Fruitcrow
Golden-winged Manakin
White-bearded Manakin
Club-winged Manakin
Black-crowned Tityra
Masked Tityra
Cinnamon Becard
White-winged Becard
Black-and-white Becard
One-colored Becard
Brown-capped Vireo
Red-eyed Vireo
Lesser Greenlet
Turquoise Jay
Blue-and-white Swallow
Brown-bellied Swallow
White-thighed Swallow
Southern Rough-winged Swallow
House Wren
Sedge Wren
Plain-tailed Wren
Whiskered Wren
Bay Wren
Gray-breasted Wood-Wren
Tawny-faced Gnatwren
Andean Solitaire
Slaty-backed Nightingale-Thrush
Spotted Nightingale-Thrush
Swainson's Thrush
Ecuadorian Thrush
Great Thrush
Glossy-black Thrush
Black-and-white Warbler
Olive-crowned Yellowthroat
Tropical Parula
Blackburnian Warbler
Three-striped Warbler
Black-crested Warbler
Buff-rumped Warbler
Golden-bellied Warbler
Russet-crowned Warbler
Canada Warbler
Slate-throated Redstart
Spectacled Redstart
Superciliaried Hemispingus
Black-eared Hemispingus
White-shouldered Tanager
Tawny-crested Tanager
White-lined Tanager
Flame-rumped Tanager
Hooded Mountain-Tanager
Scarlet-bellied Mountain-Tanager
Blue-winged Mountain-Tanager
Fawn-breasted Tanager
Blue-and-yellow Tanager
Blue-gray Tanager
Palm Tanager
Golden-naped Tanager
Black-capped Tanager
Gray-and-gold Tanager
Golden-hooded Tanager
Blue-necked Tanager
Rufous-throated Tanager
Blue-and-black Tanager
Beryl-spangled Tanager
Metallic-green Tanager
Bay-headed Tanager
Flame-faced Tanager
Golden Tanager
Silver-throated Tanager
Swallow Tanager
Black-faced Dacnis
Purple Honeycreeper
Green Honeycreeper
Guira Tanager
Cinereous Conebill
Blue-backed Conebill
Capped Conebill
Glossy Flowerpiercer
Black Flowerpiercer
White-sided Flowerpiercer
Rusty Flowerpiercer
Masked Flowerpiercer
Ash-breasted Sierra-Finch
Band-tailed Sierra-Finch
Blue-black Grassquit
Thick-billed Seed-Finch
Variable Seedeater
Black-and-white Seedeater
Yellow-bellied Seedeater
Band-tailed Seedeater
Plain-colored Seedeater
Bananaquit
Dusky-faced Tanager
Buff-throated Saltator
Black-winged Saltator
Yellow-throated Chlorospingus
Dusky Chlorospingus
Yellow-green Chlorospingus
Black-striped Sparrow
Gray-browed Brushfinch
Orange-billed Sparrow
Chestnut-capped Brushfinch
Rufous-collared Sparrow
Tricolored Brushfinch
Yellow-breasted Brushfinch
White-winged Brushfinch
Summer Tanager
White-winged Tanager
Ochre-breasted Tanager
Golden Grosbeak
Scrub Blackbird
Shiny Cowbird
Yellow-tailed Oriole
Scarlet-rumped Cacique
Orange-crowned Euphonia
Thick-billed Euphonia
Golden-rumped Euphonia
Orange-bellied Euphonia
Lesser Goldfinch
Andean Siskin
Hooded Siskin