Fighting for wildlife at Sharp Park
Sharp Park Golf Course is located in Pacifica but owned and operated by the City of San Francisco. For several years, Golden Gate Bird Alliance has been advocating for conversion of the golf course to a more natural park that supports wildlife. This is an update on the issue by our allies at the Wild Equity Institute. 
By Amy Zehring and Rachel Carter
Closing Sharp Park Golf Course and transforming Sharp Park into part of the Golden Gate National Recreation Area is a win-win-win situation. We can save taxpayers money, improve recreation in San Francisco — including access to affordable golf — and protect habitat for the two endangered species that the golf course threatens.
Golden Gate Bird Alliance has partnered with Wild Equity since the Restore Sharp Park campaign began in 2009. Together, we've had many successes, but the San Francisco Recreation and Parks Department (RPD) is still blocking long-term habitat restoration and expanded recreation opportunities at Sharp Park.
What is Sharp Park Golf Course? 
Located along the Pacific Ocean, Sharp Park contains a wetland and coastal lagoon system that provides habitat for two imperiled species: the threatened California red-legged frog and the endangered San Francisco garter snake, our nation's most beautiful and imperiled serpent.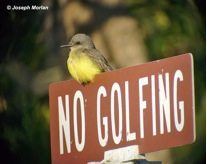 Sharp Park is also home to an incredible diversity of birds. The San Francisco (or Salt Marsh) Common Yellowthroat , a California Species of Special Concern, breeds at Sharp Park.  The rare wetland and coastal lagoon ecosystem attracts rarities and vagrants every year, like this Tropical Kingbird that Joe Morlan photographed near the boundary of Sharp Park's wetlands.
Unfortunately, in the 1930s — long before environmental review and planning codes existed — San Francisco decided to build a golf course at Sharp Park.  The city spent 14 months trying to dredge and fill Sharp Park's wetlands and lagoon to create enough dry land for the golf course, and surrounded the remaining natural areas with golf fairways and greens. San Francisco also destroyed the natural dune system that protected Sharp Park from ocean storms so that golfers could observe the sea while they played.
This decision was one of San Francisco's great ecological and financial mistakes — a mistake that today's environmental laws would have prevented. Today, Sharp Park Golf Course is San Francisco's worst performing golf course, both environmentally and economically.
Environmental Failures 
San Francisco garter snakes, which hunt in the cool waters of Sharp Park's remaining wetlands, must bask in the sun to stay warm.  But the uplands surrounding the wetlands are now all fairways and greens that require constant mowing.  The mowing has been documented to injure and kill San Francisco garter snakes. Now only a few of them remain in the area.
California red-legged frogs are also killed by golf course operations.  Sharp Park Golf Course was constructed in a most illogical place, at the low point in a large watershed.  The course floods during normal winter rains.  But those rains also trigger the frog to breed, so when San Francisco drains Sharp Park's wetlands to stop golf course flooding, it fatally exposes the frogs' egg masses to the air. An entire generation of frogs can be killed at once.
Economic Failures
Because of these expensive environmental issues and low demand for golf, Sharp Park Golf Course cost San Francisco taxpayers $1 million more than it earned over the past eight fiscal years.  At the same time, San Francisco's five other municipal golf courses — not to mention our community centers and neighborhood parks — have faced severe staff and budget cuts.
Closing Sharp Park Golf Course would wipe these deficits off San Francisco's balance sheet. The savings could be spent on other recreation needs, including investments to make the City's other five golf courses more affordable while providing a higher quality golf experience.
It's time for Sharp National Park 
In place of the golf course, we have proposed a new national park  that will be part of the Golden Gate National Recreation Area, protecting wildlife and powering local economies.
Protect Wildlife: The California red-legged frog today survives in just 30 percent of its historic range, which used to stretch from Point Reyes to northern Baja California. Sharp Park has become more and more important to this species' survival.
The San Francisco garter snake's options are even more limited than the Frog's, with this species on the brink of extinction. Creating a national park at Sharp Park will ensure the frogs and snakes have a place where they can thrive. Everyone will be able enjoy recreational opportunities at the new national park, just as they have at the adjacent Mori Point National Park, which was created in 2000.  But if we don't act now, the San Francisco garter snake and the California red-legged frog will likely not be here for future generations to enjoy.
Drive Local Economies:  In 2011, National Parks in California generated $1.192 billion in revenues. That wasn't a fluke. Taxpayers earn an average of $10 for every $1 invested in the National Parks Service.  
Sharp Park National Park has an additional economic edge. It will be the Southern Gateway to the Golden Gate National Recreation Area.  A visitor center at Sharp Park National Park will provide recreational and educational activities that attract global visitors while providing recreation and education for local residents.
The Restore Sharp Park Campaign   
Inspired by the vision of a national park, the Restore Sharp Park campaign began in 2009. Since then, we convinced the National Park Service to state on three occasions that they want to restore Sharp Park. We also convinced the San Francisco Board of Supervisors to pass an ordinance to begin restoration planning with the National Park Service in December 2011.
But there is still work to do. Mayor Ed Lee, an avid golfer, vetoed the ordinance to restore Sharp Park. Now he and Recreation and Parks Director Phil Ginsburg are pushing a plan to build a new, more expensive golf course at Sharp Park.
Adding insult to injury, at the 11th hour they inserted this golf course redevelopment project into the environmental review process for the City's most important conservation plan — the Significant Natural Resources Areas Management Plan (SNRAMP).
They are trying to hold the SNRAMP hostage and force the City's environmental community into accepting an plan that means extinction for the San Francisco Garter Snake at Sharp Park.
But we aren't going to let that happen.  We have drafted legislation that will order Recreation and Parks Department to remove the Sharp Park Golf Course Redevelopment Project from the unrelated SNRAMP and proceed with two separate environmental review processes.  We believe we have the votes at the Board of Supervisors to pass this legislation —  but only if all our supporters weigh in and demand that the legislation be passed.
What can you do? Visit Sharp Park with your friends and family. Call Mayor Ed Lee and the San Francisco Board of Supervisors and urge them to keep plans for Sharp Park Golf Course out of the Significant Natural Resources Areas Management Plan. Volunteer with Golden Gate Bird Alliance's San Francisco Conservation Committee or with Wild Equity.
Help spread the world about the Restore Sharp Park campaign!
 ——————————
Amy Zehring is the Wild Equity Institute's Community Organizer. Rachel Carter is a New Sector Summer Fellow serving at Wild Equity. Wild Equity works to combine traditional conservation and environmental justice movements to create a just and sustainable world for people and the plants and animals that accompany us on Earth.