From digital games to shoreline clean-ups
By Marie Mika
My company, Glu Mobile, makes mobile games. We are best known for Design Home, Covet Fashion, Tap Sports Baseball—and most notoriously for Kim Kardashian: Hollywood.
This year, happily and impressively, our People Team has really leveled up our volunteer and philanthropic endeavors. 
And this directly led to a group of about eighteen Glu volunteers working with Golden Gate Bird Alliance (GGBA) to clean up plastic and trash around Lake Merritt. Here's the story of how that happened!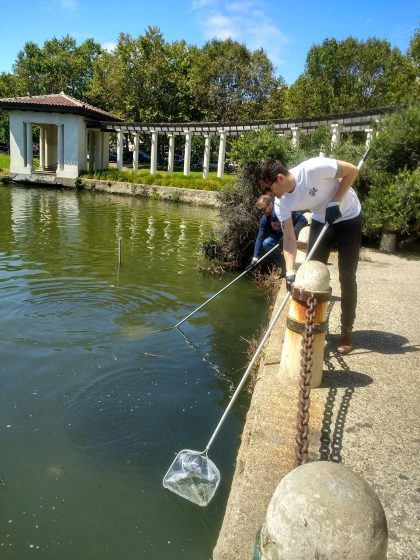 I started volunteering with GGBA earlier this year, at various sites within Golden Gate Park. The catalyst for this connection was when, after moving to Ocean Beach from the Inner Richmond and becoming enchanted with shorebirds, I realized, "My God, I have been so alienated from nature that I have never before noticed birds!" I am now taking Golden Gate Bird Alliance's shorebirds class with Eddie Bartley and a lovely group of people, who kindly put up with me when I excitedly point out what I think is a bird, but alas, is a crab.
Earlier this year, for our first Glu volunteer field trip, a group of us went to Ocean Beach, where we helped with habitat restoration at some of the smaller planted areas near the O'Shaughnessy seawall. 
Given that it was time for another field trip, and we had already traveled to the far western side of the city, I thought a field trip with GGBA to Lake Merritt would be a great pitch—especially to give the East Bay folks some love. I reached out to GGBA, and connected with Noreen Weeden and Clayton Anderson, with whom I arranged our outing.
We promoted the Lake Merritt event internally at a bake sale for a shelter dog organization, which was a huge hit with high participation.  A small group of Glu-ers immediately signed up for the GGBA event, and I tabled during lunch for a few days prior to the event to ensure a really robust turnout.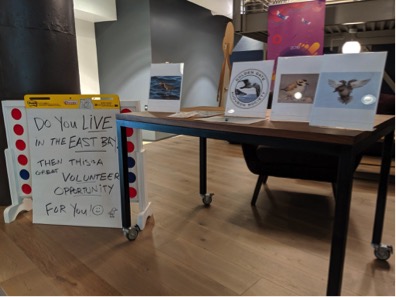 On August 28 my fellow Glu-ers and I met Clayton and Noreen at the Rotary Nature Center on the shore of Lake Merritt. None of us, not even the long-time Oaklanders, knew that Lake Merritt was the first wildlife refuge established in North America. Clayton and Noreen  thoughtfully brought binoculars and scopes for us to look at the many birds at the lake, including White Pelicans (my personal favorite of the day, as I'm used to the brown Ocean Beach kind), cormorants, herons, egrets, geese, and ducks.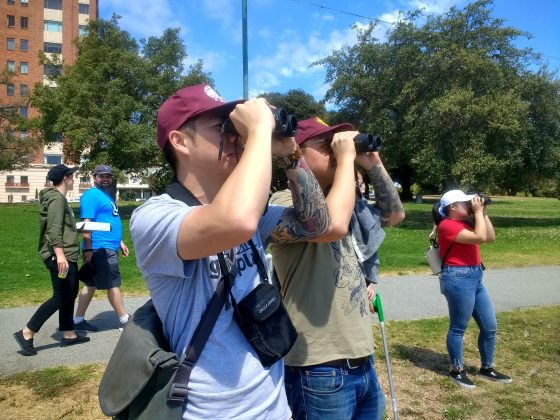 Then we Glu-ers got to work cleaning up the grassy shores to keep our birds safe from small bits of garbage and plastic. Nets on long poles to fish debris out of the lake were a big hit, though most used garbage grabbers. 
We picked up a total of 60 gallons of garbage, which is both a tangible achievement and existentially soul-crushing. 
But what was unambiguously fabulous was the big fat donation Glu made to GGBA to support their work. Thank you, Glu! 
At the end of our volunteering we handed out metal straws as eco-conscious swag to the Glu-ers, Noreen, and Clayton. We had a beautiful, productive, and educational afternoon.
Thank you GGBA, Clayton, and Noreen!
Editor's Note: And thank YOU, Mika, for being such a great organizer and inspiration for your colleagues! We hope to see Glu folks at many more of our habitat restoration and shoreline clean-up events.
And… if you're someone whose company is looking for fun community service opportunities that get people outdoors into nature, contact our Volunteer Coordinator Noreen Weeden at nweeden@goldengatebirdalliance.org.