Jay Holcomb, Executive Director of International Bird Rescue in Fairfield, passed away from cancer on Tuesday June 10 at the age of 63. Many Golden Gate Bird Alliance members knew Jay from his leadership in bird rescue emergencies like the Cosco Busan oil spill.  GGBA Executive Director Cindy Margulis worked with Jay as a volunteer at IBR and offers this tribute.
By Cindy Margulis
Jay Holcomb was a giant in the field of wildlife rehabilitation globally, not only locally. He devoted his entire life to providing and ensuring the very best care and compassion to wild creatures who needed help  — especially birds.  In this unwavering commitment, Jay touched and deeply influenced the trajectory of many people's lives, including my own.
Not ony did he heal and restore animals back to the wild, he showed a way for countless people to find their route, to emulate his luminous example of how to actualize compassion in severe and challenging circumstances.  For me and for many many others, Jay was an incomparable teacher, a friend, a leader, and a constant reservoir of inspiration.
He was also a national hero in the face of massive and calamitous environmental disasters, managing to save the lives of thousands of animals in the face of nearly impossible odds.  He was always undaunted yet never arrogant.  Jay was a man of gentle grace, humility, and essential humor. It has always been a privilege to spend any time with him.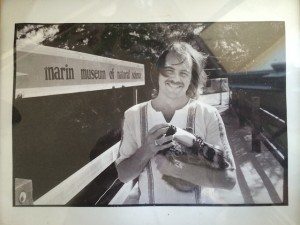 I have seen exquisite birds, banded by Jay and consistently gracing my favorite birdy places, which would not be alive and wild, were it not for Jay and how his compassionate expertise gave each one back a capacity to thrive, and to soar.
Jay truly brought wonder into my eyes and placed beauty back in all of our shared skies. There will always be lively wings whenever I think of Jay, and his legacy. My heart goes out to all of his family and friends, for Jay was deeply and dearly loved by so many hearts.
———————
You can read more about Jay Holcomb's life and contributions on the International Bird Rescue web page. A public memorial is planned, details of which will be announced soon by IBR. IBR has set up a Jay Holcomb Memorial Fund, which is accepting online donations.