November at the Lagoon
By Gerry Traucht
Around mid-November, I saw some interesting events at the Berkeley Lagoon. Normally, the lagoon is rather calm during this time of year. Occasionally, one could see up to four or six Brown Pelicans at a time. But on a mid-November morning, I saw something remarkable: about 35 (and counting!) enormous Pelican fledglings among the adult Pelicans. There were nearly as many Cormorants with adolescents as well. To top everything off, Snowy Egrets arrived with their teenagers.
At the peak of my observations, I saw nearly one hundred Egrets, Pelicans and Cormorants, gathered by the lagoon. Photos below.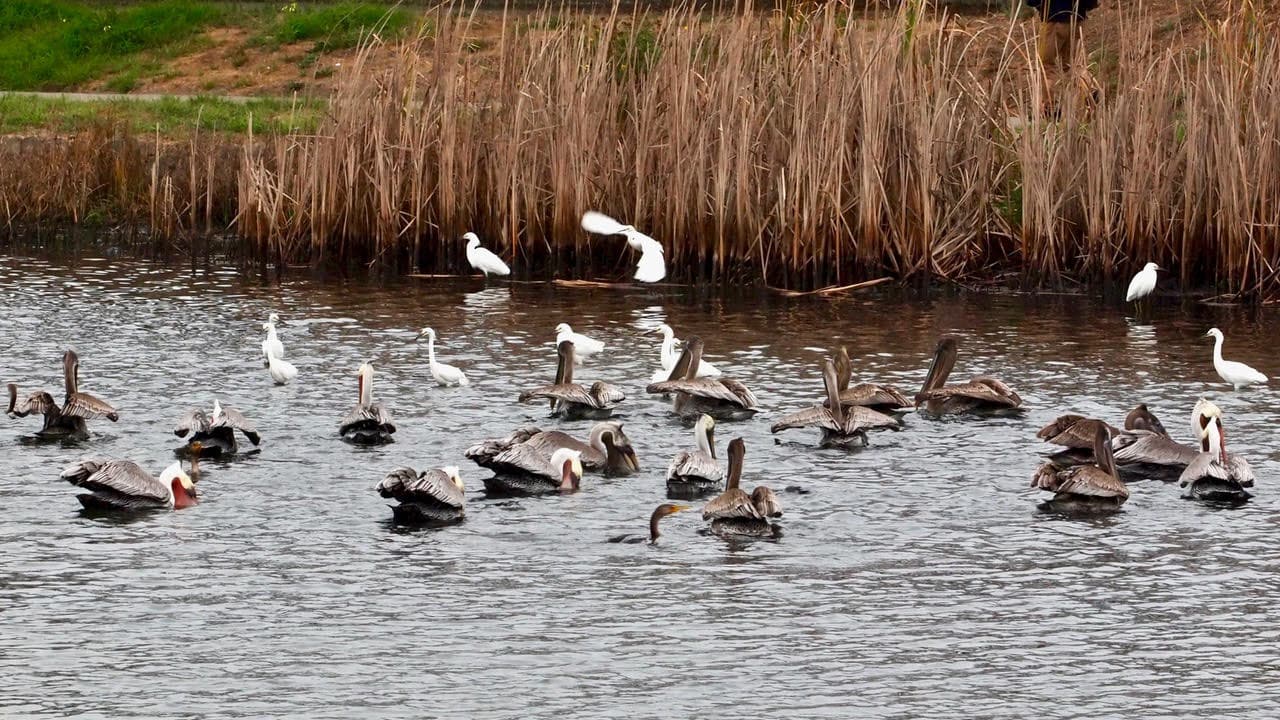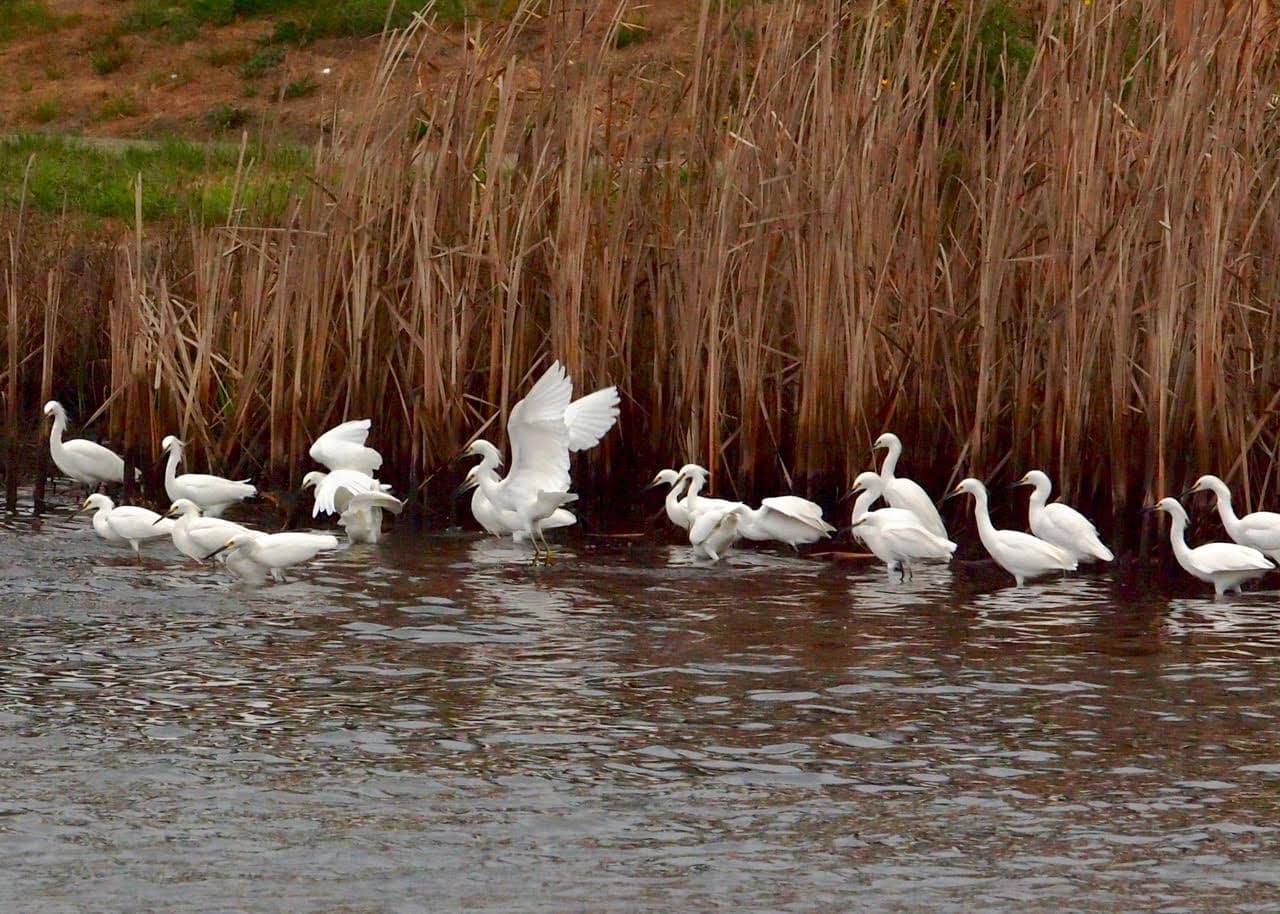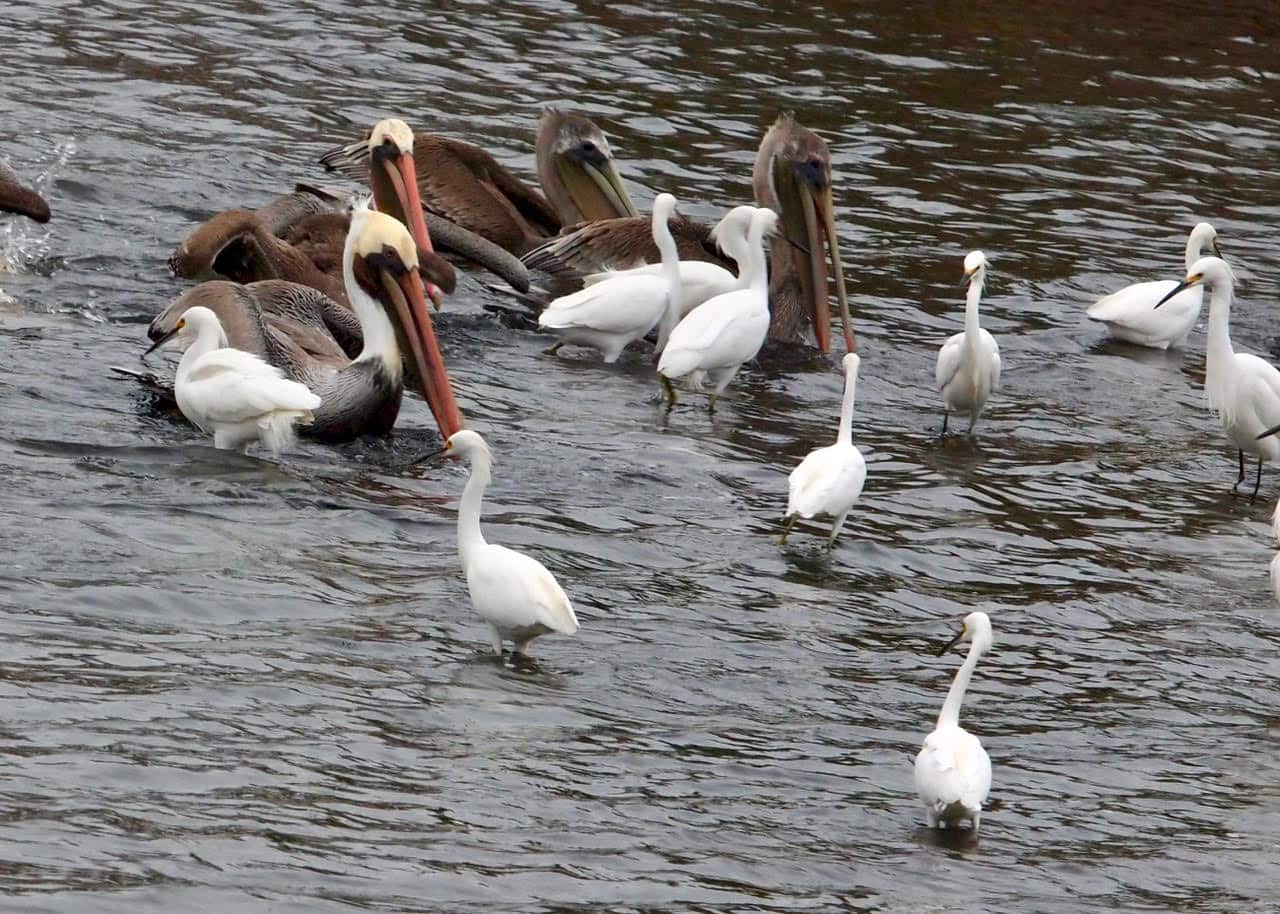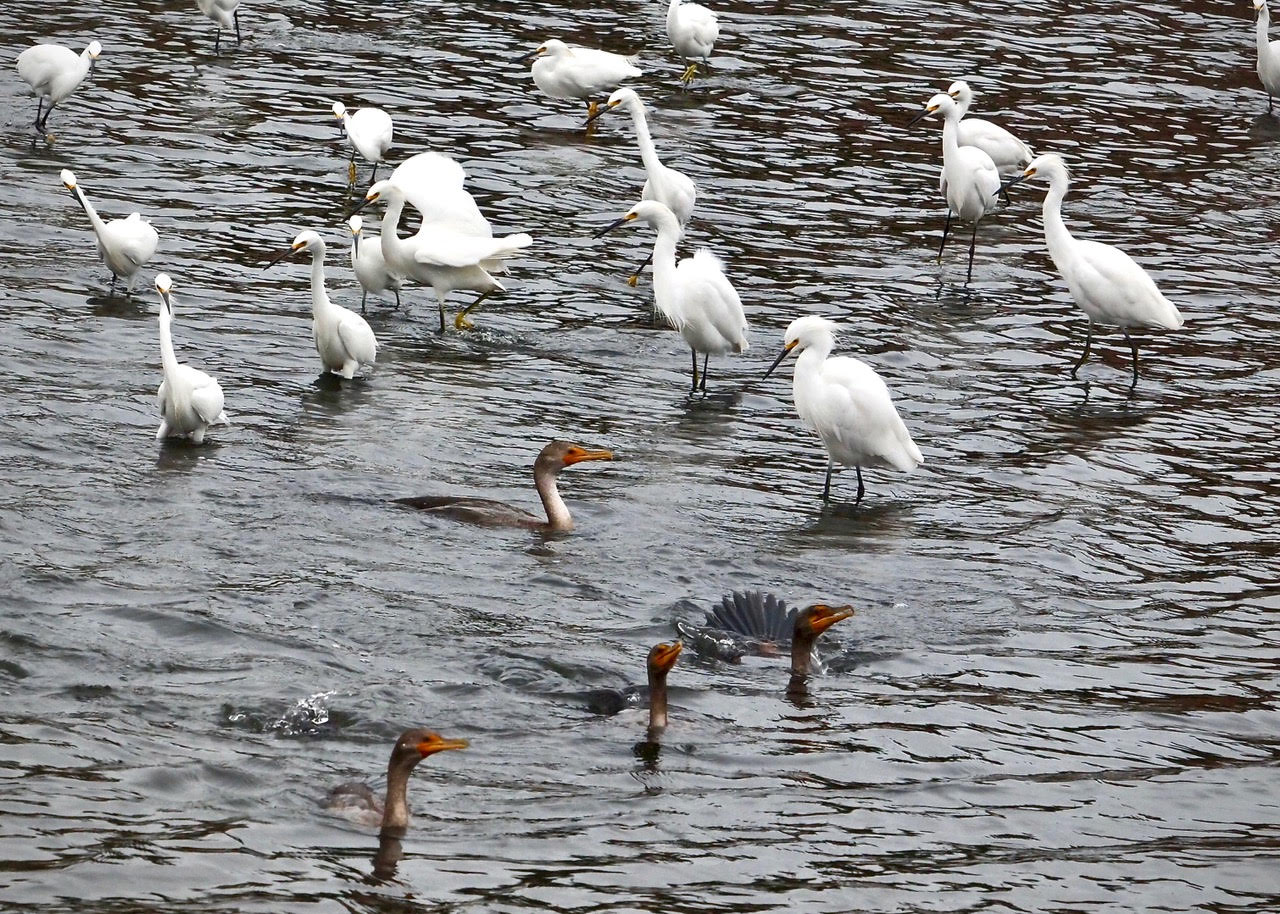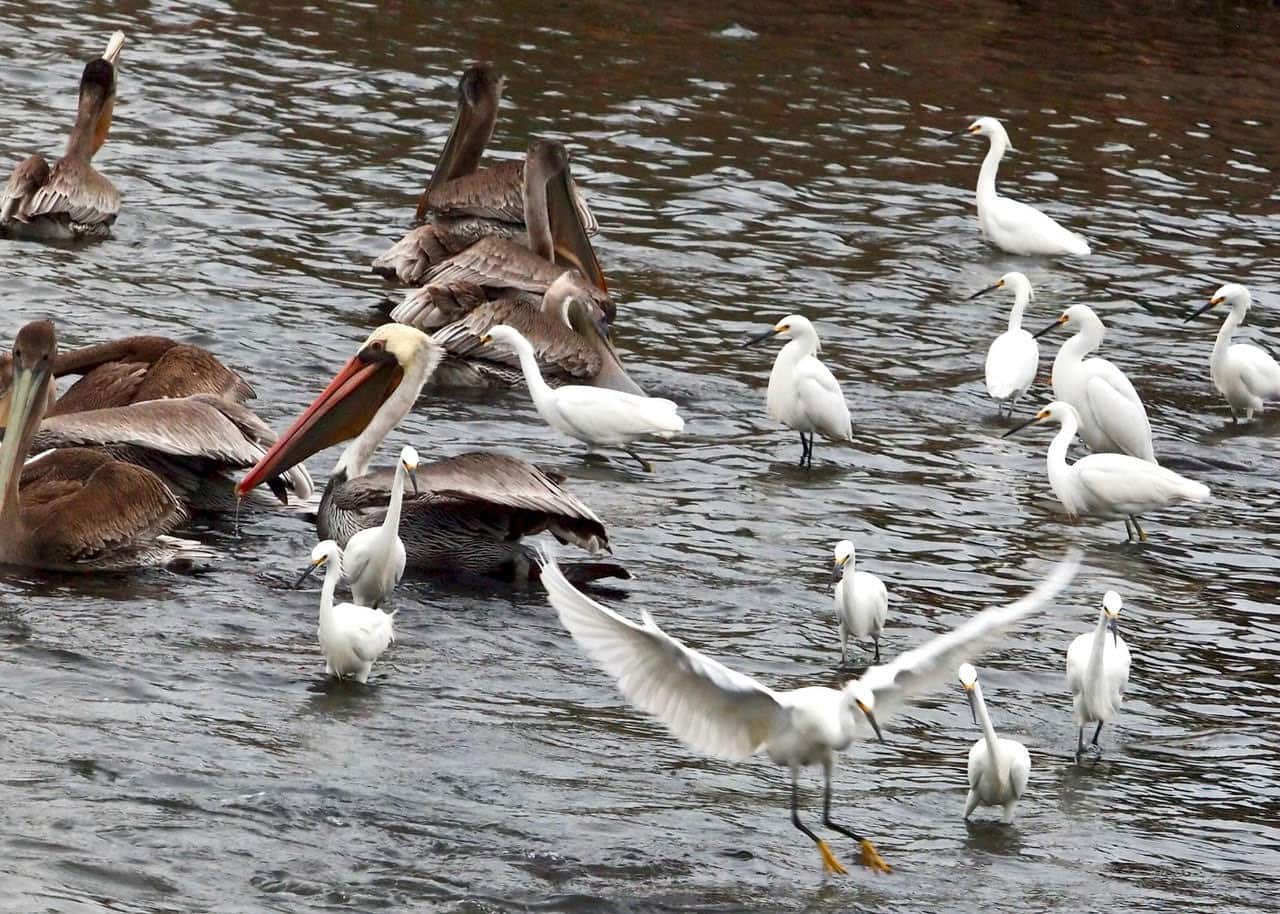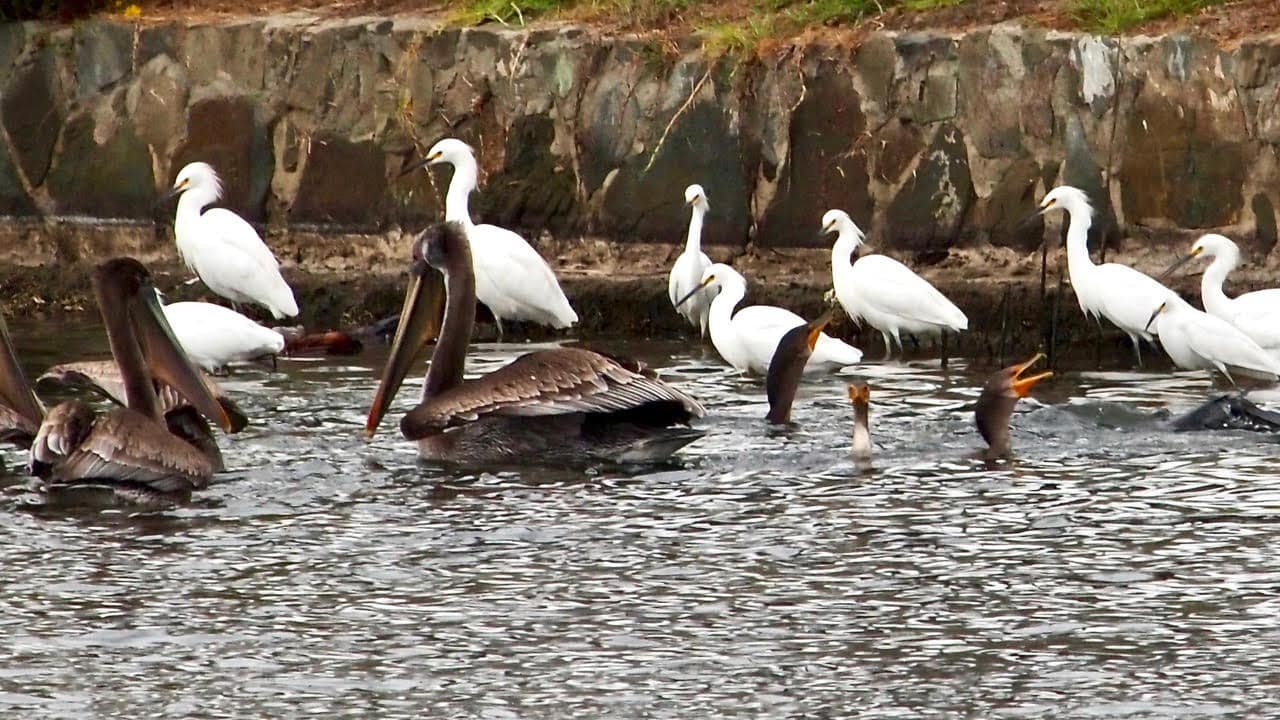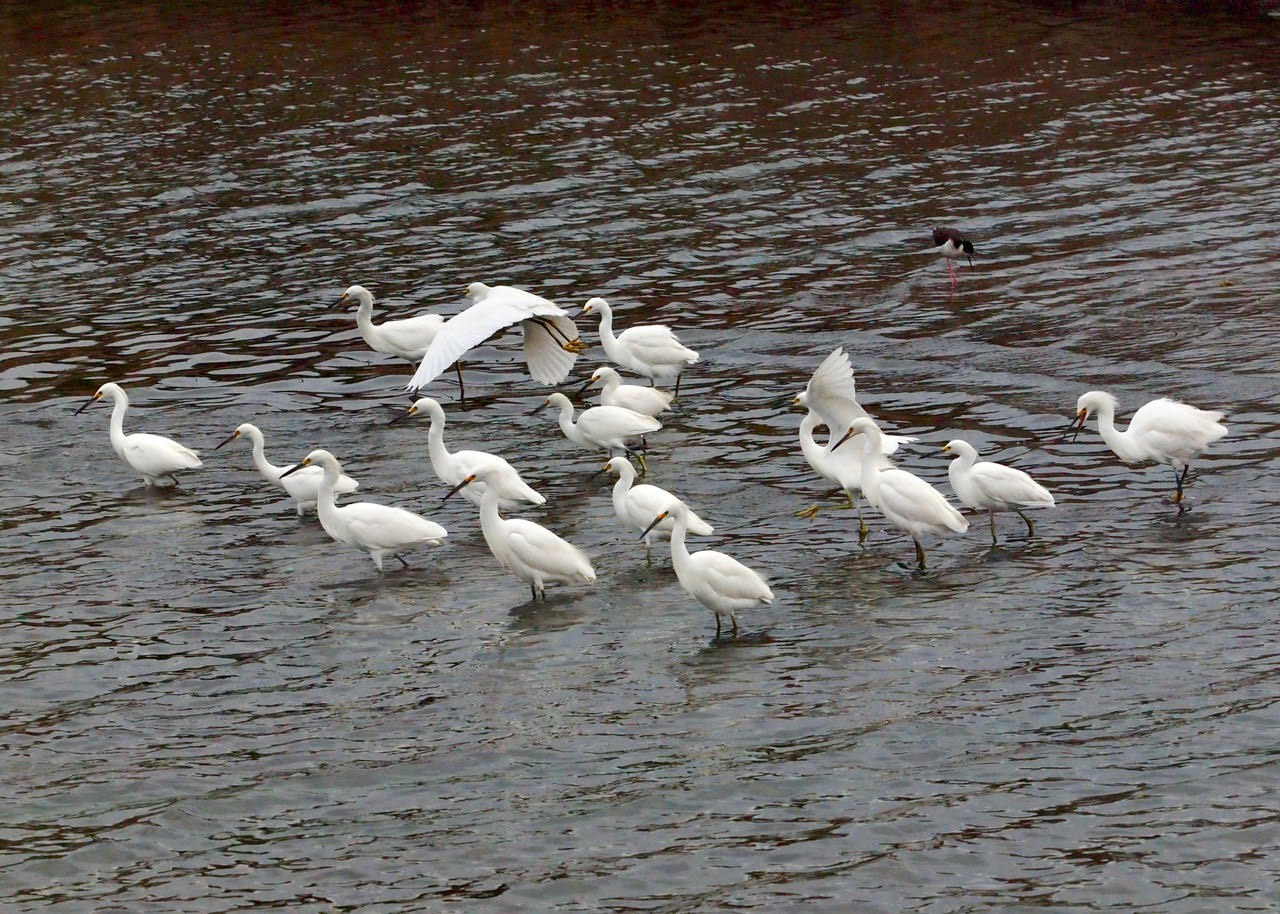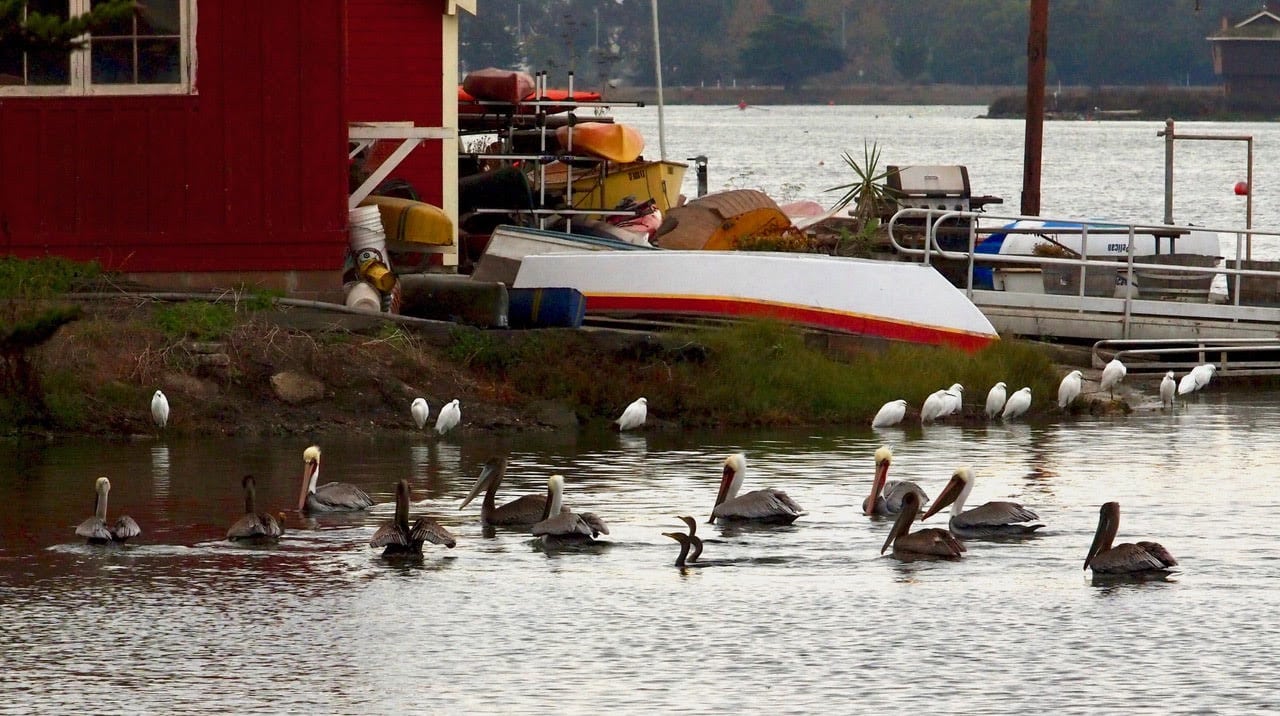 For a couple of November days, usually around 9 am, as if on signal, the Egrets would gather into a group by the mud mound. An adult squawked at late arrivals and stray youngsters while herding them into a loose standing formation until they all faced the water.
The Egrets stood, waiting. Watching. One was distracted, another grabbed a fish. Soon they all stood quietly, observing the lagoon. This was the same spot where the October Egrets performed their gymnastic fishing, each in turn flying the loop. The set of Snowy Egrets I saw in November seemed to be a different group. In this magical location, however, an equally eye-opening event happened.
For over two weeks in November, the group activities built and led to a climax of interesting behaviors. In the beginning, the three species would visit each other, hang out and barge into each group's activities. Many of the birds engaged in play, lounging around the lagoon in various combinations of two or three species.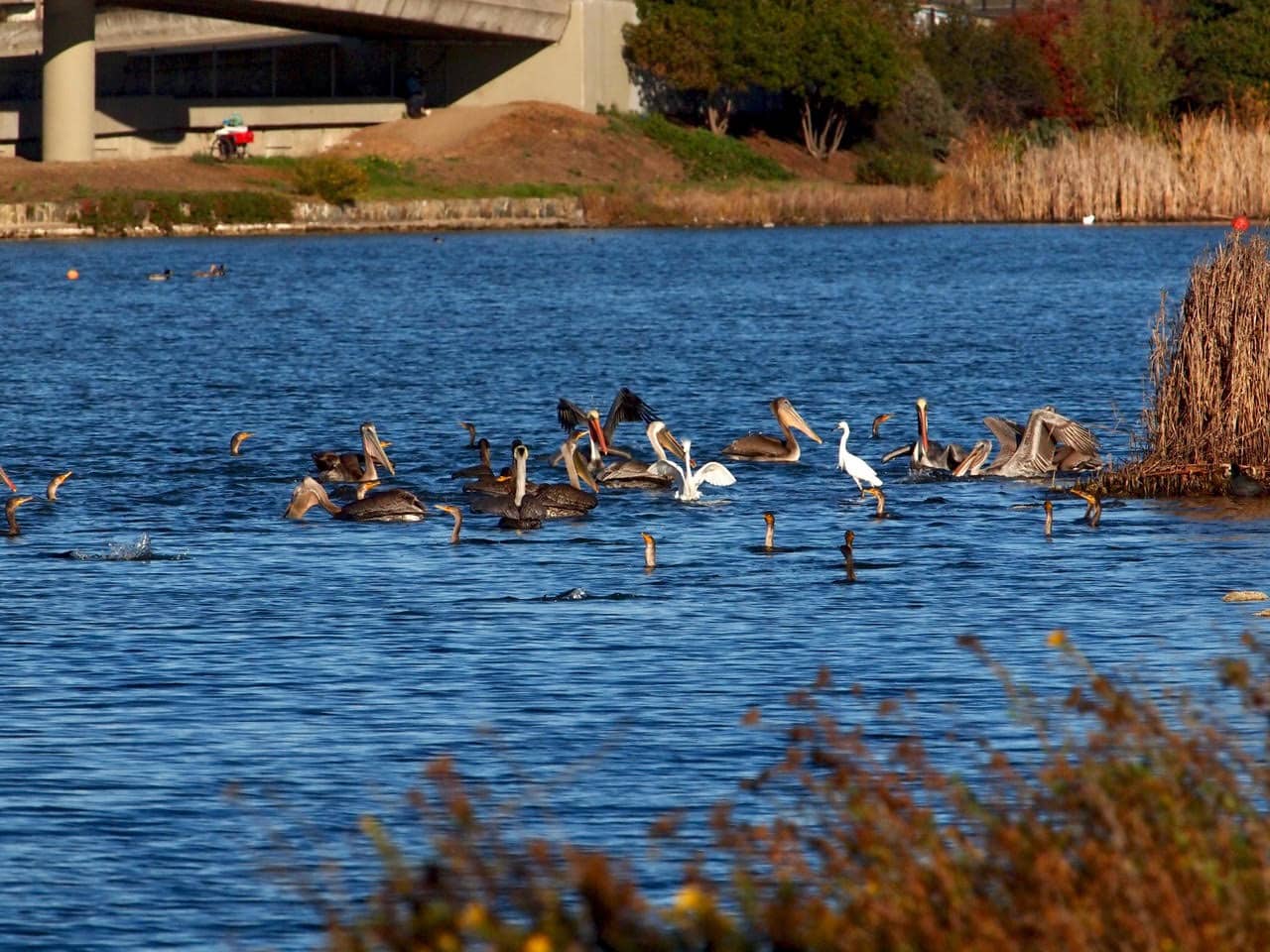 The fishing process appeared playful. It looked to me like a joyous reunion among these waterbirds and waders. Much revolved around the adults instigating activity, as the curious young birds found friends amongst themselves. There, in mid-day moments of profound group contentment, these birds rested, drifted and glided along the lagoon in dream-like calm.
On November 26th, the Pelicans, Cormorants, and Snowy Egrets came together in an event that resembled a procession out of a carnival. Does nature have Fellini-esque gatherings? This menagerie waded, swam flew, dove, and moved together in a caravan, often two abreast with clusters of Pelicans in the middle. Leading the caravan were a pair of Cormorants. Other groups of Cormorants hid among the clustered Pelicans. Some swam and watched along the sides of the lagoon.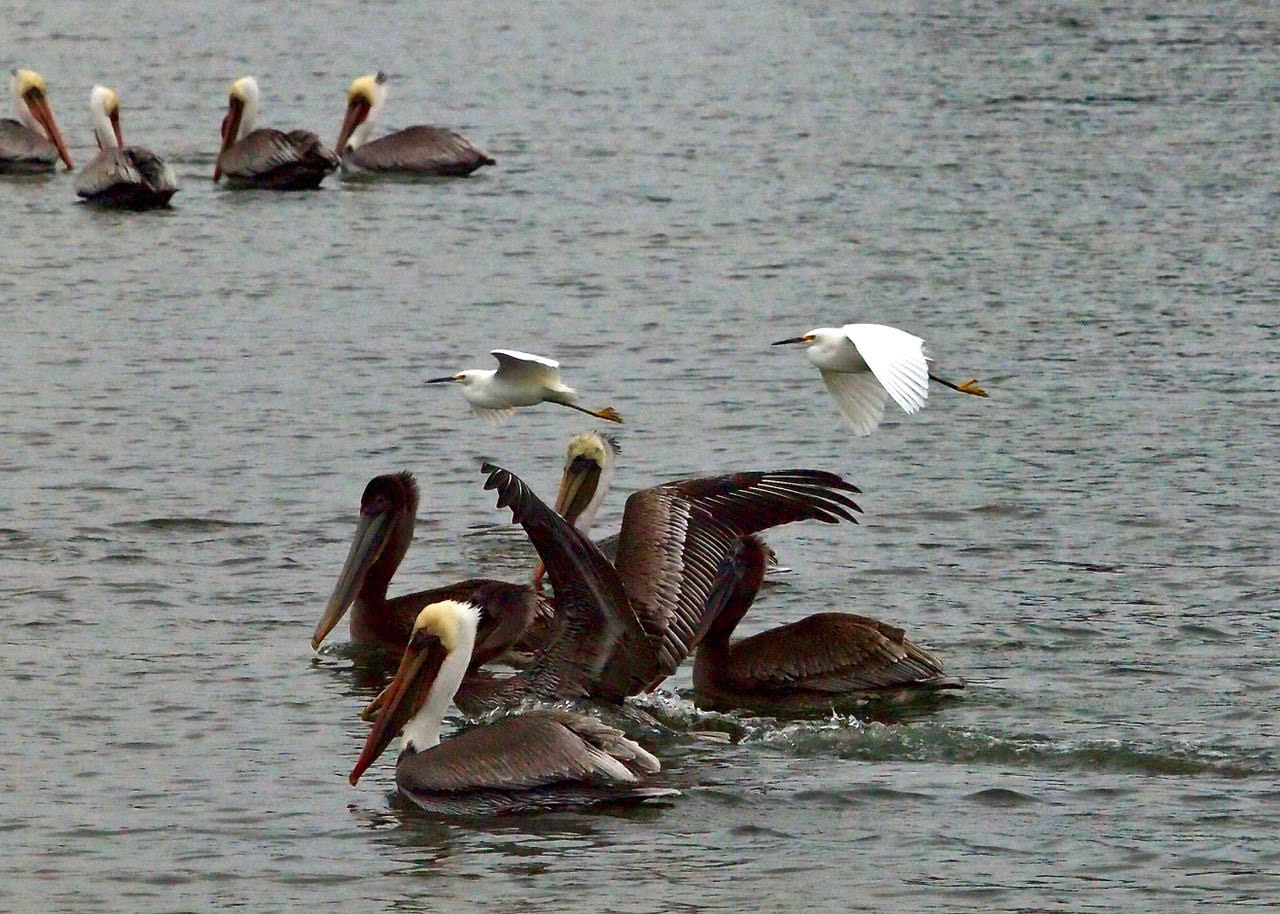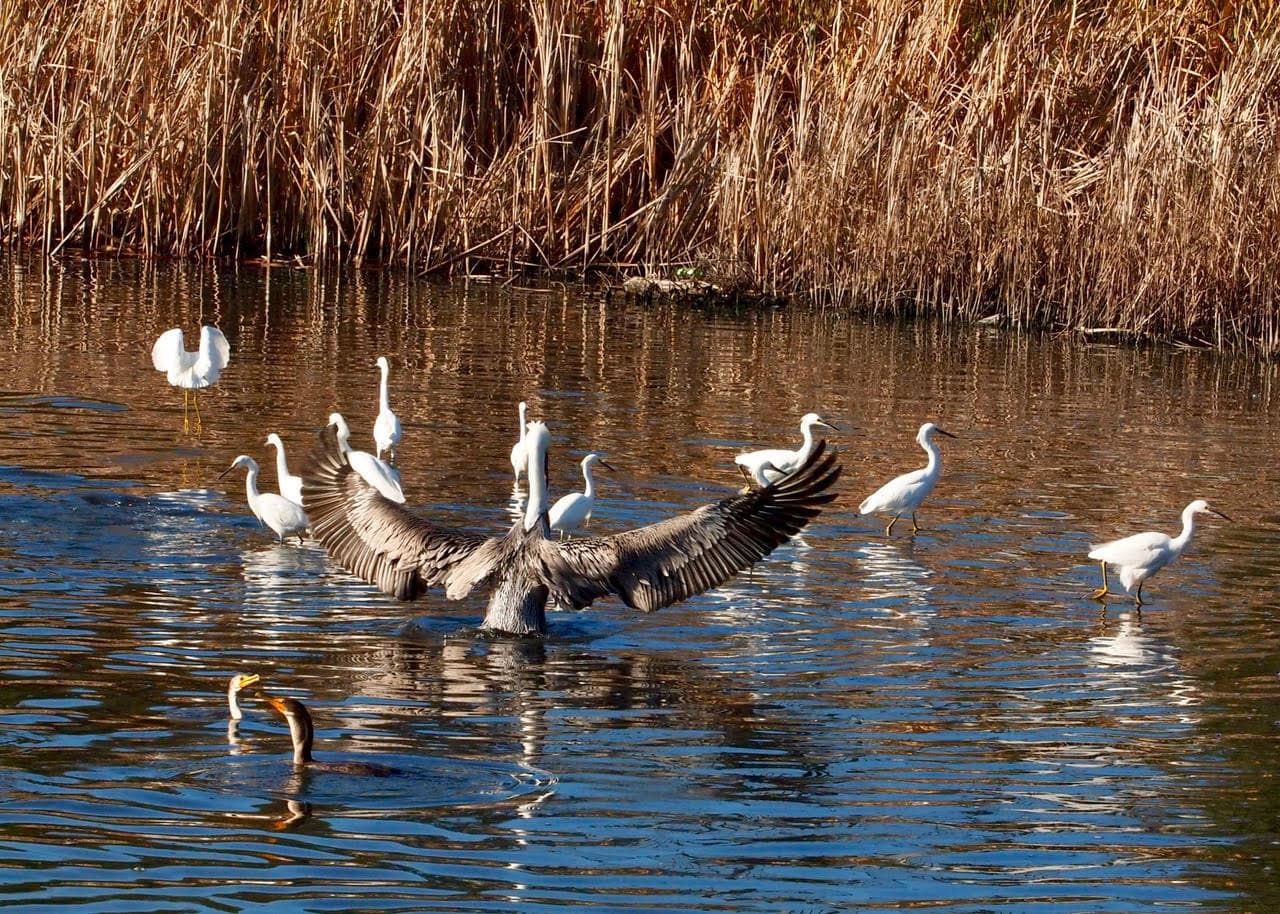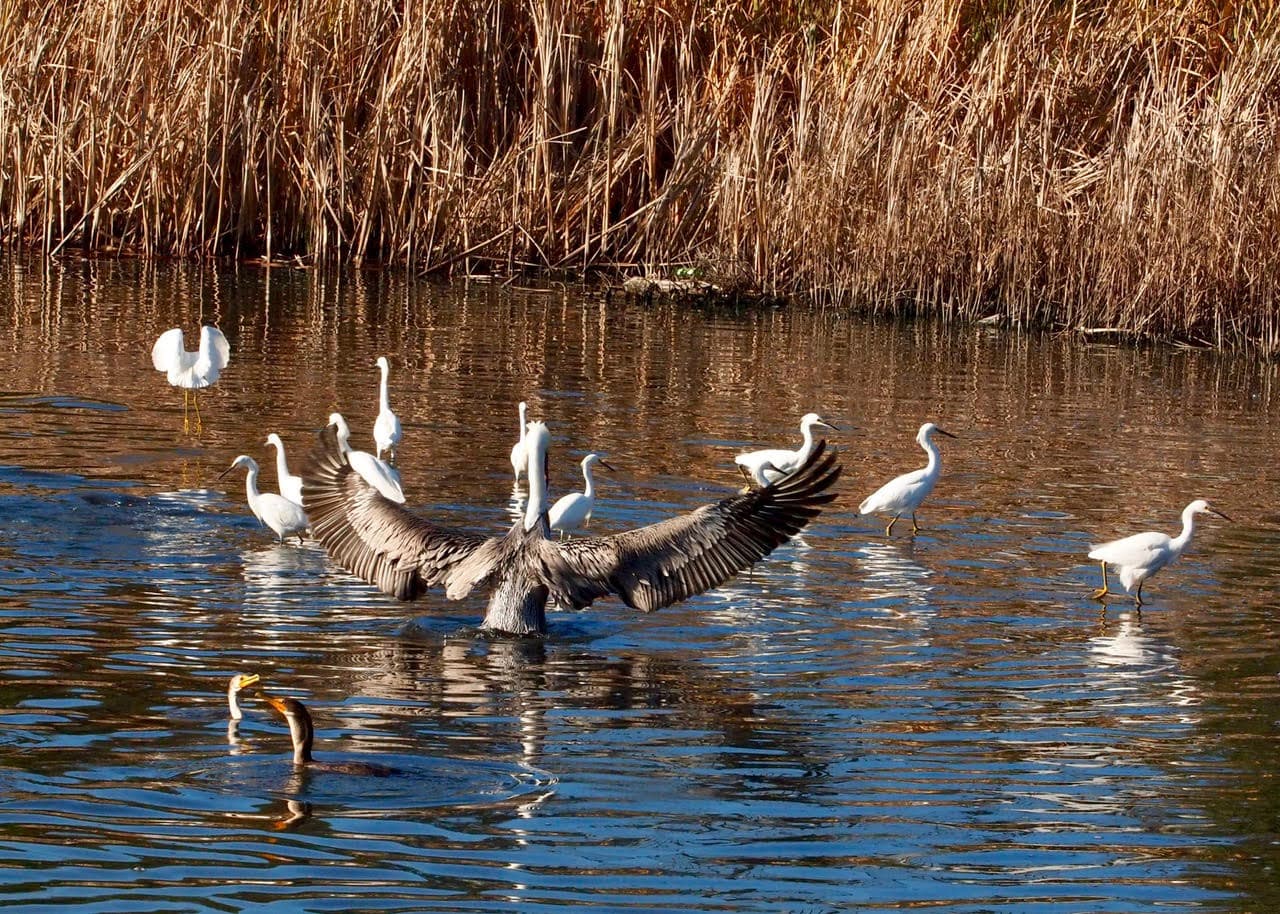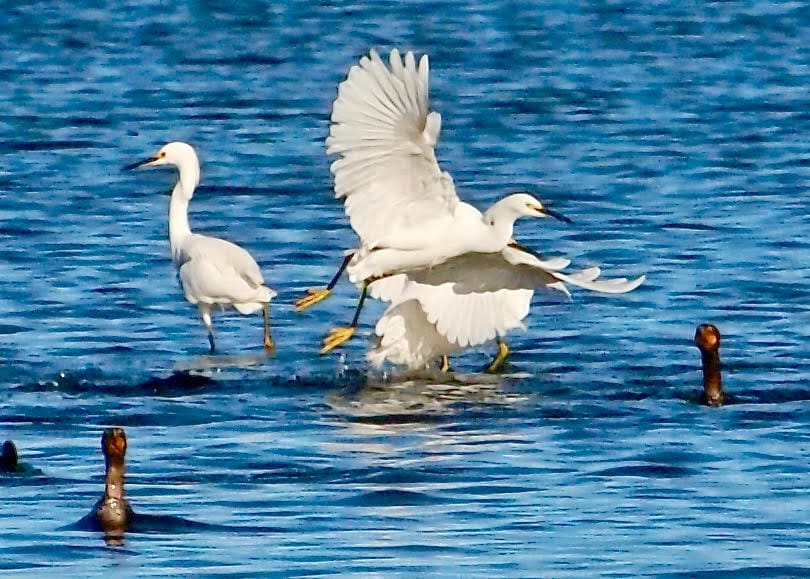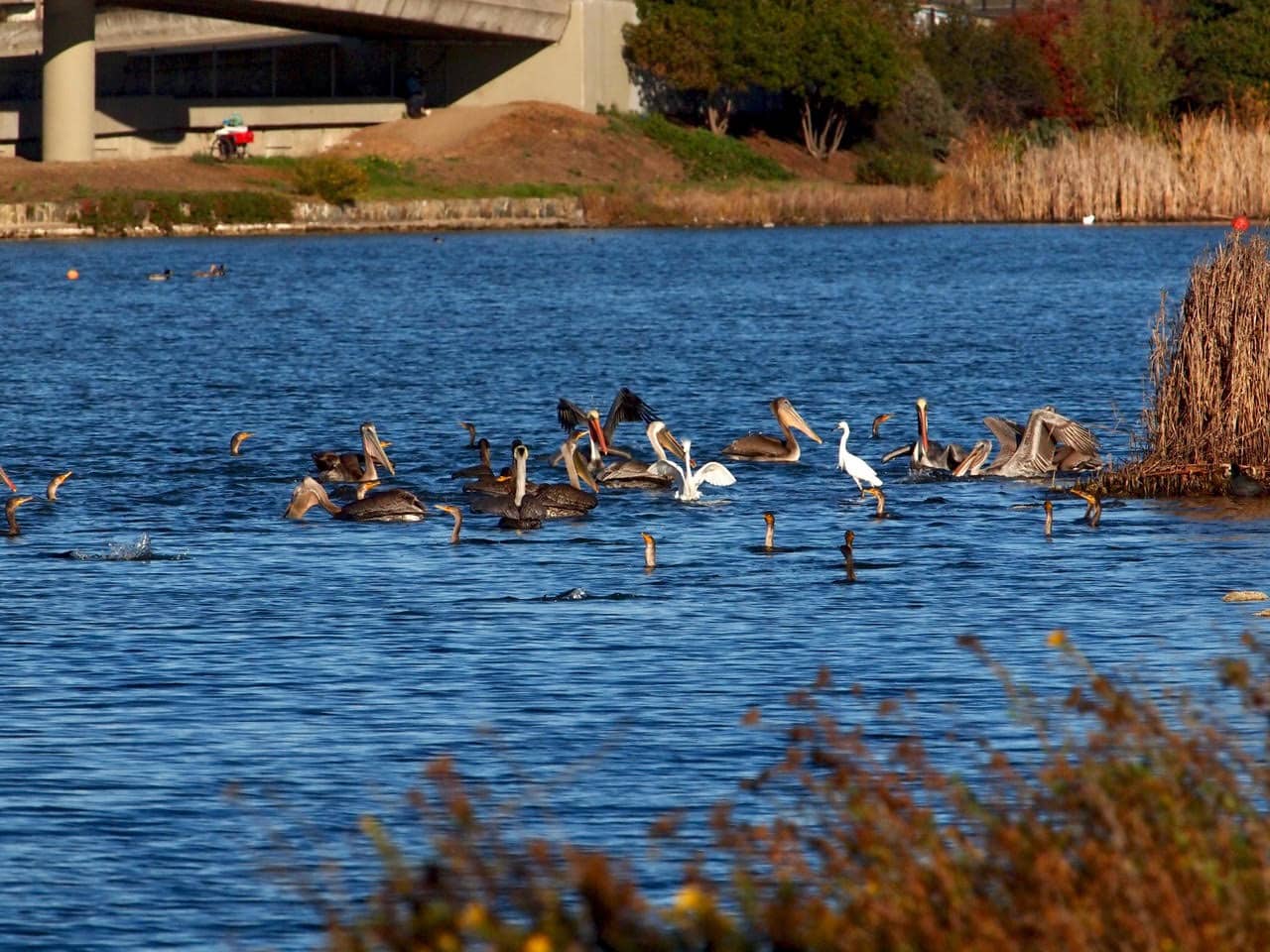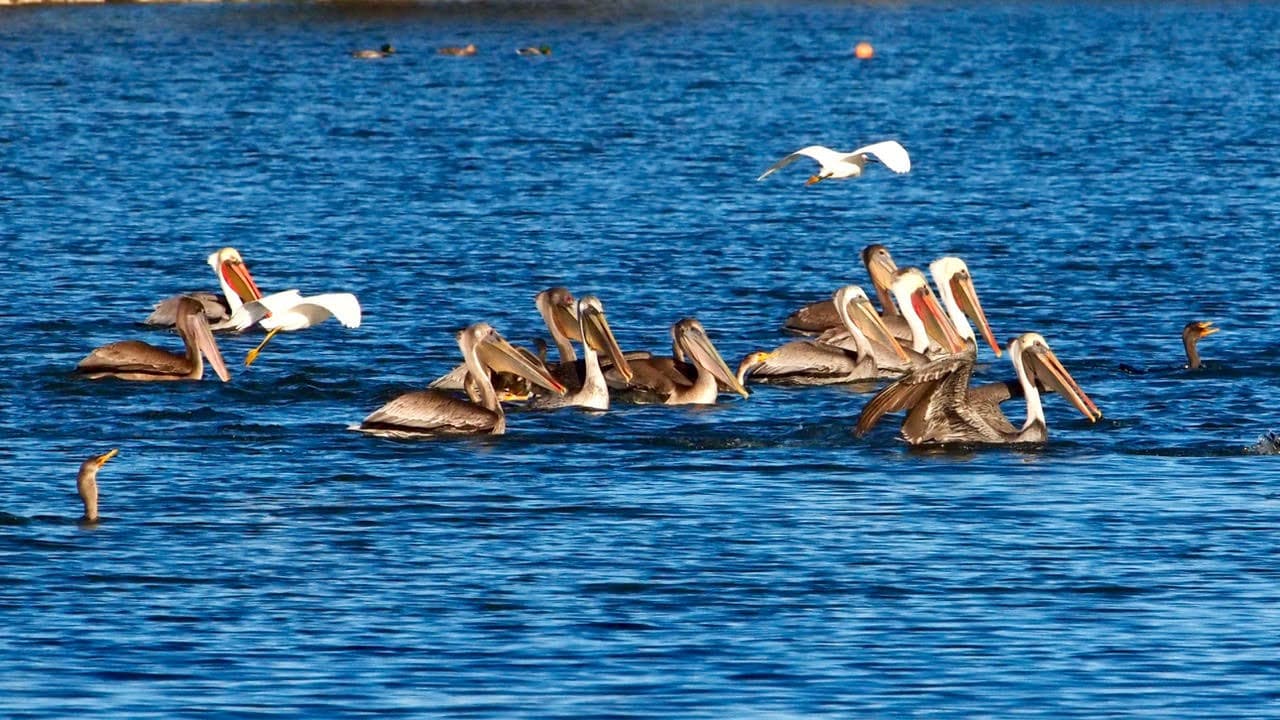 A few Egrets flew overhead like white banners in the wind. The larger group of Egrets ran and hopped in short flights along the shallows, skimming along the water with the caravan.

As suddenly as they arrived (as if dropped in from the moon), just as suddenly after two weeks of festive social build up to the carnival and goodbyes on the next day, many of the birds were gone.
In the following days, there were a different set of birds. At the mud mound there were about three Snowy Egrets, three Mallards, American Coots, a fledgling Heron, a Red-legged Shorebird, Buffleheads, two Cormorants… but no carnival of Pelicans, Cormorants and Egrets.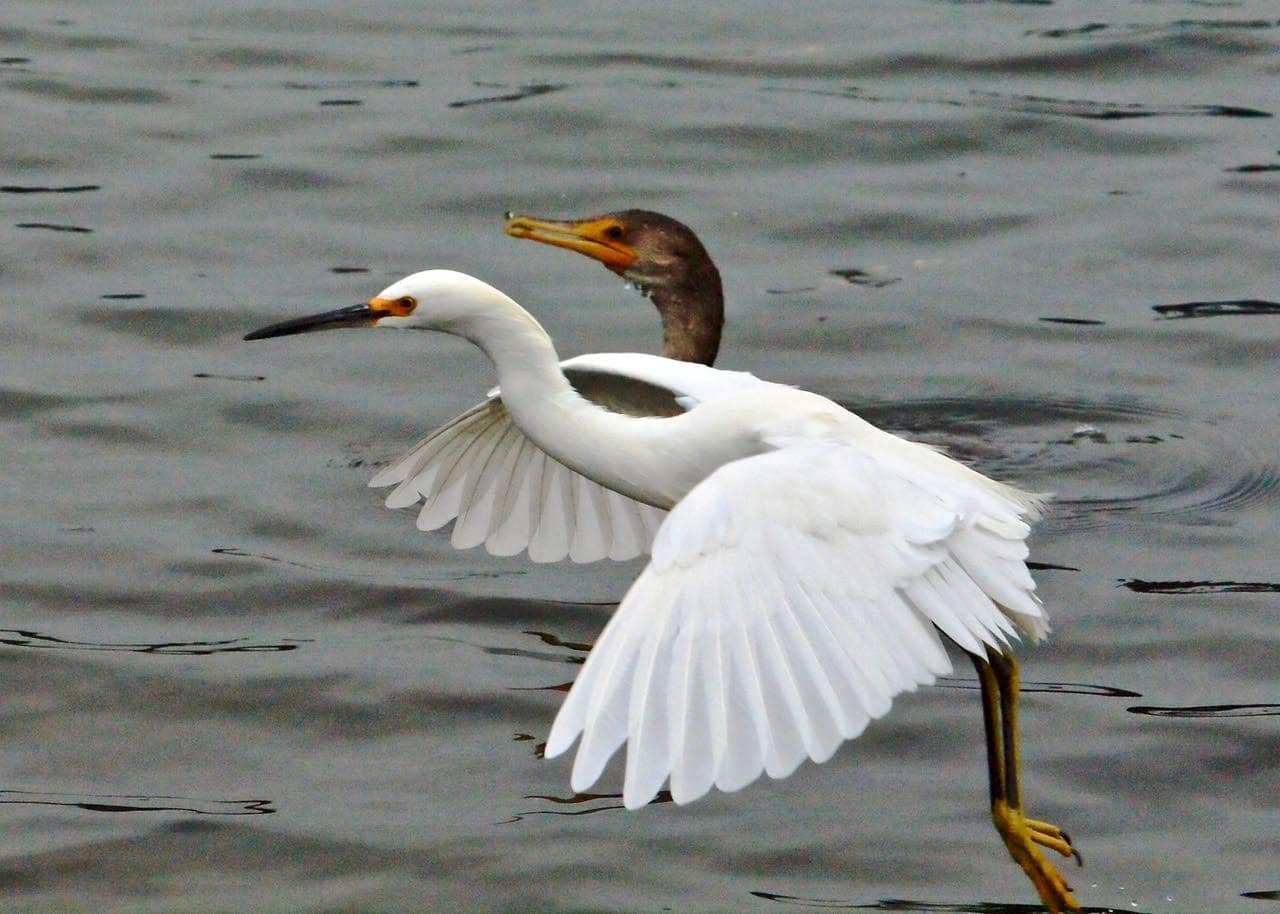 Soon the resident Great Egret will likely return. He will keep company with the resident Snowy every morning and afternoon throughout the seasons. That alone is worth watching. These birds are full of surprises. But in December, everything became quiet.
I went for a visit to the lagoon a few weeks after. The mud mound was empty, cold and quiet. Our family – Ellie and I – look at the lagoon every day. Often, there is one Snowy Egret that greets us.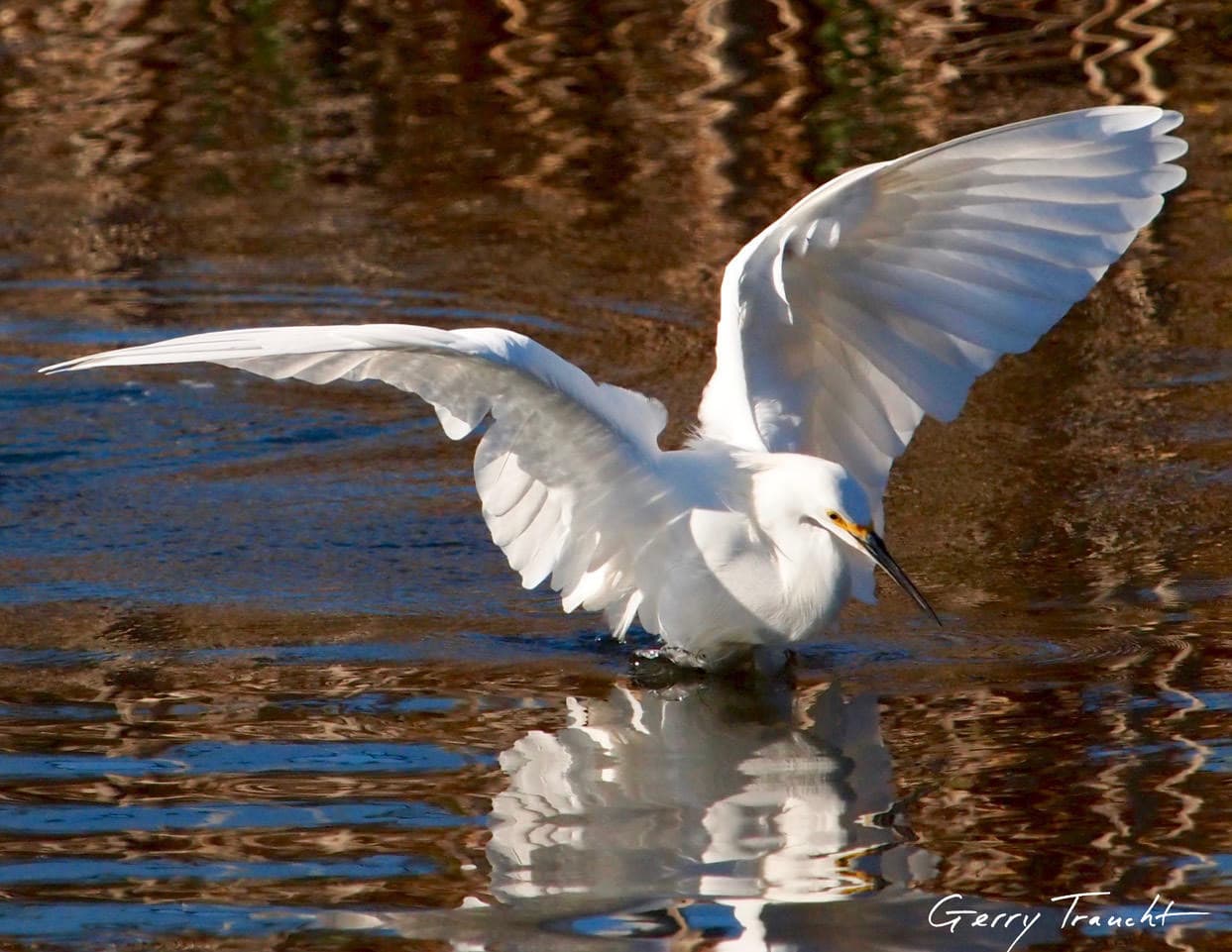 The lagoon never fails to amaze.
---
About Gerry: Gerry Traucht is a Berkeley photographer. More of his work can be seen HERE and in his blogs. You can read this original post by clicking HERE. All photographs and videos in this blog belong to Gerry.