Golden Gate Bird Alliance has long advocated for reasonable management of on- and off-leash dogs in the Golden Gate National Recreation Area (GGNRA). Current dog-related recreation is managed under the 1979 Pet Policy, which is not a legal regulation and which fails to protect wildlife, habitat, and park visitors.
In 2013, the National Park Service released its revised proposed Dog Management Rule and Supplemental Environmental Impact Statement (SEIS) to manage dog-related recreation in the GGNRA. The proposed rule is the biggest accommodation for on- and off-leash dogs in the National Park System.
The proposed Rule allows for four off-leash dog areas and 21 miles of on-leash dog recreation in the San Francisco portion of the GGNRA. No other National Park allow off-leash dogs, and most limit on-leash dogs to a few paved trails.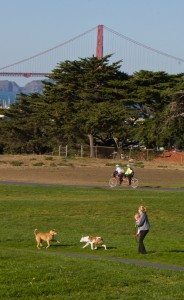 GGNRA needs to accommodate many users — families, cyclists, dog owners and nature lovers, as well as wildlife. / Photo by Allen Hirsch
Golden Gate Bird Alliance supports better regulation of dogs in the GGNRA. While we believe that the proposed regulation is a good first step, the proposed rule does not adequately protect park resources.
We encourage you to share your opinions and experiences with the National Park Service. Click here to file an online comment. The NPS is accepting comments through February 18, 2014.
In our comments, we will emphasize the following points: 
The GGNRA should provide more opportunities for visitors to recreate in the GGNRA in San Francisco without interacting with dogs.  Currently, the Preferred Alternatives only provide a few areas where visitors, including those with small children, may go without having to interact with dogs. Many parents and grandparents have told us they will not take children to areas where there are many off-leash dogs. This is not fair to community members that have a right to enjoy the park without fear or discomfort due to the presence of dogs. 
Off-leash areas should be well defined by a physical barrier. Park visitors should have the choice of interacting with dogs during their park experience, rather than having the choice made for them. Clearly defined on- and off-leash areas will allow dog owners and other visitors to know where dog-related recreation is appropriate. It will also better protect sensitive wildlife and habitat resources, reduce conflicts with other users, and allow for less controversial enforcement of the new rules. 
The SEIS fails to establish that "voice control" is a valid method of controlling off-leash dogs.
…