Optional Iguazu Falls Extension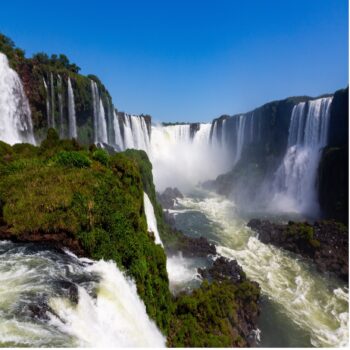 Bordering Brazil, Argentina and Paraguay, Iguazu Falls is one of the great natural wonders of the world. They span over 1.6 miles (2.6 km) and are comprised of over 275 distinct falls, some as high as 250 feet. During this 5-day, 4-night tour, we'll have adequate time to admire the waterfalls as well as to look for the special birds. Target species include the impressive Great Dusky Swift, which roost on the waterfall cliffs. Other birds we will look for include Red-rumped Cacique, Toco Toucan, Chestnut-eared Araçari, Blonde-crested Woodpecker, Rufous Gnateater, Dusky-tailed Antbird, and the most wanted Black-fronted Piping-Guan.
Cost: $1,985 per person, double occupancy; $240 single supplement. Limit 6-8 people. (Surcharge for a smaller group.)
View Iguazu Itinerary here.
View Birdlist for Iguaza HERE.
For questions and registration about this trip, contact Eric Schroeder at travelprogram@goldengatebirdalliance.org
Please do not contact the vendor first.