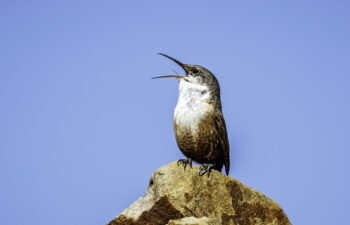 Featuring Nathan Pieplow
Thursday, July 15 at 7 p.m. via Zoom
Only male birds sing, right? Wrong! In fact, this widespread notion has a lot more to do with human cultural and geographic biases than it has to do with nature. In this talk, Nathan Pieplow explores the often-overlooked songs of female birds. You'll hear the pair duets of meadowlarks and blackbirds, the musical songs of female cardinals and orioles, and the distinctive song of the female Canyon Wren. In which species do females actually sing more often than males? How do you know when you're listening to a female Blue Jay? And where did we even get this crazy idea that only male birds sing? Answers to these questions and more in this presentation.
Missed the event? A video recording of this webinar is available through July 31. You will need the passcode, below. See:
https://zoom.us/rec/share/5Vj2i_dMvO91hyEu9Tkev9coyRxtOH3LCVfDSnT0nBqNiyQDfJakvAn8WdndQEYR.KqrdxMfj4qNUh5ES
Passcode:  &79B0McN
About our speaker:
Nathan Pieplow is author of The Peterson Field Guide to Bird Sounds, a two-volume set that is the most comprehensive guide to the sounds of North American birds. He lives in Boulder, Colorado, where he teaches writing and rhetoric at the University of Colorado. Nathan is a former editor of the quarterly journal Colorado Birds and one of the developers of the Colorado County Birding Website and the Colorado Birding Trail.