Introduce Oakland residents to the birds of Lake Merritt! We're currently seeking volunteers to serve as Lake Merritt docents from November through February, when the lake has its more abundant bird life.  A training session will be held via Zoom on Tuesday, October 19 at 7 p.m.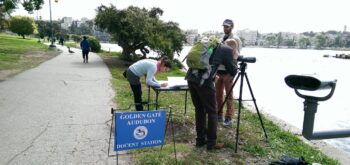 What's involved? Together with another volunteer, you'll spend two hours on some Saturday mornings (10 a.m. to noon) along the lake with a spotting scope and brochures about the ducks and other birds of Lake Merritt. You'll chat with passersby who are interested, help them spot birds in the scope, and tell them a little bit about these birds and what they're doing here on the lake.
Choose which Saturdays between November and February work for your schedule. We're aiming to have docents present on about two Saturdays each month. You do NOT need to be an expert birder, just someone who is enthusiastic about birds and willing to share your interest! We'll provide you with information about the lake and its bird life during the training.
If you're interested or have questions, please contact our Adult Education Chair Maureen Lahiff at mlahiff@aol.com.
Did you know… Lake Merritt was the first officially-designated wildlife refuge in the U.S.? In 1870, at the request of local residents including Oakland's mayor, the State of California created the Lake Merritt Wild Duck Refuge and prohibited waterfowl hunting there.