The sagebrush basin and range country east of the Sierras offers a starkly beautiful landscape filled with fascinating birds and wildlife. Join us from the comfort of your armchair as we take a whirlwind virtual tour of the region around Susanville and Honey Lake. The centerpiece of our virtual Zoom trip will be watching male Greater Sage-Grouse dance at dawn for females' attention. Nearby, we'll look for Sagebrush Sparrow and Sage Thrasher, to complete the 'sage trifecta.' Elsewhere we'll seek out wintering Ferruginous and Rough-legged hawks and try for mountain specialties such as White-headed Woodpeckers, Pinyon Jays, and Townsend's Solitaires. Along the way, we'll explore the human and natural history of the land and consider the conservation threats that imperil it.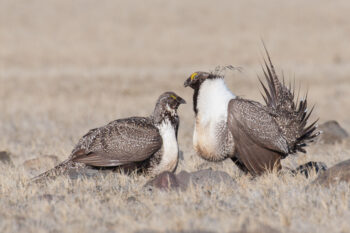 Bruce Mast honed his birding and citizen science skills as a volunteer at Balcones Canyonlands National Wildlife Refuge in Central Texas, where he mapped nesting territories of endangered Black-capped Vireos and Golden-cheeked Warblers. He has led a Sage Trifecta field trip to Lassen County as part of Birdathon for several years—a peak lifetime experience for attendees who rose at 4 a.m. in freezing cold to watch the mating rituals of the Sage-Grouse. Bruce is Treasurer of the Golden Gate Bird Alliance Board of Directors.
Registration will close at 7 p.m. on March 23.
This event will take place online via Zoom and last approximately 60-75 minutes. Registrants will be sent a link and password to access the Zoom. The session will be recorded, and registrants will have access to the recording on the web for two weeks after the event, regardless of whether they attend the live presentation.