By Ilana DeBare
The cities of Berkeley and Emeryville took major steps last month towards enacting Bird-Safe Building laws. Noreen Weeden, Director of Volunteers at Golden Gate Bird Alliance, has been instrumental in winning approval of such laws in San Francisco, Oakland, Richmond, and Alameda, as well as the pending Emeryville and Berkeley ordinances. Here we speak with Noreen about her Bird-Safe Building work that has put the Bay Area in the forefront of this important effort to save birds' lives.
Q: What is the status of the Emeryville and Berkeley ordinances?
Noreen: In Emeryville, the planning commission will review an ordinance in February 2020 and then provide final language to the City Council, which has already agreed they want a Bird-Safe Buildings policy.
In Berkeley, the planning commission will review ordinance language that has already been drafted. The next step will be to make any requested changes, approve it, and implement it in 2020.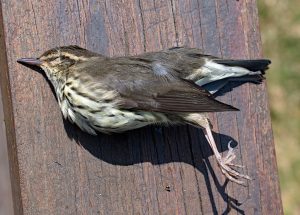 Q: How long have you been working on getting Bay Area cities to add Bird-Safe Building policies to their planning codes?
Noreen: We started in 2009. The way I got interested is that I was walking to downtown San Francisco, and on Third Street noticed a dead hummingbird. I wondered, 'How did it hit the window and die?' Then I noticed some resources from the American Bird Conservancy, which had just started writing articles about window collisions.
In San Francisco, we were talking at that time with the planning commission about the impact of nighttime lights on birds and promoting "Lights Out" guidelines for migration season. The commissioners were happy to hear about positive steps they could take, and said, 'Come back to us with more things we can do.' So we started talking to them about Bird-Safe Buildings.
Q: How big a danger to birds are window collisions?
Noreen: The U.S. Fish & Wildlife Service estimates that window collisions kill 1 million birds per day. That's the low estimate; there are estimates that are higher than that. [Estimates range as high as 988 million deaths per year.] Often collisions occur where the windows are reflecting vegetation or the sky.
Q: Why do birds fly into windows so much?
Noreen: They don't recognize glass as a solid, just as we don't. We don't like to admit it, but almost all of us have walked into a sliding glass door once or twice. The difference is that birds are traveling at 30 or 40 miles per hour, while we're moving at less than five miles per hour, so the impact is much greater.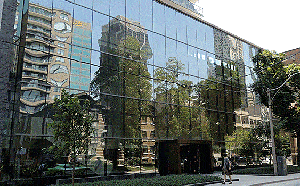 Q: Where do window strikes rank, compared with other threats?
Noreen: It's difficult to quantify mortality due to habitat loss or declining insect species. Cats, which kill an estimated 1.4 to 7.7 billion birds each year, are the number-one threat that people can control. Window strikes are second.
Q: What are the technical solutions?
Noreen: Make the window something that's obvious. You can use anything from an insect screen installed on the outside of the window, to fritted, etched, or patterned glass, to solutions that also save energy like shades or louvers. The American Bird Conservancy web site has information about the many, many alternatives.
One thing we've learned is that the visible elements need to be close together. Imagine the size of a bird – say, a four-inch hummingbird. Birds know the size of their body, so they look for spaces they can fit through. Suppose you have a large wall of glass with a single decal of a hawk as a collision deterrent. The bird isn't going to fly through that hawk, but the rest of the window is a potential problem.
Q: What do Bird-Safe Building laws typically require?
Noreen: Typically they require new buildings or buildings with major retrofits (such as replacing all their windows) to provide some kind of treatment on the glass. In San Francisco, the ordinance is limited to targeted areas close to parks, open spaces, or large bodies of water. In Alameda, it covers the entire city. San Francisco had the first Bird-Safe Building ordinance in the country, so it was very innovative at the time. Now we'd like to go back and make some improvements to the San Francisco ordinance.
Q: How do the proposed Berkeley and Emeryville ordinances compare to the others?
Noreen: The Berkeley ordinance would be the strongest so far, in terms of where the regulations are applied. They would apply to any glass surface larger than 8 square feet, which would include a standard glass door. Berkeley is also including a Dark Skies ordinance like Alameda has.
Dark Skies ordinances focus on the light fixtures of buildings and require what's called "full cut-off," meaning they direct light where people need it rather than spraying it all over. They encourage the use of motion sensors rather than keeping lights on all night when they're not needed.
The overall goal is to provide the best quality of light where it's needed, but also enjoy the night sky. Darker skies at night help birds stay on track during migration; they may also help insect populations; and they help our own circadian rhythms.
The Emeryville bird safe building ordinance would apply citywide; it incorporates glass treatment, outdoor and interior lighting, and site features.
Q: So with the addition of Berkeley and Emeryville, we will have achieved Bird-Safe Building ordinances in six cities in Golden Gate Bird Alliance's membership area, including our largest cities. What's next? How can our members help?
Noreen: We'll need people to show up in support at the Emeryville planning commission on February 27, 2020, and the City Council on April 2, 2020. The Berkeley hearings aren't calendared yet, so we'll let members know about those.
There still are cities in our area like Piedmont, El Cerrito, and Orinda that haven't enacted Bird-Safe Building ordinances. Until now, we've focused on urban areas where the development pressures are highest, since they present the greatest threat to birds. But if these other cities are interested, we'd be supportive.
We hope that in 2020 Bird-Friendly Building Design will be considered for CALGreen, the building guidelines for the State of California. We've been participating in those meetings with the American Bird Conservancy.
Q: This is a statement, not a question! Noreen, you've done amazing work on this issue over the past decade – researching the issue, working collaboratively behind the scenes with planners and architects, shepherding these ordinances along through the often-slow process of municipal government. We are so lucky to have had your leadership on this! Thank you.
---
Click here to read the draft Berkeley ordinance or here to read the staff proposal for an Emeryville ordinance.