By Ilana DeBare
Some weekends there are just TOO many things to do! And that goes double during fall migration season.
This past Saturday was Coastal Cleanup Day, and Golden Gate Bird Alliance sponsored volunteer clean-up sessions at three different sites – Pier 94 in San Francisco, Martin Luther King Jr. Shoreline Park in Oakland, and Rheem Creek (Bayview Elementary School) in San Pablo.
On top of that, Dan Murphy led his annual fall migration field trip in western San Francisco. The Bay Area's Audubon chapters were holding a meeting at the Richardson Bay Audubon Center in Tiburon. And countless GGBA members were outdoors on their own looking for visiting warblers, vireos, crossbills and who knows what else….
Because pictures do speak louder than words, here are a lot of pictures and a few words about the weekend's adventures:
At Rheem Creek in San Pablo, GGBA Eco-Education staff and volunteers joined kids from Bayview Elementary School to clean up Rheem Creek, a tributary to the Bay. Thirty-two people picked up about 450 pounds of trash, including a shopping cart, fax machine, word processor, two bicycles and a sports trophy.
Meanwhile, at Pier 94 near Bayview/Hunter's Point, twelve GGBA volunteers used recycled bags to remove 1,120 pounds of trash, including  one cubic yard of salsola soda, an invasive weed. Amidst the paint cans, PVC, styrofoam and razorwire, the most unusual piece of trash was a… plastic Santa.
At MLK Shoreline, eight GGBA volunteers picked up about 30 pounds of trash. (No shopping carts there… so they were focusing on small pieces.)
Across the Bay in San Francisco, Dan Murphy led about 30 birders on a field trip at the Chain of Lakes in Golden Gate Park, the East Wash and other coastal sites. "North Lake in GGP produced the day's best birds," he reported. "Hooded Merganser, Gadwall, Hermit Warbler 2, Orchard Oriole, Willow Flycatcher, Common Yellowthroat, Nuttall's Woodpecker, Hairy Woodpecker, Cedar Waxwing 2."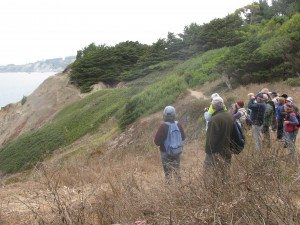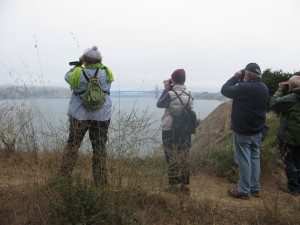 And, lest you think we only have photos of people from the weekend, we'll end with a couple of photos of goldfinches having as good a time as any of their human observers. They were taken this weekend at Lake Merritt by Allen Hirsch.
Thanks to all the cleanup volunteers, field trip leaders, and photographers who make GGBA such an active organization. Happy fall migration and happy birding generally!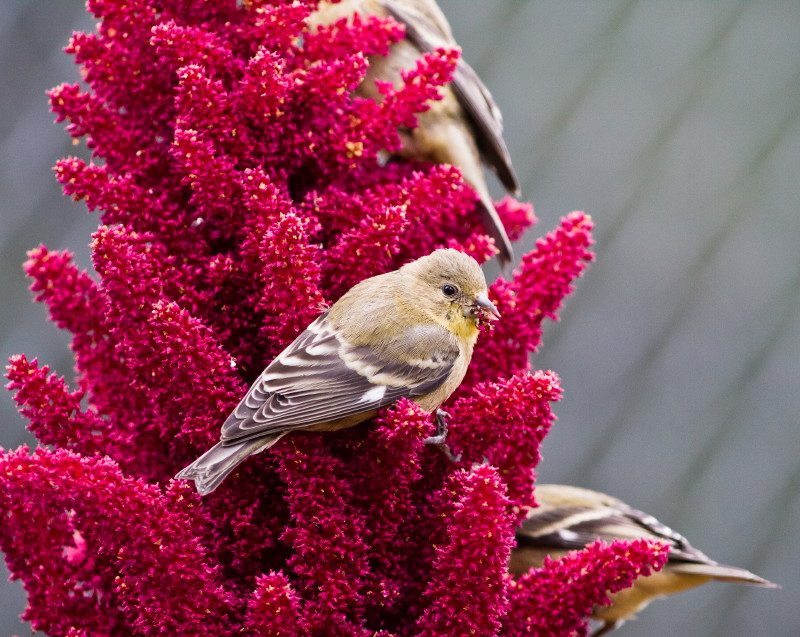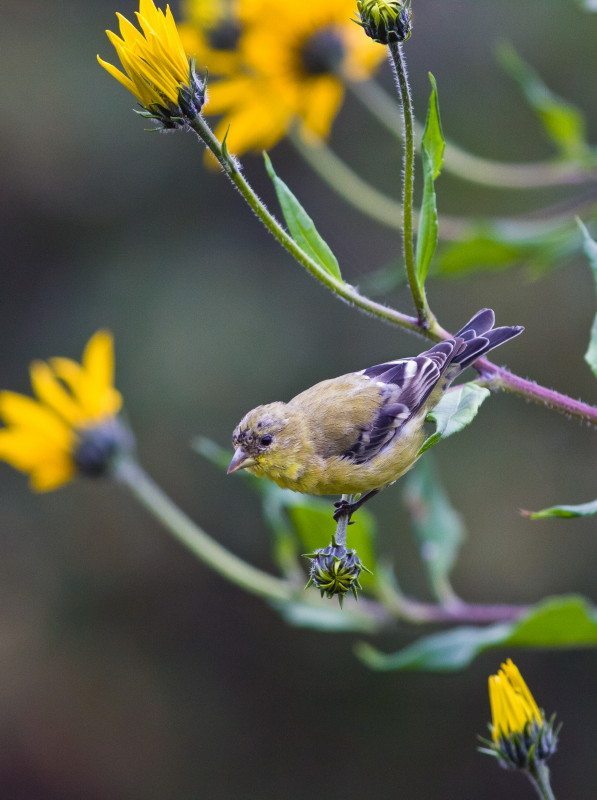 —————————————————
Want to go on a Golden Gate Bird Alliance field trip? You can find a list of upcoming field trips on our Web site. Or maybe you'd like to volunteer at one of our coastal restoration sites? Future work days are also listed on our Web site. Or call our office at (510) 843-2222 to get involved.