Coyote Hills: Birding Hotspot
By Pamela Llewellyn
When people visit from out of town and ask, "Where's the best place to go birding?" I always have to pause and collect my thoughts.  San Francisco Bay is one of the richest and most diverse places to bird along the California coast — one of the major foraging, resting, and over-wintering spots along the Pacific Flyway.
Coyote Hills Regional Park in Fremont is one of my all-time favorite East Bay birding locations, due to the variety of habitats supporting diverse groups of both flora and fauna.  But it also has a rich cultural history.
The East Bay's original inhabitants were ancestors of the Ohlone Indians, hunters and gatherers whose skills enabled them to live well off the land's natural ounty.  At that time Tule elk, California Condors, sea otters, and fish were abundant.  Some of the rich wetlands that sustained them are preserved at Coyote Hills, along with 2,000-year old Tuibun Ohlone Indian shellmound sites.
The park's varied history also includes Mission and settler ranching and farming activities, salt production, a duck hunting club, a dairy, rock quarrying, a military NIKE missile site, and a biosonar research facility.  Coyote Hills Regional Park was dedicated to public use in 1967 and is presently comprised of nearly 978 acres of open space.
There is not a dull time of year to bird at Coyote Hills: Each season offers a unique glimpse into the life of birds.
Spring in Coyote Hills is a very busy time of year.  Upon entering the park, the road passes through grasslands and marsh where Northern Harriers (formerly known as Marsh Hawks) soar over the reeds in search of food, or do roller-coaster loops and food hand-offs mid-air air to impress a potential mate.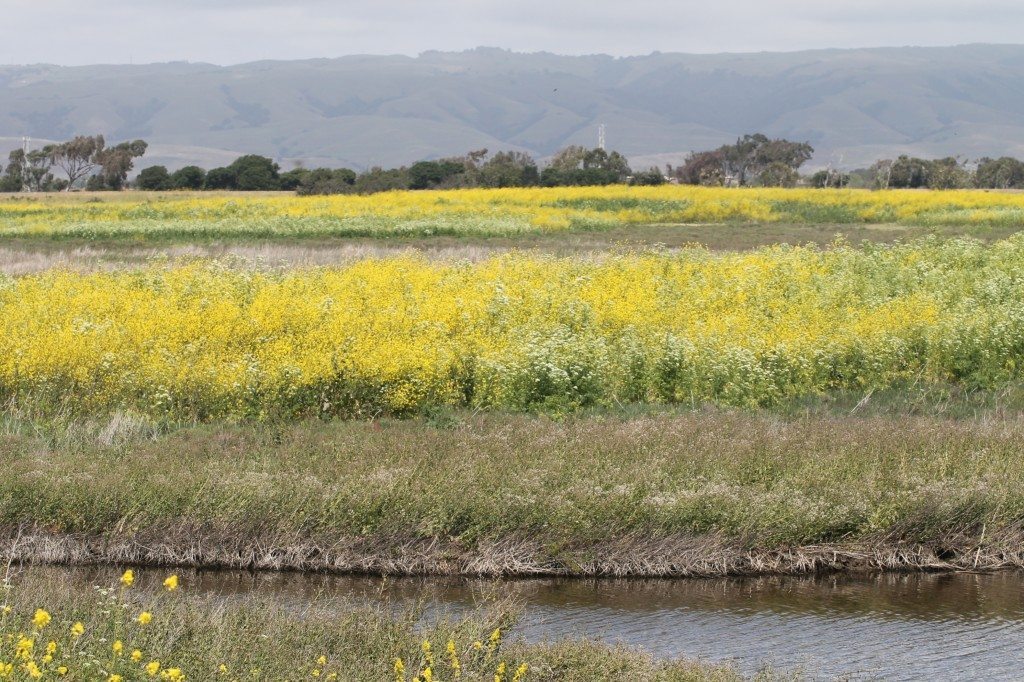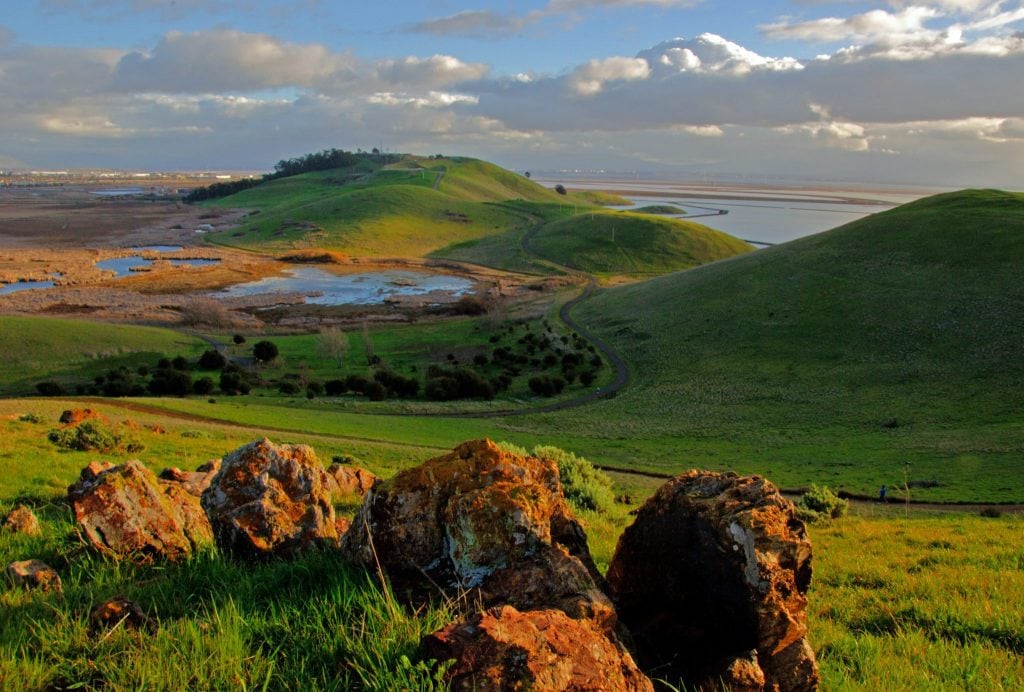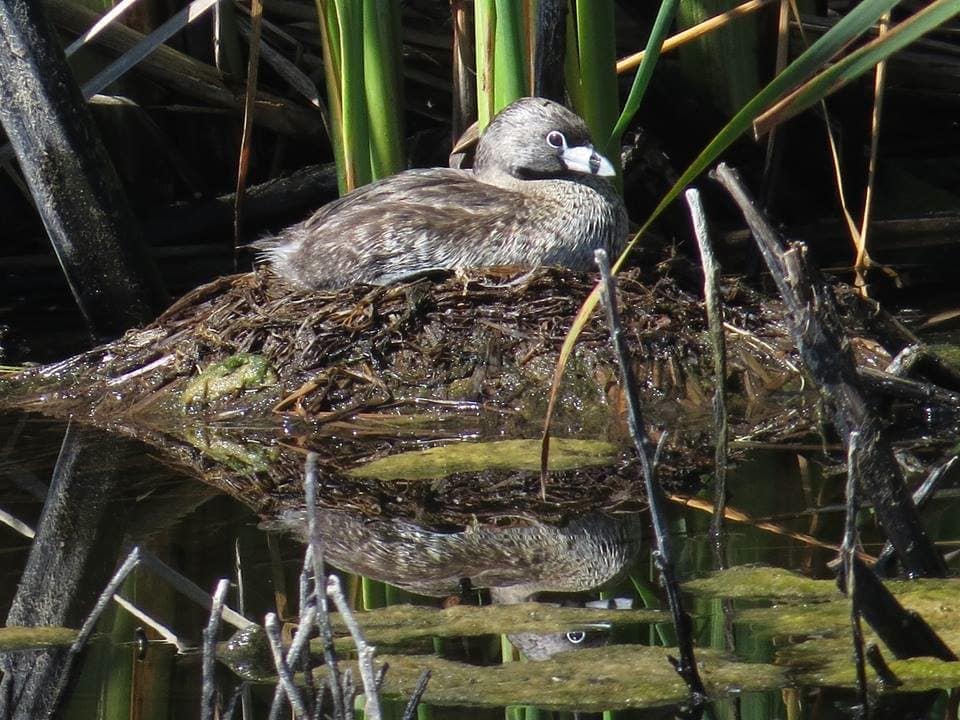 Marsh Wrens chatter their staccato song out in the marshes, while Bewick's Wrens sing melodiously from branches up on the hillside.  If you park at the Visitor Center and walk up to Hoot Hollow, you might catch a glimpse of the resident Great-horned Owl family with their newly fledged young.   Or if you walk out further into the marshes you may hear the lovely Common Yellowthroats, perched in among the reeds, singing to define territory for their families.
The park has installed somewhere between 20 and 30 nest boxes that have attracted Tree Swallows.  Every spring the boxes are fully occupied.   This is a great way to observe nesting birds without disturbing them.  The boxes themselves are on the edge of the D.U.S.T. trail and the swallows appear to have adapted to human on-lookers.  In the channel to the south of D.U.S.T trail, Pied-billed Grebes, American Coots and Common Gallinules are all busy building nests, incubating eggs and feeding young.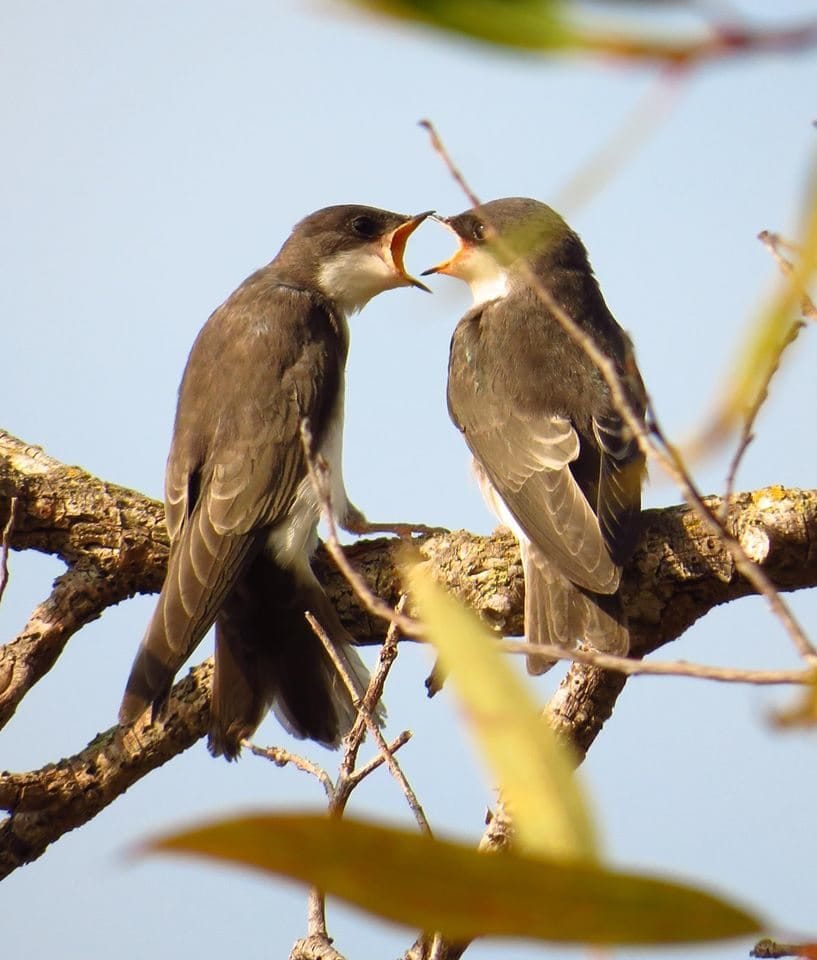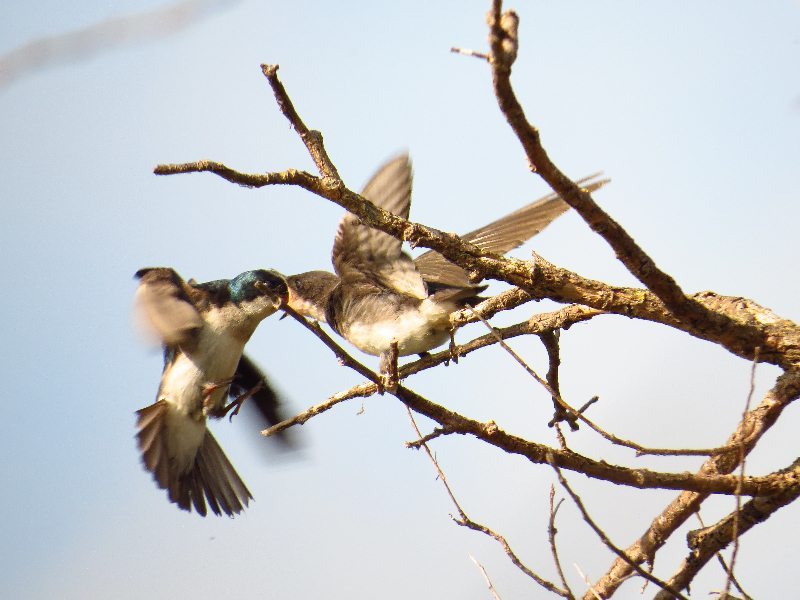 As the summer months wear on, the young birds fledge and grow up.  There are always a few late clutches and lingering fledglings.  But then the flurry of the breeding season comes to a close, and the ponds begin to fill up with an entirely new set of feathers.
The first Dowitchers appear along with small flocks of Western and Least Sandpipers.  Sandpipers and other shorebirds start to arrive from their northern breeding grounds as early as June, with many of them still wearing their colorful breeding plumage.  American Avocets and Black-necked Stilts are resident species that breed in Coyote Hills, and are often seen with small fluffy offspring in tow.
As fall sets in, the ponds fill up with ducks: Canvasback, Greater and Lesser Scaup, Northern Pintails, Buffleheads, and Common Mergansers all fly in to join their resident cousins the Cinnamon Teal and Mallard, and the marshes are once again transformed. Trudging through the cold wet weather of winter to count duck species is an entirely different experience than standing in the bright spring sunlight watching the ethereal Tree Swallows fluttering down out of the sky to feed their young.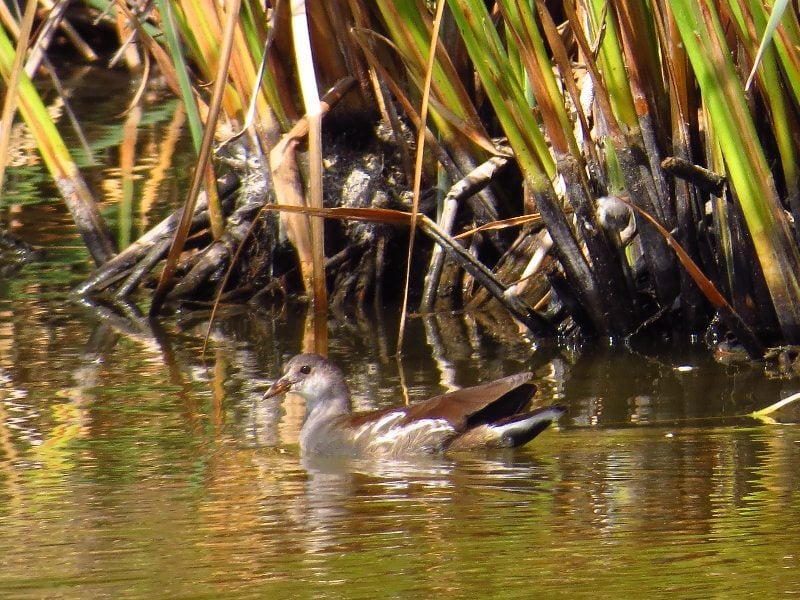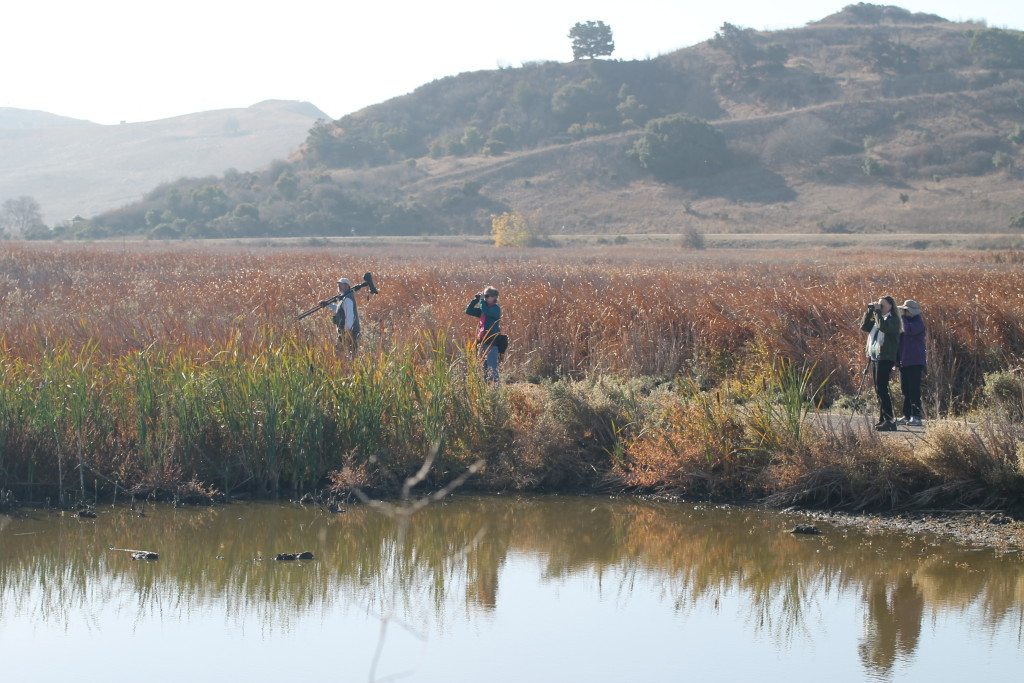 Alongside all of the bird activity there are many mammals that make Coyote Hills their home. Muskrats can be seen swimming in the channels and ponds among the water birds, while grey foxes stealthily stalk prey in the thick grass and marshes. and the endangered salt marsh harvest mouse makes a home among the pickleweed.
Raptorphiles can get their fill with up to 23 different species of birds of prey recorded here. White-tailed Kite, Northern Harrier, Red-shouldered Hawk, and Great Horned Owl are a few of the more common sightings.  Osprey, Peregrine Falcon, and Merlin make frequent visits. (Rare sightings include Rough-legged Hawk, Ferruginous Hawk, and Pygmy Owl.) And for the herp-lover, the resident Red-tailed Hawk will give you a nice display of the local reptile species while it soars by with a garter or gopher snake in its talons.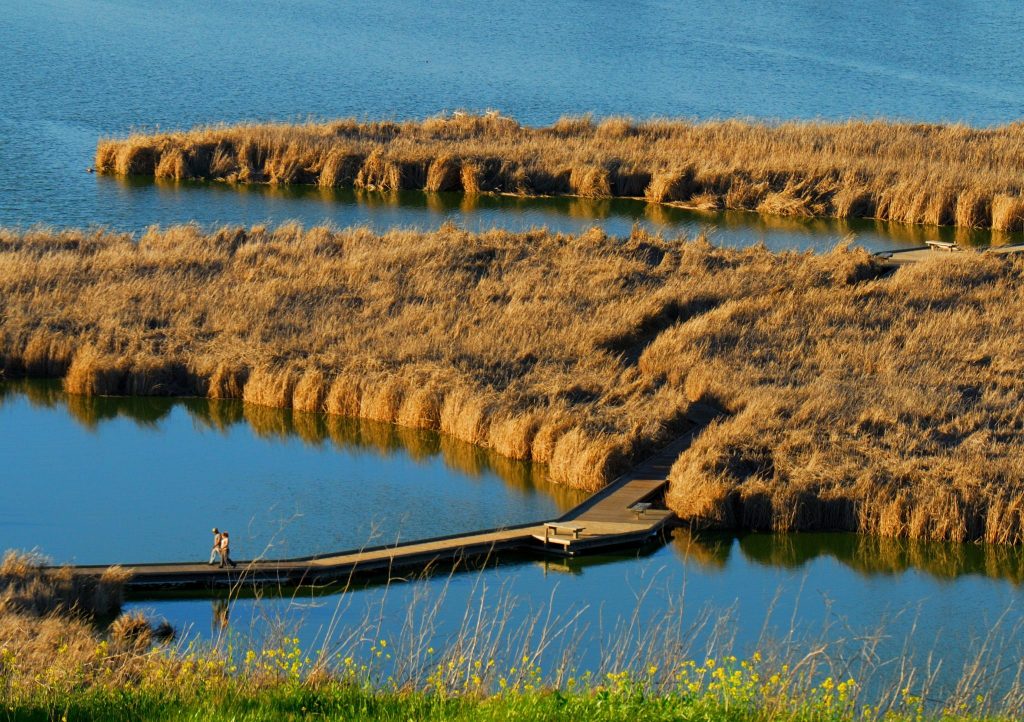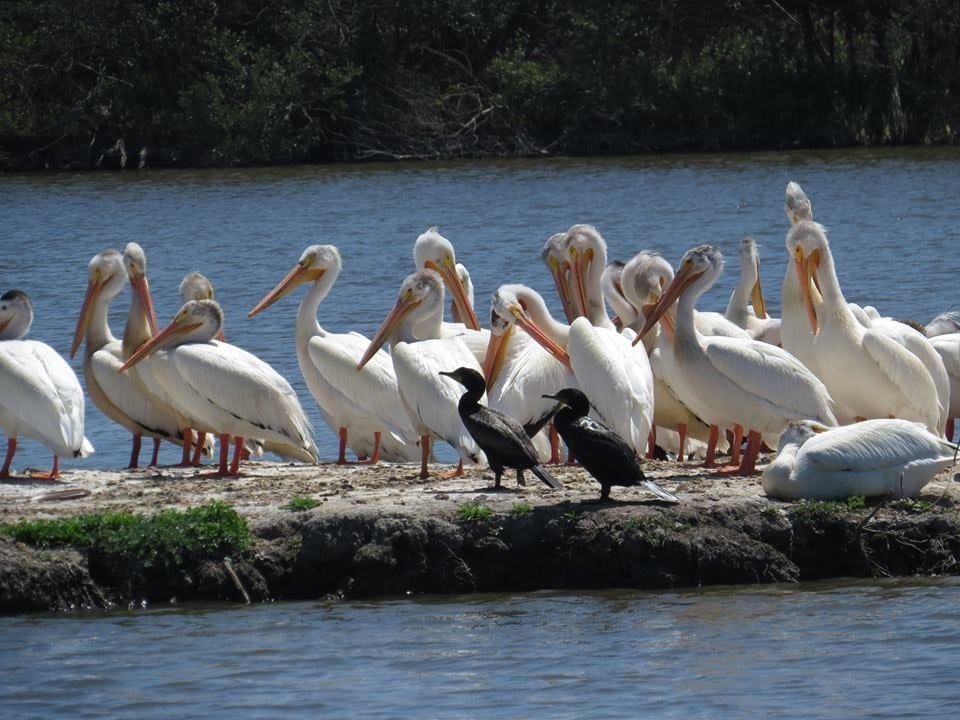 After a few hours out on the trails, the Visitor Center offers a nice break from the elements and has an educational natural history display. Behind the Visitor Center is the Butterfly Garden, which attracts both birds and butterflies. I love sitting on the stone bench in front of the water fountain to cool off on a hot summer day and watching the variety of creatures that come to drink the cool water.
For anyone with even a mild interest in the natural world, Coyote Hills does not disappoint.
Fast Facts
Location: 8000 Patterson Ranch Road, Fremont
Hours/Fees: Park hours vary by season, generally from 8 a.m. until early evening. See the park web site for details. The Visitor Center and butterfly garden are open 10 a.m. to 4 p.m., Wednesday through Sunday. Parking fee of $5/vehicle.
Dogs: Dogs allowed if they are on leash and under control. Fee of $2/dog (guide dogs free).
Habitat: Brackish wetlands, salt marshes, grasslands, willow woodland, oak woodland and conifer stands.
Key Birds: 
The Cornell Lab of Ornithology's eBird lists a total of 272 species of birds recorded at the park.
Year-Round: Canada Goose, Mallard, Cinnamon Teal, Ring-necked Pheasant, Pied-billed Grebe, Double-crested Cormorant, American White Pelican, Great Blue Heron, Great Egret, Snowy Egret, Black-crowned Night Heron, Turkey Vulture, White-tailed Kite, Northern Harrier, Red-shouldered Hawk, Red-tailed Hawk, Virginia Rail, Common Gallinule, American Coot, Black-necked Stilt, American Avocet, Killdeer, Western Gull, California Gull, Great-horned Owl, Anna's Hummingbird, Nuttal's Woodpecker, Black Phoebe, Western Scrub Jay, Chestnut-backed Chickadee, Bushtit, Marsh Wren, Bewick's Wren, American Robin, Common Yellowthroat, Dark-eyed Junco, Savannah Sparrow, Song Sparrow, Spotted Towhee, Lesser Goldfinch.
Summer: Caspian Tern, Forster's Tern, Allen's Hummingbird, Olive-sided Flycatcher, Western Wood-Pewee, Pacific-slope Flycatcher, Ash-throated Flycatcher, Warbling Vireo, Northern Rough-winged Swallow, Violet-green Swallow, Barn Swallow, Cliff Swallow, Swainson's Thrush, Wilson's Warbler, Western Tanager, Black-headed Grosbeak, Lazuli Bunting, Hooded Oriole, Bullock's Oriole.
Winter: American and Eurasian Wigeon, Canvasback, Northern Pintail, Greater and Lesser Scaup, Bufflehead, Common and Barrow's Goldeneye, Eared Grebe, Western Grebe, Marbled Godwit, Long-billed Curlew, Dunlin, Least and Western Sandpiper, Long-billed and Short-billed Dowitcher, Bonaparte's Gull, Mew Gull, Herring Gull, Merlin, Say's Phoebe, Loggerhead Shrike, Ruby-crowned Kinglet, Yellow-rumped Warbler, Fox Sparrow, Golden-crowned Sparrow, White-crowned Sparrow.
Ease of Access:  The trails through the marshes are mostly paved and flat so access is easy for everyone.  The trails up into the hills are less paved and some a bit steep, but the views from the top are sensational.
Getting There: 
Driving: From I-880, take Highway 84 west, exit at Paseo Padre Parkway, turn right, and drive north about one mile. Turn left on Patterson Ranch Road. This is the park's entrance road and will take you to the picnic areas and visitor center.
Transit/bike: The closest BART stop is Union City, from which you can take a bus and then walk to the park. See 511.org to confirm transit lines and schedules. The park is easily reached by bike from the 12-mile Alameda Creek Trail.
Nearby services: The Visitor Center offers an interpretive display of natural history and the Ohlone way of life. Behind the center is a butterfly garden that attracts birds and butterflies alike. There are bathrooms at the Visitor Center.
Nearby cafes/restaurants:  No restaurants inside the park. There are first-come, first-served picnic tables at the Visitor Center and the Quarry staging area, plus a reservable group picnic area at Hoot Hollow.
For more information: www.ebparks.org/parks/coyote_hills
———————————–
Pamela Llewellyn has been a volunteer at Golden Gate Bird Alliance since 2005.  She has also worked as a volunteer for the Golden Gate Raptor Observatory and Point Reyes Bird Observatory, and has led trips with Point Reyes Field Seminars and Dolphin Charters.
Click here for more reviews of Birding Hotspots by Golden Gate Bird Alliance members.