Point Isabel: Birding Hotspot
By Jess Beebe
Most people think of Point Isabel primarily as a dog park, and indeed it features one of the largest and most scenic off-leash dog areas anywhere. But this park is also the gateway to a premier birding destination, offering access to a delightful stretch of the San Francisco Bay Trail that meanders through a restored salt marsh and slough and past expansive mudflats.
Tires, shopping carts, and chunks of concrete remind us that this place – like many shoreline parks – has a checkered history of human use. (It was acquired by the East Bay Regional Park District in 1975 to offset the construction of the neighboring Postal Service facility.) Here, as elsewhere, the Bay Trail runs parallel to a busy freeway. Yet the place has a wild beauty that transcends the heavy impact by people, both past and present, and makes it a worthwhile destination even for nature lovers who generally prefer more pristine places.
The mudflats and salt marsh provide outstanding habitat for shorebirds year-round and ducks in winter. Upland habitat hosts warblers and other songbirds. But without a doubt, the star resident is the Ridgway's Rail. This species was known as the Clapper Rail until 2014, when the West Coast population was declared distinct from Gulf and Atlantic populations and given its own name. The interpretive displays along the Bay Trail still refer to the birds as Clapper Rails. Whatever you call this species, it is classified as endangered, both federally and in California, mainly due to habitat loss.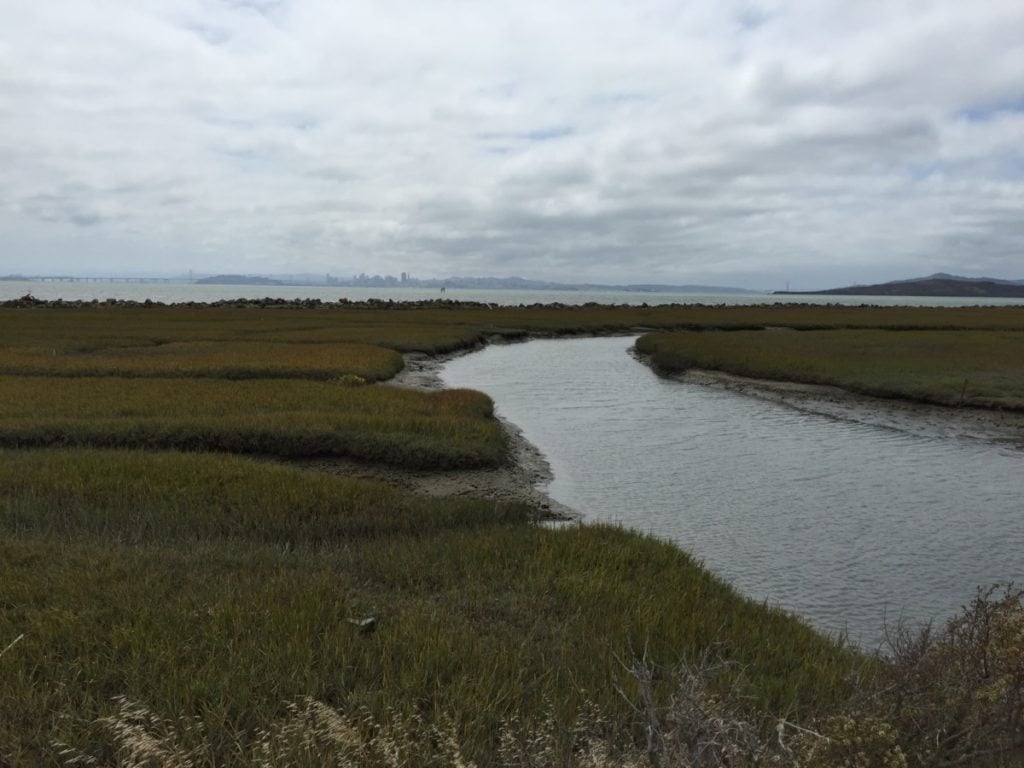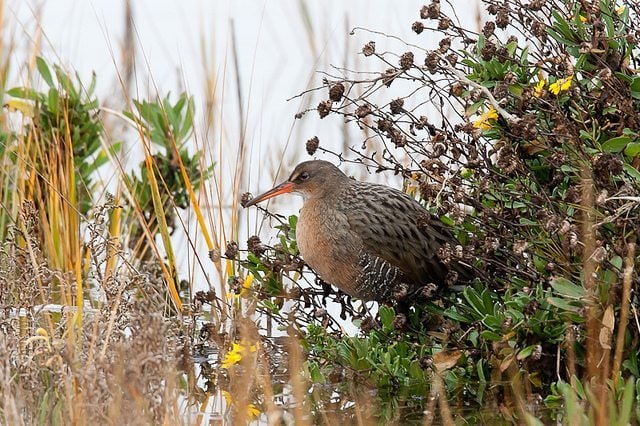 Rails are known for their secretive habits. They spend much of their time hidden deep in the salt marsh, venturing out onto the muddy banks of the channels only occasionally, and often for just moments at a time, before disappearing back into the marsh.
I saw my first Ridgway's Rail on a trip to the Upper Coast of Texas. A fellow birder had told me that they could reliably be seen alongside a certain road on the Bolivar Peninsula. Determined to finally lay eyes on one of these elusive birds, I brought a sandwich and staked out the muddy marsh edge. About two hours later, a rail appeared. Having seen that rail – if only briefly – I felt more confident searching for them at Point Isabel, and later that season I spotted one there, too.
Unless you are very lucky, you won't see a Ridgway's Rail on every visit to Point Isabel. As always, it's a matter of being in the right place at the right time and looking in the right way. Their preferred habitat is salt marsh, and especially cordgrass. They are easiest to see when they come out onto the muddy banks of the tidal channels, which I think of as "rail alleys." Although the rails are year-round residents, I've seen them most reliably in winter and at mid-level tides. (The mud banks are submerged at high tide.) They tend to be more active around sunset.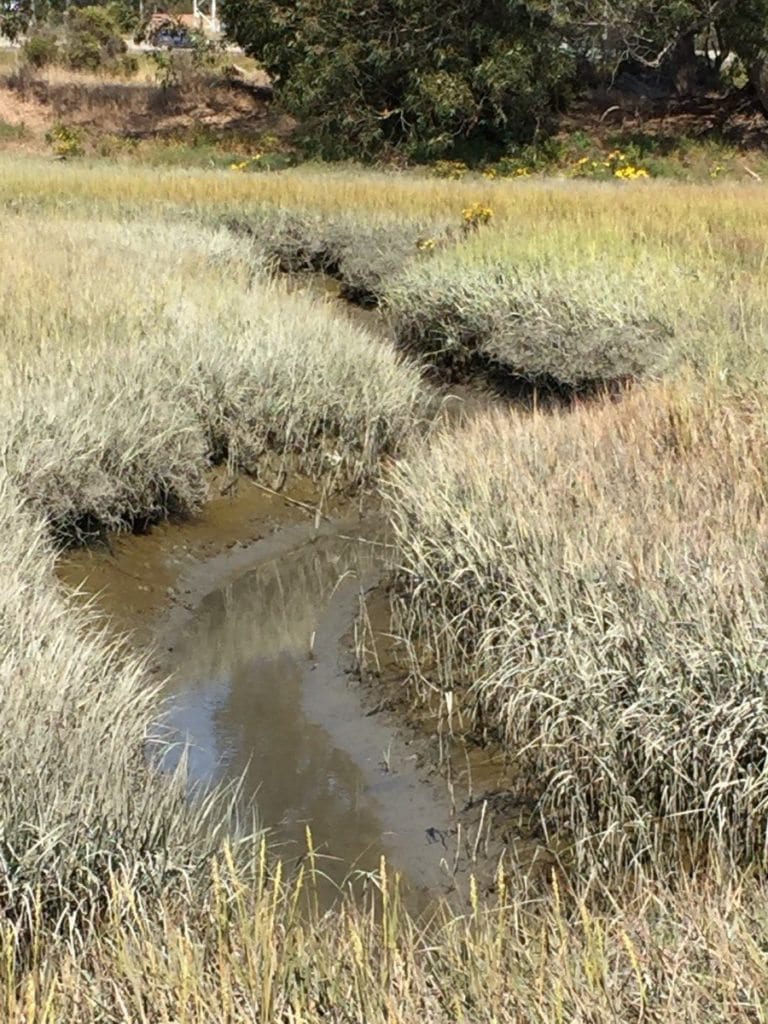 So, come here late on a winter day. Notice the rail alleys. Use your peripheral vision to stay alert to furtive, chickenlike silhouettes. Rails may show up singly or in pairs. You will most likely see them walking slowly along the edge of the water, but they may also swim or fly short distances. You may hear their kek-kek-kek call before you see them. If you don't spot a rail the first time, come back another time – and bring a sandwich.
To bird this stretch of shoreline, begin at the Point Isabel parking area at the end of Rydin Road. Pick up the San Francisco Bay Trail behind the pit toilets and head northwest on the bike path. You'll cross a bridge that is cleverly divided for simultaneous use by cyclists and off-leash dogs. From here, you have a nice view of Hoffman Marsh to the east. Further down the path, notice the Monterey pines on the right. White-tailed Kites can occasionally be seen resting here.
Continuing past the end of the fenced off-leash dog area, you will begin to see rail alleys in the marsh to your right. When you reach the first bench on the left, consider taking a detour on one of the footpaths toward the bay. In winter, this is a good place to look for Greater and Lesser Scaup, Western and Clark's Grebe, and Ruddy Duck. Scan the jetty for shorebirds. Watch for Forster's Terns diving into the bay.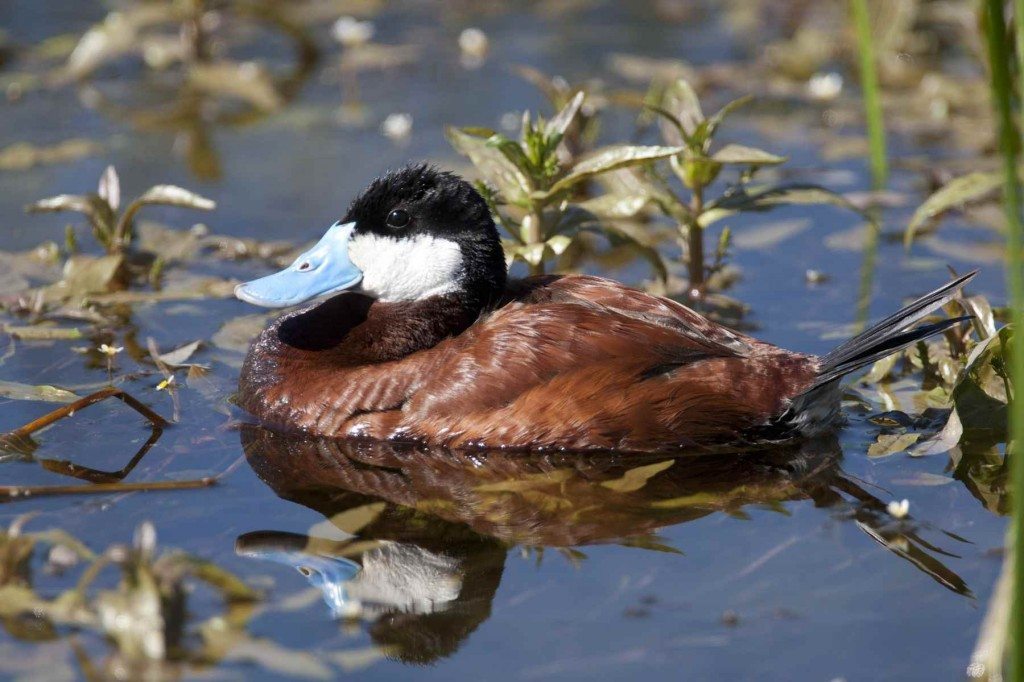 Rejoining the main trail and crossing a second bridge, you will be walking through prime rail habitat on both sides of the path. A bit further along, you'll have direct exposure to mudflats and bay to the west. (It can be quite windy here. You'll know you've arrived if your hat blows off.) This is a good place to set up a scope and get the shorebirds sorted out.
Continuing along the trail, you'll pass a dilapidated pier. I've seen Elegant Terns here in winter. American Avocets may gather in great numbers at the mouth of Meeker Slough. This is also a great spot for ducks. As you cross the third bridge, watch for toyon bushes to the right; Cedar Waxwings may visit to feed on the red berries in winter.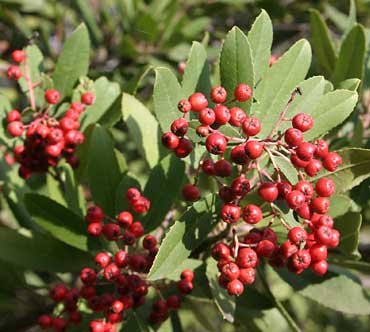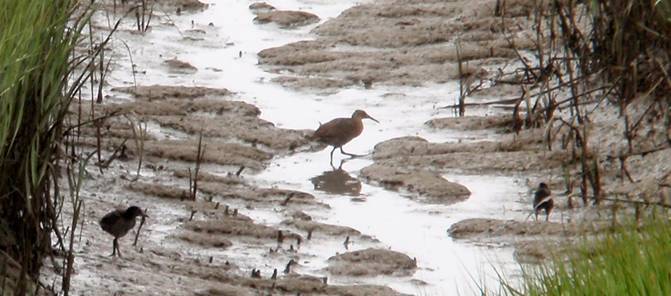 At the junction, you can turn east and follow the path toward Meeker Creek – another good place to see Gadwall, American Wigeon, Northern Shoveler, and other ducks – or take the left branch and stay on the San Francisco Bay Trail. The Bay Trail curves around Meeker Slough and passes a small thicket that looks as if it should yield interesting birds, although in my experience it generally does not. More promising is the grassy park beyond the thicket. Look for American Pipit and Say's Phoebe. From the benches, you have a nice view back over Meeker Slough.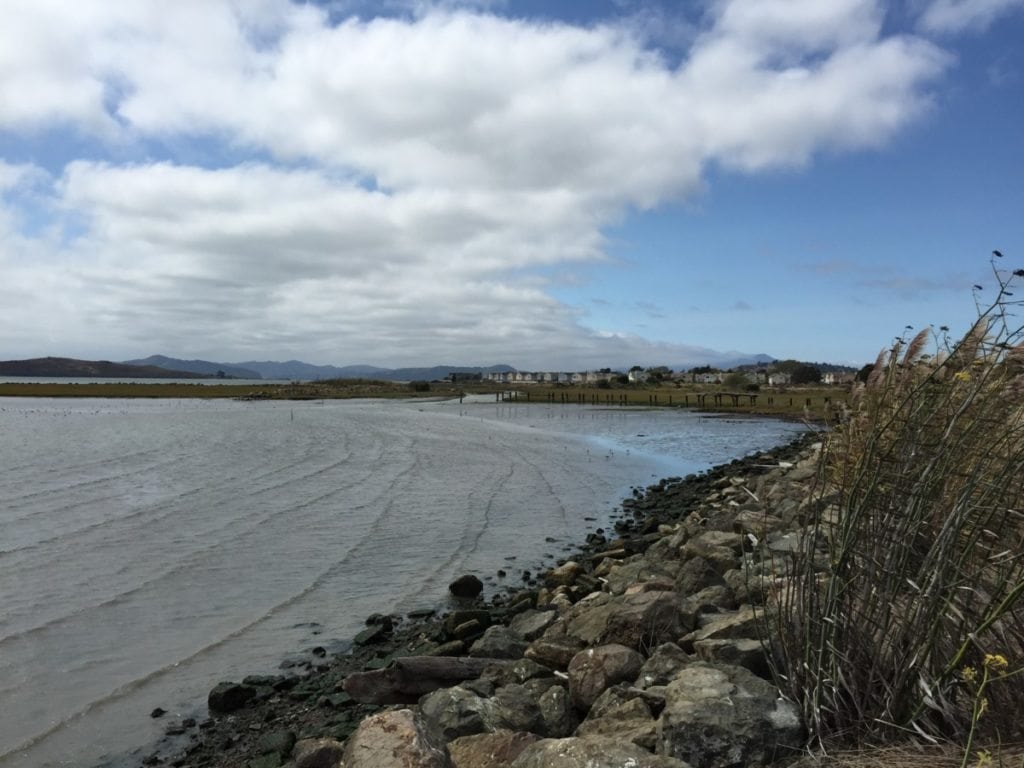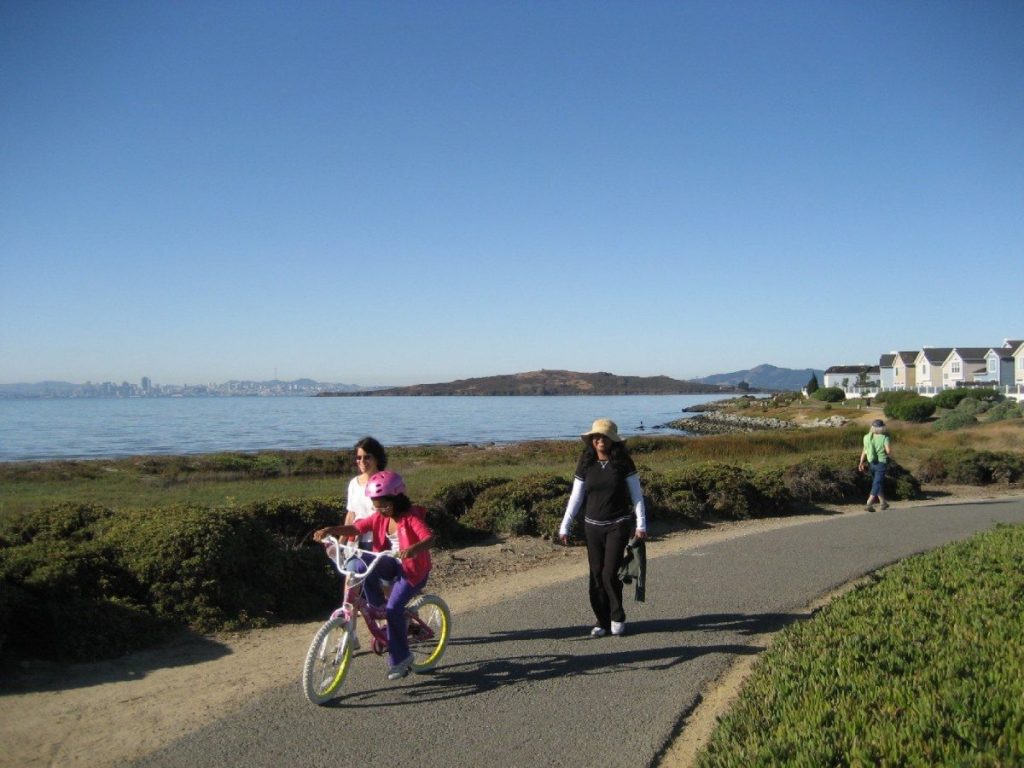 Rejoining the Bay Trail, continue along the rocky shoreline and watch for Black Oystercatchers. In January 2013, a small group of Brant showed up on the beach here. This section of the trail offers wonderful views of the bay. In winter, you may see thousands of scaups and hundreds of grebes.
Walk onward to Shimada Park and cut through to Marina Bay if you wish. Return the way you came (scanning the rail alleys, of course). Round-trip distance is a little over three miles.
The trail is popular with cyclists. To avoid collisions, step off the pavement before lifting your binoculars.
Explore Point Isabel with us! Golden Gate Bird Alliance is leading a field trip there on Saturday, October 15, 2016 from 9 a.m. until noon. Details on our Field Trip web page. 
Fast Facts
Location: North end of Rydin Road, Richmond. Pick up the San Francisco Bay Trail just behind the pit toilets.
Hours/Fees: 5 AM to 10 PM; no fee.
Dogs: Allowed off-leash in the designated area within Point Isabel Regional Shoreline; must be on leash on the San Francisco Bay Trail.
Habitat: Bay, mudflats, tidal marsh, slough.
Key Birds: Ridgway's Rail and shorebirds year-round; ducks in winter. For a complete list, download this printable Point Isabel Bird Checklist.
Ease of Access: This section of the San Francisco Bay Trail is flat and paved; wheelchair accessible.
Getting There: By car: From I-580 or I-80 in Richmond, take Central Avenue west, then turn right onto Rydin Road. Park along Rydin or in the EBRPD lot at the end of the road. Do not leave valuables in your car. On public transit: From El Cerrito Plaza BART, take AC Transit line 25 to Pierce Street and Central Avenue. Walk west on Central Avenue, then turn right onto Rydin Road. Or walk the full 1.4 miles from BART.
Nearby Services: Pit toilets and drinking water available at the end of Rydin Road.
Nearby cafes/restaurants: Mudpuppy's Sit and Stay Cafe, located at the west Point Isabel parking lot, at the end of Central Avenue; dog friendly, as the name suggests.
For more information: http://www.ebparks.org/parks/pt_isabel. The East Bay Regional Park District has an online guide to wildflowers of Point Isabel.
---
Jess Beebe is a writer, editor, and publishing consultant living in Oakland, California. She enjoys hiking, birding, and playing bass in the Shepherd Canyon Band. For more about her writing and editing work, visit www.waxwing.pub.