Rapid response for Berkeley Burrowing Owls
By Ilana DeBare
Q: What's more exciting than a new Burrowing Owl roosting site in Berkeley?   A: When city officials, park district officials and Audubon activists pull off a super-speedy response to protect the owls!
————————
Golden Gate Bird Alliance's volunteer docents were thrilled to find Burrowing Owls at a new site in early January — the rip-rap along the Bay Trail in Berkeley where it passes between city-run soccer fields and the shoreline.
Our docents were accustomed to Burrowing Owls along parts of the Berkeley waterfront. Since 2009, they've been helping protect and inform the public about the small owl colony that winters in Cesar Chavez Park at the Berkeley Marina.
But these owls were in a slightly different area. Burrowing Owls had historically roosted along the open Berkeley shoreline. Then construction of the Tom Bates Regional Sports Complex in 2008 displaced them. In an attempt at mitigation, government officials set aside some open space for owl habitat in McLaughlin Eastshore State Park at the Albany Plateau. But birds don't pay attention to Environmental Impact Reports, and the owls never showed up at their designated new home.
Now, suddenly, here was an owl back at the old site – but surrounded by busy night-lit soccer fields, a heavily-trafficked parking lot, and a path filled with people and their unleashed dogs!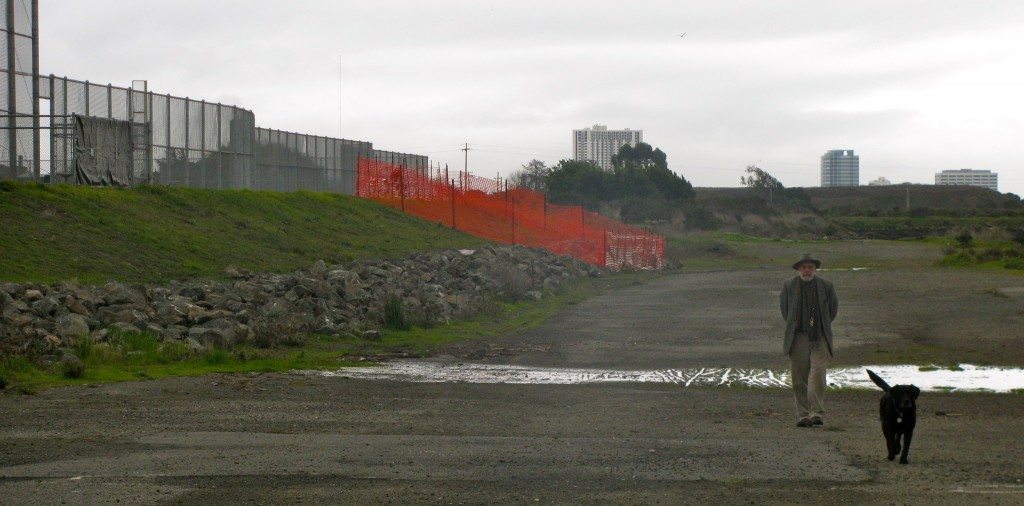 When docent Mary Malec reported sighting an owl near the soccer fields, docent coordinator Della Dash sprang into action. She contacted the East Bay Regional Park District, which manages the land as part of McLaughlin Eastshore State Park, and the city of Berkeley, which leases it to operate the sports complex.
"I was pushing for a fence as fast as possible," Dash said.
And officials responded. Berkeley Parks Superintendent Sue Ferrera ran over to the Berkeley waterfront to look for the owl on Jan. 2nd. She didn't see it. She went back on Jan. 3rd and found it. The very next morning, Ferrera had a team of park maintenance people in the field, erecting an orange warning fence to keep people and pets away from the bird. Ferrera was there too, making sure that installation of the fence didn't disturb the owl.
"It scooted over a bit, but Della had said that would be okay: It would scoot over and then probably come back," said Ferrera. "Then I checked on it an hour or two later, and it was back on its perch."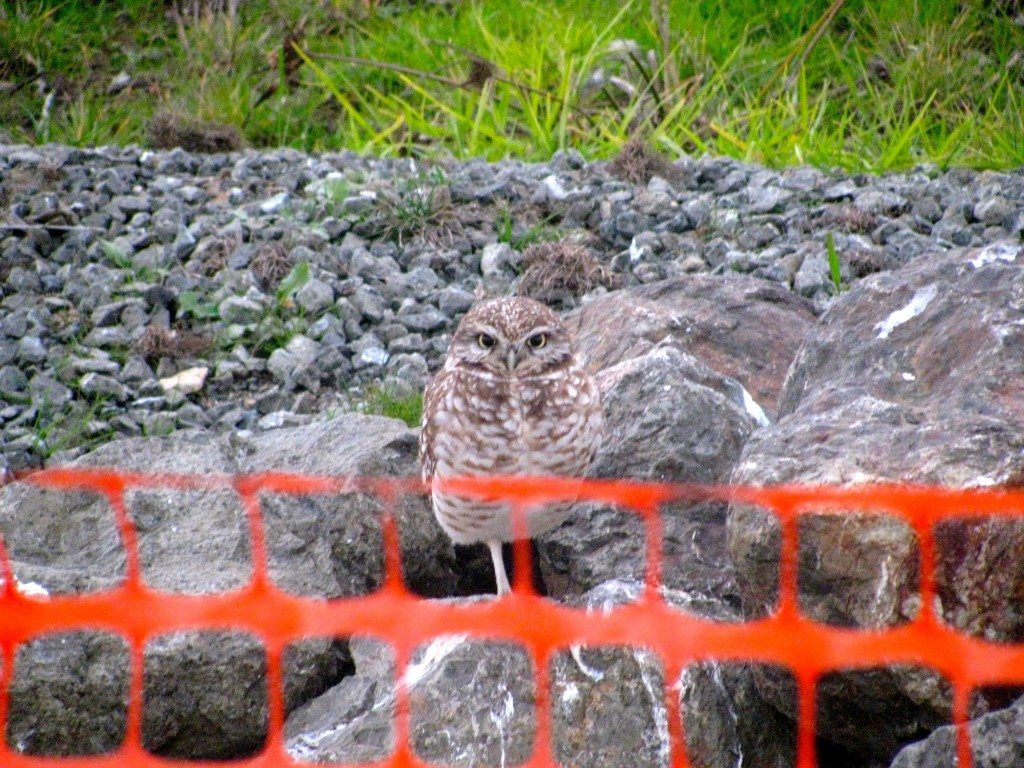 So now the fence is up and the owl is… if not safe, at least a little safer. (The safest thing would be if people would leash their dogs in the area near the owl.)
Golden Gate Bird Alliance docents are expanding their work to include the soccer rip-rap as well as Cesar Chavez Park — monitoring and educating people about the owls in both sites.
We'll keep our fingers crossed that this busy site can work for the little raptors, who arrive here from summer nest sites ranging from California's Central Valley to Idaho.
Meanwhile, many thanks to Sue Ferrera and her colleagues at the city of Berkeley — as well as to Doug Bell, Scott Possin and Brad Olsen of East Bay Regional Parks — for such a supportive and speedy response.
"In my wildest dreams I didn't think it would happen so fast," said Della Dash. "The city of Berkeley has been so wonderful and collaborative with the whole Burrowing Owl program over the years. This is just a wonderful success story."
Now… if only we could get our national government to respond with similar speed to larger-scale threats to birds and wildlife.
Like rodenticides. Or lead bullets.
Or, of course, climate change.
—————————
The Burrowing Owl is listed as a Species of Concern in California. The rapid development of its grassland habitat in the Central Valley has led to a steady decline in its population. Burrowing Owls typically weigh about five ounces and stand about 7.5 to 9.8 inches tall.
Golden Gate Bird Alliance docents have reported sighting two Burrowing Owls near the soccer fields this winter, plus another two at Cesar Chavez Park.