By Osprey Cam Video Assistant
Comparing our past five seasons of Osprey cam footage, I'd have to say the 2021 season was one of the best for our SF Bay Osprey family. Three healthy juveniles were successfully launched into the world while the infamous Ospreys we know as Rosie and Richmond, worked together seamlessly and devotedly from beginning to end.
It all began on a beautiful afternoon in mid-February. The winds were soft, the air clear, when an Osprey landed lightly on the nest. Someone in the live chat noted the arrival. Would it be another floater? Richmond? The camera zoomed in. A surprised yet triumphant cry, "It's Rosie!". It was her earliest return yet recorded, and the joy of her successful return raised everyone's spirits after a long, pandemic-shrouded winter.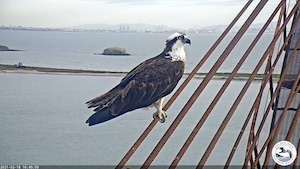 Despite Rosie's early return, Richmond was remarkably absent. Days passed, and while Rosie was frequently seen around the nest area, she was always alone. Did Richmond even realize she was back? In years past he had appeared within minutes or at most hours of Rosie's return (see all of Rosie's arrivals and departures over the years). Finally, a full week after her return, both Rosie and Richmond appeared at the nest together. The season could finally begin.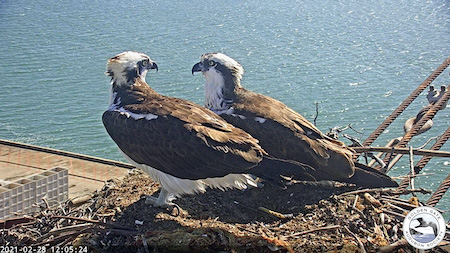 After a few weeks spent rebuilding the nest and getting reacquainted, Rosie laid her first egg March 24, about a week early from previous seasons. Seventy-one hours later came the second egg, and 73 hours after that, on March 30, the final egg was laid. 
If you haven't followed the Osprey cam for long, one thing you need to know is that Richmond absolutely loves being a dad. He and Rosie vie for the chance to sit on the eggs, and occasionally Richmond will even position himself right next to Rosie to "help".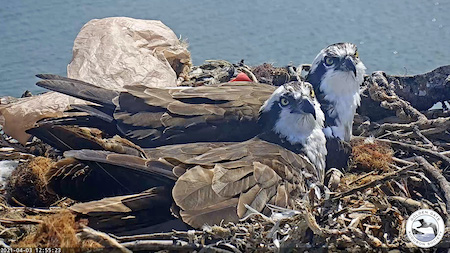 Fishing and Banding and Surprises, Oh My!
Right on schedule, the first egg hatched May 3. One of the musically inclined Live Chatters, craigor, put the first bobblehead to music. By May 5th, Rosie and Richmond had three healthy Osprey chicks to feed. Richmond, who had been bringing 12-15 fish per week during incubation, started ramping up his deliveries, and just a few weeks later was bringing 25-30 fish per week, many of them trout from the San Pablo Reservoir 7 miles away.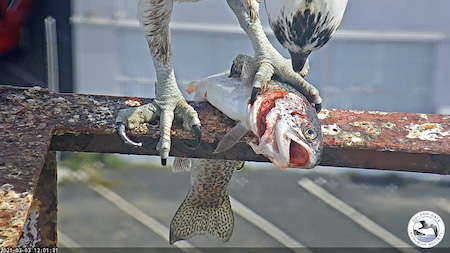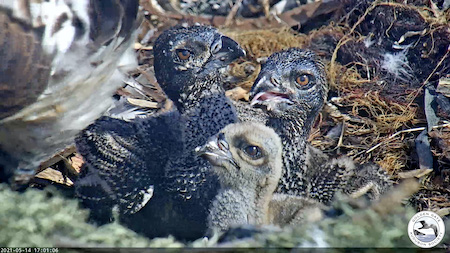 Thanks to the Golden Gate Raptor Observatory, every year the nestlings are banded with both a California Dept of Fish and Wildlife metal band and a blue/white auxiliary identification band. At banding the chicks were weighed and measured. Blood was also drawn for DNA testing. Weights and measurements all pointed to three males, a first for Rosie and Richmond. A naming contest resulted in the band/name combinations of ZP/Poppy, WR/Sage, and VZ/Lupine, in favor of California native flowers. A few weeks later, however, the DNA results surprised everyone by revealing two females and a male (the middle nestling), another first.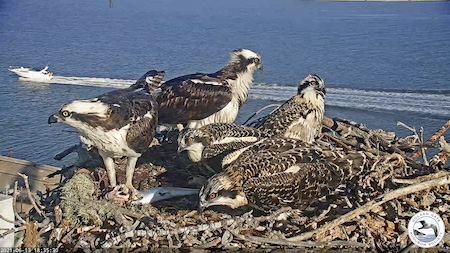 By the end of June the nestlings were hovering like pros and ready to fledge. The male, Sage, fledged first (https://youtu.be/i_ZRKGwwkGc) on June 25. The oldest female, Poppy, fledged almost a week later on July 1 (https://youtu.be/TMmsA8D1vXU), and Lupine, a fan favorite, quickly followed by fledging July 2 (https://youtu.be/s1QEVb2vsHk). 
Richmond — with Rosie's help once the chicks fledged — ramped up fish deliveries to over 45 fish per week. An interesting fact learned via the fish monitoring program is that as Rosie's contributions escalate, Richmond's deliveries may wane considerably. But don't let that fool you. He topped his previous years' season high by bringing 12 fish before noon on July 26, for a total of 13 fish in one day!

Just How Long Does the Season Last, Anyway?
Remember, there are two females on the nest this year. Data from past seasons clearly shows that the females tend to linger longer than the males. The record-setter was ZK/Kiskasit in 2018, who stuck around 124 days before finally heading out to explore the world beyond the nest.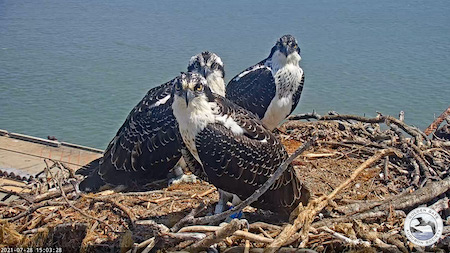 Maybe because he had two sisters to deal with, Sage was last seen quite early, leaving at the tender age of 86 days. Unlike past seasons, where one last occupant usually chases off the others, this year both Poppy and Lupine alternated being the queen of the nest. Lupine eventually gave up, however, departing on August 16 at the not-so-tender age of 103 days. Poppy persisted another week, finally making her own departure on August 24 at 115 days old.
Still, the season was not quite over, and some of the best moments were yet to come. Rosie and Richmond typically remain in the nest area for two to four weeks after the juveniles depart. Often by this time, the camera operator must hunt for them on distant cables or channel markers. To everyone's delight, this year Rosie and Richmond chose to roost most nights on the rail at the nest.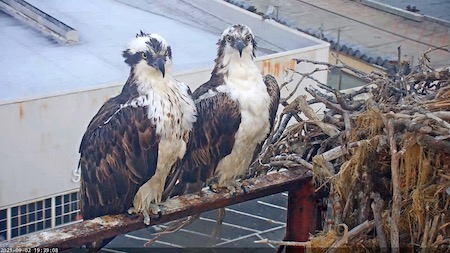 Observers were further delighted to witness Rosie's last morning up close and personal, as she and Richmond perched together, each dining on a fish, before Rosie left on migration Sept 10. 
Richmond stayed unusually close for another week, extending the fish-calling season even longer, until he too, decided everyone was safely on their way, allowing him to decamp to other favorite local perches to await Rosie's return next year (hopefully with the occasional visit to the nest).