Bring the beauty of birds into your home—while helping artists and Bay Area wildlife—through an online auction of bird art sponsored by Golden Gate Bird Alliance. From May 17 through June 1, Golden Gate Bird Alliance is holding an online auction of nearly 50 widely varied paintings, prints, photographs, and sculptures of birds at http://goldengatebirdalliance.org/auction.
This year's auction is an online part of Birdathon, Golden Gate Bird Alliance's annual fundraiser to support our conservation and education work for the coming year. This year we're excited bring you this auction in support of both the artists and Golden Gate Bird Alliance as we shelter in place at home. Auction proceeds will be split between Golden Gate Bird Alliance and the artists, in most cases on a 50/50 basis. This is the first time in Golden Gate Bird Alliance's 103-year history that we've sponsored an online auction of bird art. 
The auction offers items for all tastes and budgets, from giclee prints of kingfishers and herons that open for bidding at $20, to paintings of chickadees and roadrunners valued at over $1800. Along with items for bidding, there are items for sale at fixed prices, such as bird notecards by Berkeley artist Rigel Stuhmiller.
Perhaps the most unique item is a gift pack from best-selling author Amy Tan, who is also a proficient bird artist. The  pack includes a set of bird notecards by Tan, plus autographed copies of her breakout novel, The Joy Luck Club, and her memoir, Where the Past Begins.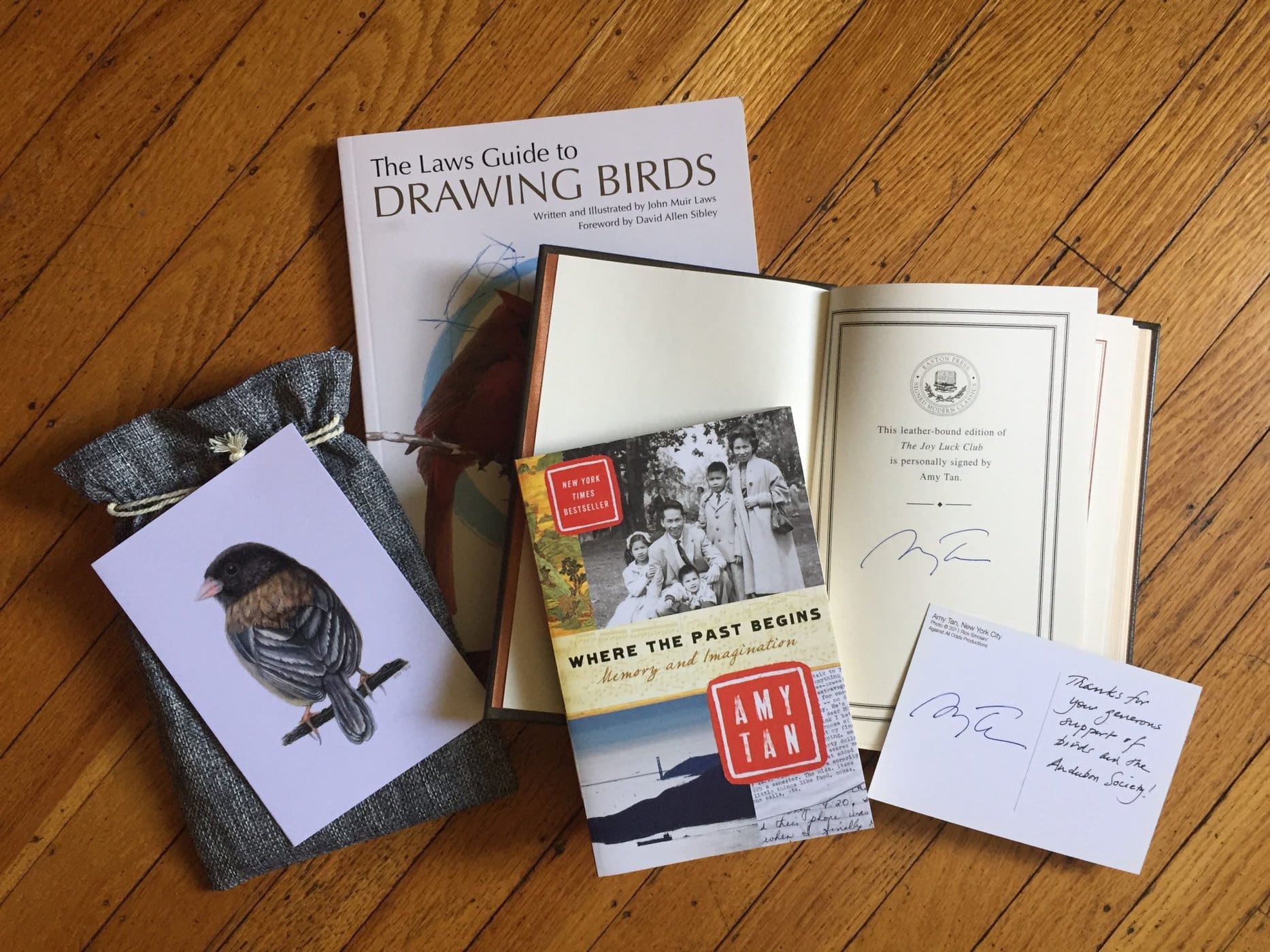 Another unusual item is a personal chalk art rendition of birds—made to order for the buyer's sidewalk by artist Clay Anderson. Please check out our auction website to see the full range of art available in this unique auction.
Here's how the auction will work:
• The auction will open on May 17, 2020 and will continue through June 1, 2020.
• To bid, you'll be prompted to create a free account with 32Auctions (the website that hosts our auction).
• You can either bid an exact amount or by "proxy", in which 32Auctions automatically raises your bid such that it is the lowest possible winning bid, up to your maximum bid amount. Learn more here: https://www.32auctions.com/pages/help.html#bidding
• We accept payment via PayPal or check.
• The winning bidder will be contacted at the end of the auction to submit payment via PayPal or check and to work out any logistical details.
Your participation in this auction is a triple-win! You help Golden Gate Bird Alliance continue  protecting the birds we all love, you support artists during this difficult economic moment, and you add inspiring works of bird art to your home! Please spread the word about the auction to your family, friends, and loved ones.