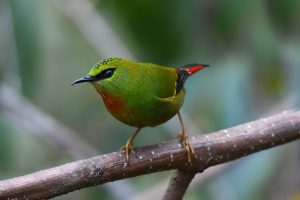 Bhutan, a country roughly the size of Maryland, has almost 600 species of birds. Over 70% of its land is forested with 25% protected by National Parks. We will visit a range of environments varying from sub-tropical at 150m to alpine at over 4,500m. On this 19-day trip, expect to see between 350 and 400 species of birds and 10-15 species of mammals. Our Bhutanese guide
from Langur Eco Travels will not only introduce you to the fauna but also the flora of Bhutan (we're visiting during the spring rhododendron bloom) and its culture (our trip includes visits to several famous sites, including the Tiger's Nest Monastery). For questions and registration contact Eric Schroeder at travelprogram@goldengatebirdalliance.org 
Cost of the trip is $5,470 (double) and $5,920 (single), which does not include the cost of internal or international flights (see the itinerary for information on these.
Complete description and itinerary can be viewed here. Please do not contact the vendor first.