In what started in 2002 as an oil spill mitigation project, Golden Gate Bird Alliance and the Port of San Francisco have been working at Pier 94 to provide healthy habitat for wildlife.  These five-acre tidal wetlands are among the few remaining wetlands along San Francisco Bay and provide valuable habitat to over 150 species of birds. Wetlands are critical as birds and humans face rising seas and storm surges from climate change. In 2019, GGBA's volunteer-driven work at Pier 94 was given the Outstanding Environmental Project Award by the Friends of the San Francisco Estuary.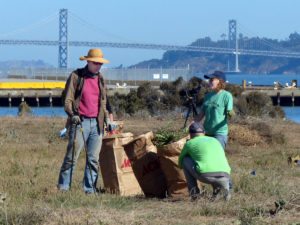 Pier 94 wetlands cleanse the water that flows into the Bay. They sequester carbon, create oxygen, and provide food, shelter, and a resting spot for a myriad of species. GGBA and the Port of San Francisco are working together to improve wildlife habitat through science-guided efforts including:
Maintaining and tracking wetland and upland species over time.
Raising awareness of the importance of wetlands and wildlife.
Offering community science opportunities.
What You Can Do
Join our 1st Saturday volunteer events each month, from 10 a.m.-12:30 p.m. Along with our work, we always point out local birds! For more information on our Pier 94 volunteer opportunities, click here. 
For information regarding Native Oyster and Eelgrass Research at Pier 94, please click here.