The Secret Perfume of Birds
Featuring Danielle Whittaker 
Thursday, May 19  —  7 p.m. via Zoom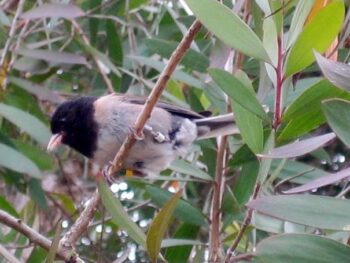 The widespread belief that most birds have little sense of smell is a myth. Birds can produce complex scent signals that communicate with other birds. Scents play an essential role in birds' lives, including mate choice. Birds also use smell in foraging and navigation.
Danielle's research has uncovered how birds produce scents. Come learn why cowbirds smell like cookies, and why Crested Auklet colonies have a tangerine scent.
About Our Speaker
Danielle J. Whittaker is an evolutionary biologist and the managing director of the Center for Oldest Ice Exploration (COLDEX) at Oregon State University. Whittaker was previously managing director of the BEACON Center for the Study of Evolution in Action at Michigan State University.
Recording
https://us06web.zoom.us/rec/play/3VidNCmihCQenXtD7iVARBX2ej68OEF8tg98ZoVSVebnFreR4lNb-lWW0RshzzjQF6UijKujUgvWPKbg.wrJ83j7f4K7b8n_z?continueMode=true
Access Passcode: aK^0cenN