By Ilana DeBare
The Tuesday morning rush-hour BART train to downtown San Francisco was packed with people holding phones… tablets… phones… books… more phones…
And one person holding binoculars.
I was on my way to a Golden Gate Bird Alliance bird walk at Salesforce Park, the new, much-heralded elevated park on top of a transit hub.
I hadn't been to the park, which opened in 2018 (and then closed due to structural problems and then re-opened last year). I was curious both about the design and what birding might be like in the heart of downtown's steel and glass towers.
But first I had to find the park.
It wasn't exactly obvious. At First Street near Mission, there were glass doors leading into the transit terminal, and an outdoor elevator with a huge electric sign for a fitness club. It seemed illogical to go into a terminal to get out into a park. Finally I peered more closely at the elevator and found a tiny sign for the park as well as the fitness club.
Four floors up, GGBA board member Alex Smolanskaya was waiting, joined by Kayla Hughes of Biederman Redevelopment Ventures, which organizes events at the park.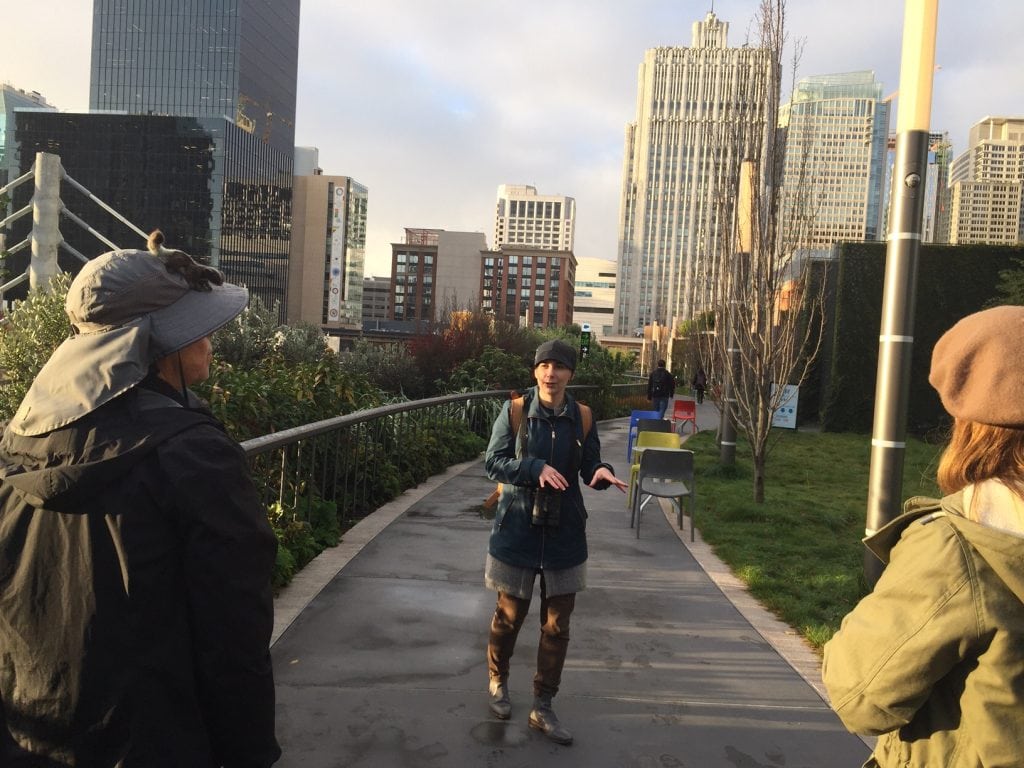 Alex, a data scientist, works a block from the park and birds there about once a week. She said a 7:30 or 8 a.m. start time is ideal not just for early-morning bird activity, but because the park is relatively deserted then. By midday, it gets crowded with people eating lunch or taking meetings on the park's circular path.
Eventually fifteen of us gathered — two veteran GGBA field trip leaders from the East Bay who were curious about this new site, several first-time birders who work near the park, and others with varied levels of birding experience.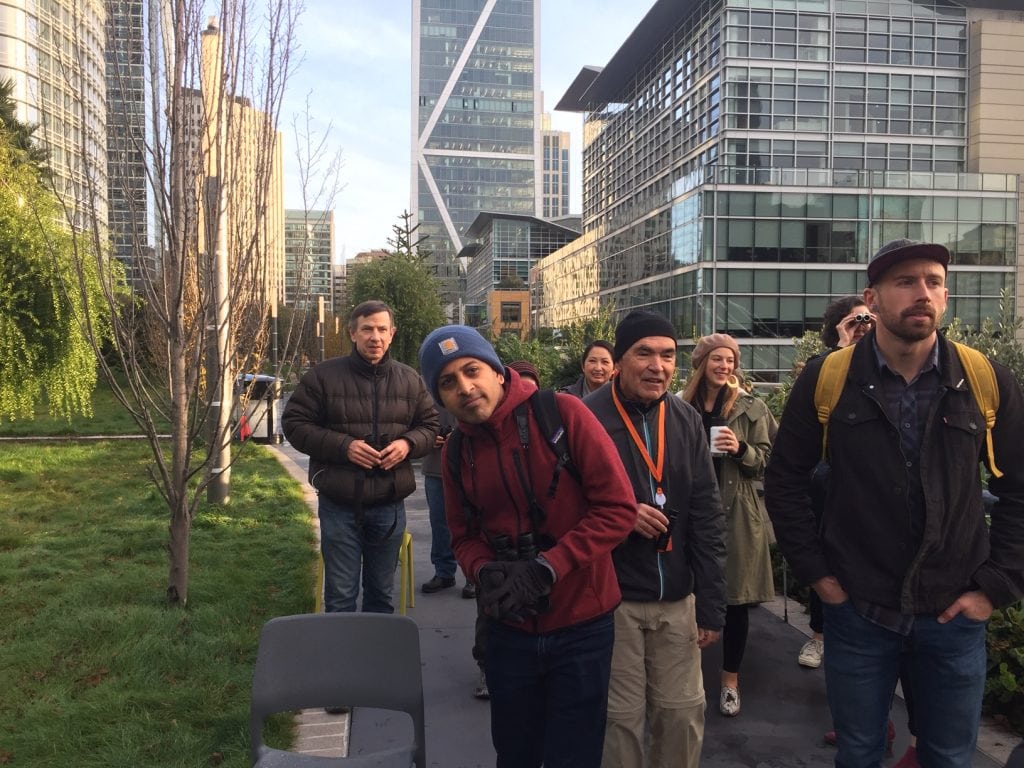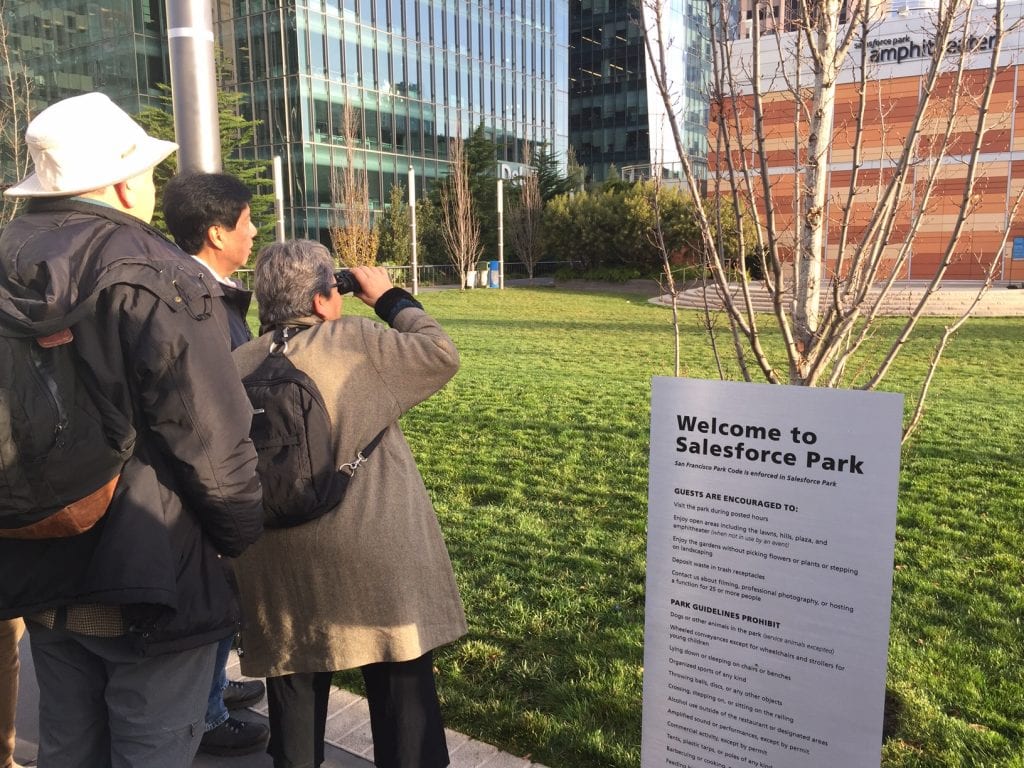 We set out westward, clockwise, along the sidewalk. Salesforce Park is a narrow rectangle stretching four blocks parallel to Mission Street. The main path is bordered by patches of thematic landscaping – here a South African garden, there a yucca garden or a coastal oak garden, with a total of 600 trees and 16,000 plants.
Both the paths and the park fixtures have a streamlined, modern feel. In a fun art installation, a fountain spurts water each time a bus pulls into the transit station below. All around rise glass-and-steel skyscrapers. The setting reminded me of New York's wonderful High Line Park—an oasis floating above a busy, gritty downtown. It also felt a little like the manicured, tightly-managed grounds of a Silicon Valley "campus" transplanted to the middle of the city.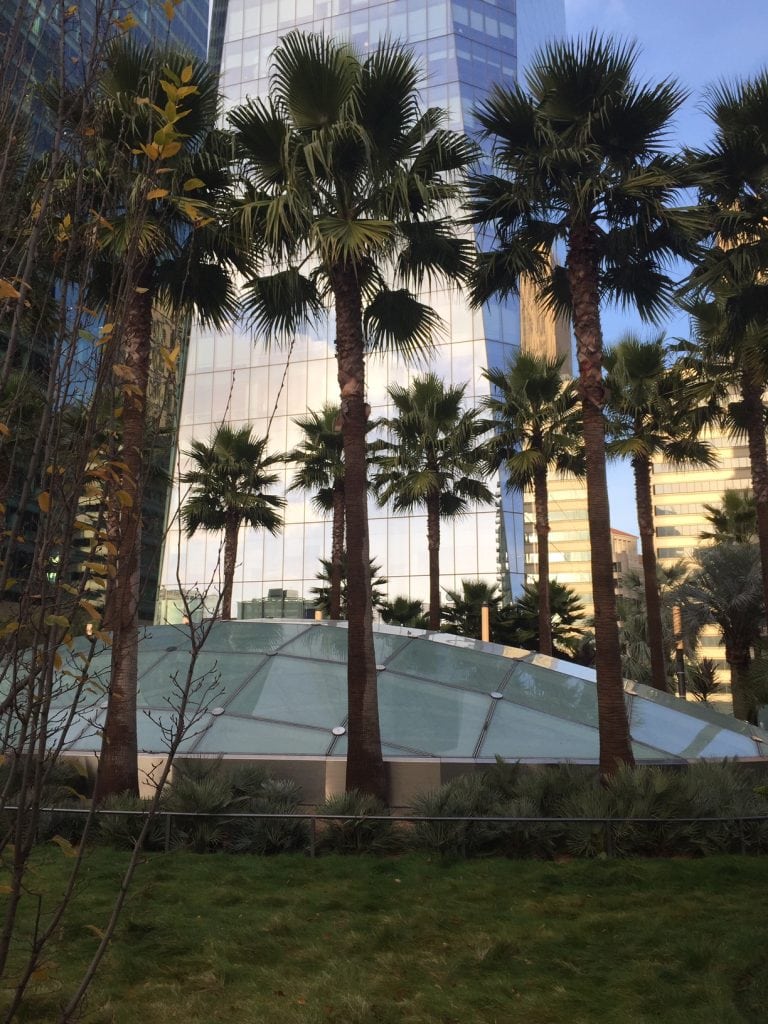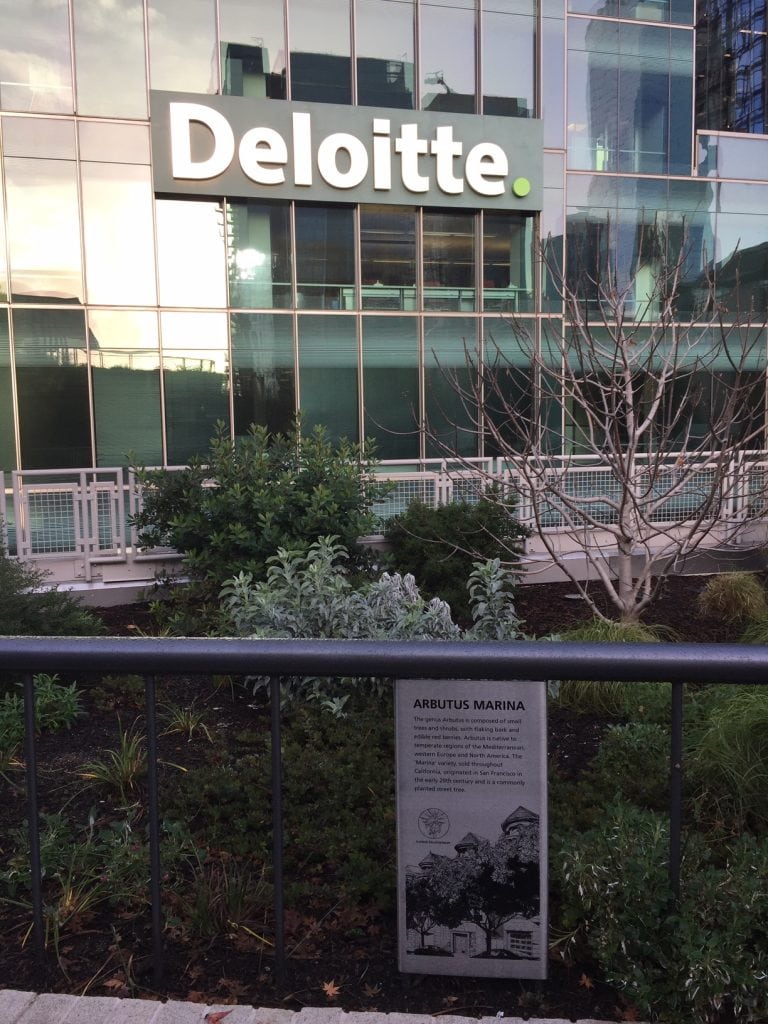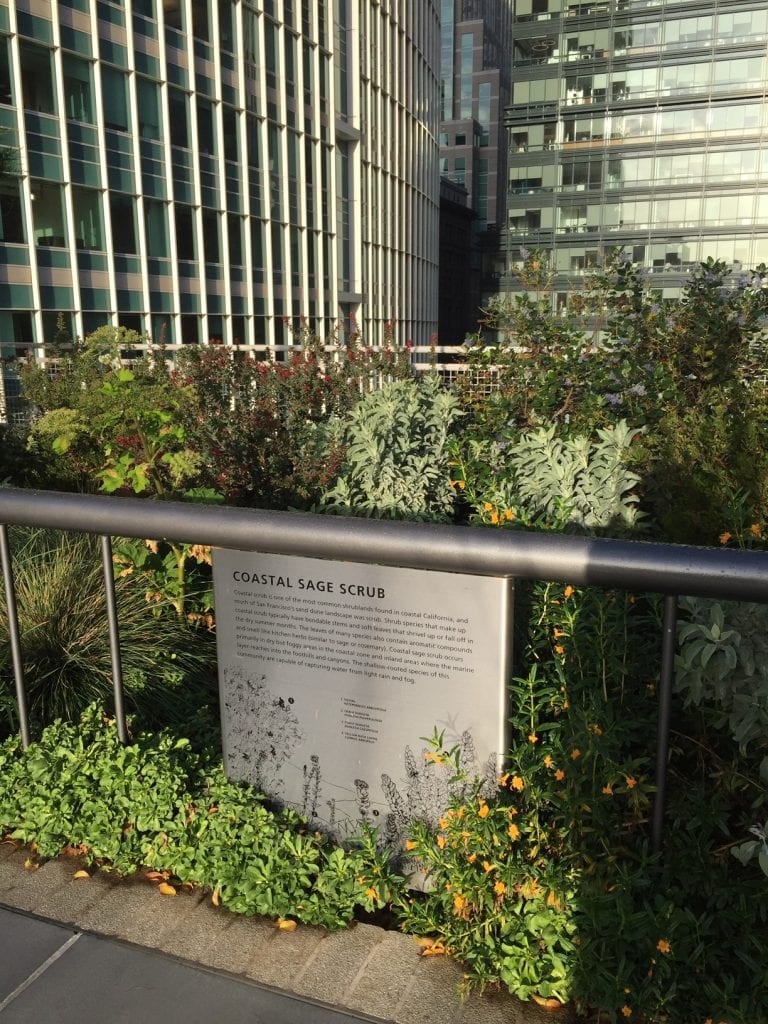 And the birding? We saw and heard a lot of White-crowned Sparrows, their striped heads visible even to first-time birders fumbling with borrowed binoculars. A Hutton's Vireo, several Yellow-rumped Warblers, a Townsend's Warbler. American Robin and Common Raven. Western Gulls passed far above us, winging a straight line through high-rise canyons on some mystery mission. The highlight might have been a Fox Sparrow doing its characteristic kick-foraging underneath some bushes by the path, or the group of White-crowns eating fallen fruit under some species of palm.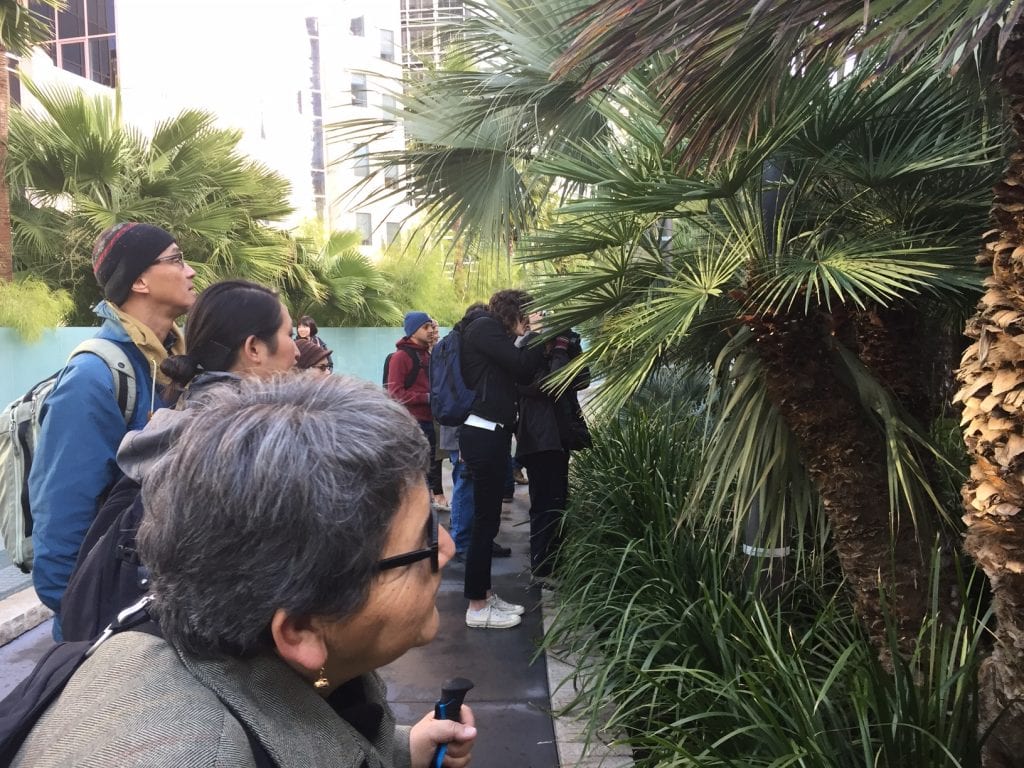 Not a bird list you'd haul out to impress your friends.
Put it this way: Salesforce Park is not a place to go to expand your life list, or see huge quantities of anything. I probably had more birds in my Oakland backyard that afternoon than we saw on the trip.
But birding there is a fabulous way to start your day if you work downtown – a deep breath and a glimpse of nature before immersion  in the world of screens and cubicles.
It's also a convenient and easy on-ramp to birding for people who work nearby and have never tried birding before. A first taste at Salesforce Park may bring them back for more… not just at Salesforce Park, but at sites like Golden Gate Park, the Presidio, or Fort Mason with more habitat and more birds. (And also with regularly-scheduled Audubon field trips!)
Finally, a Salesforce Park bird walk is a great way to experience this new addition to the San Francisco cityscape for the first time. You're there at a quiet time of the day, and you're sharing it with congenial people. (Thank you, Penn Hughes, for suggesting we check out the unusual sink in the Starbucks next to the park!)
And yes, you're seeing birds.
In a part of the city where you probably never imagined seeing them before.
---
Golden Gate Bird Alliance will lead free bird walks at Salesforce Park on Tuesday mornings March 10 and April 14, 2020. Bring binoculars if you have them; we will also have one or two pairs available to borrow. See goldengatebirdalliance.org/upcoming-field-trips/ for start time and meeting place.