By Sharol Nelson-Embry
If you've never tasted single-origin chocolate, stop reading and go find yourself a bar. Each country where cacao is grown, and sometimes even each estate within a country, has its own signature flavor notes due to the mixed result of genetics, terroir, origin, weather and post-harvesting processes like fermentation and roasting. The rich, mostly dark 70% cacao bars are distinctive from each other with flavor notes like fine wines. Over the base of fudge chocolate, various essences rise out of the melting chocolate as you sample it — floral, fruity, herbal, spicy, nutty, earthy — all because of the over 500 naturally occurring flavor compounds found in cacao, not because of any additives. Tasting single-origin chocolate is an adventure for the senses as well as a virtual tour of the tropical world. Cacao is grown only in countries 20 degrees above or below the equator. Native to Central and South America, cacao's storied history and popularity have carried it around the globe, often to the demise of native people, wildlife and rainforests, though some chocolate makers are changing that now with "Fair Trade" and sustainably grown chocolate.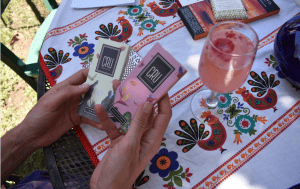 So what is bird friendly chocolate?
Recently, I was describing to a friend my efforts to locate special, sustainable chocolate bars to highlight on my company website and online tasting programs. My friend asked if "bird friendly chocolate" meant the product was good for birds to eat! Although that would be interesting, what "bird friendly" actually means is that the chocolate is both shade grown and organic as certified through the Smithsonian Institute. "Shade grown" certification is a designation by the Rainforest Alliance (RA) and is also intended to help protect rainforests and the wildlife within them. These are two common yet different certifications that can be sought by cacao (chocolate) and coffee farmers. The Smithsonian has more rigorous standards than RA. The small-batch, artisanal chocolate makers that I work with usually don't note if the cacao they use are certified by either institution. Many of the chocolate maker's sourcing notes give clues, though, that the cacao is sustainably grown and harvested and would meet the criteria of either certification. Read more about certification standards by clicking
here
.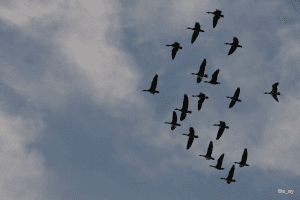 Scientific studies have shown how cacao can be grown in harmony with native rainforest and benefit the birds and other wildlife as well as the provide local people with value for saving the forest and creating income. Studies show that cacao can be grown as an understory plant with the taller native vegetation left intact and benefit native and migratory birds such as this 2007 paper which brings together seven different studies of areas in South America, Africa, and Asia. Please click
here
to read them. You can also check out
this article
from the American Bird Conservancy. Two cacao farms in particular stand out as models for this. The Zorzal Reserve in the Dominican Republic (DR) has cacao growing in the area set aside for the endangered Bicknell's Thrush, an East Coast species that winters in the DR. Two of my favorite chocolate makers, Dandelion Chocolate in San Francisco, and Crow and Moss, a chocolate maker in Michigan, create delicious bars from cacao harvested in the Zorzal Reserve.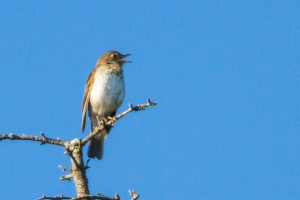 The second example is a collective in Indonesia founded by BirdLife Asia and the Indonesian government to protect the forest while farming cacao. You can read more about them by clicking here. The article states that renowned chocolate maker, Fossa, created a single-origin bar from the Indonesian cacao. A representative of Fossa said that, "Fossa Chocolate released a bar made exclusively from Makarti Jaya cacao. Fossa chose to call the bar 'Burung' (meaning 'bird' in Indonesian) to celebrate the endemic birds of Sulawesi who benefit from this programme. After optimising our roast profile for the Makarti Jaya cacao, we managed to bring out delicious olive, tamarind and raspberries character in the chocolate."
There are other chocolate bars created from "bird friendly" growing and harvesting techniques including wild-harvested cacao. Those are naturally growing trees found in South America. One of my favorites is from chocolate maker Luisa Abram with cacao harvested along the Tocantins River in the wilds of the Brazilian Amazon. It has flavor notes of citrus, honey and deep, smooth fudge. Other cacao farmers practice sustainable agro-forestry techniques that perpetuate the health of the land as well as their crops. Buying chocolate from these makers supports efforts at ethical, sustainable land management. The cacao is also "fair trade,"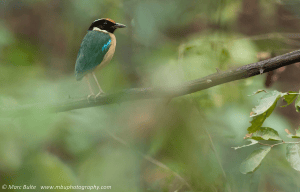 meaning the farmers are paid better prices for their crops than often offered by larger chocolate manufacturers like Hershey and Nestle.
I'm featuring these "Bird Friendly" chocolates on my website, Cocoa Case (
www.cocoacase.com
). I hope you'll try some and support both birds as well as some fine chocolate makers who are hard-hit by this pandemic. You may also like to read more about how a naturalist fell in love with both birds and chocolate in my previous
GGBA blog post
.
---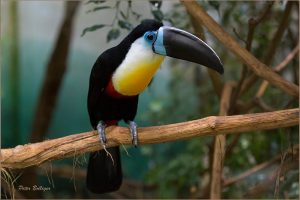 About Sharol: Sharol Nelson-Embry retired from the East Bay Regional Park District in 2017 after 26 years supervising the Crab Cove Visitor Center. She is currently becoming certified as a Master Birder through GGBA and the California Academy of Science. She has an online business, Cocoa Case (www.cocoacase.com), curating chocolate tasting kits and offers educational programs through Air BNB as well as Piedmont Adult School and Alameda Recreation.
If you'd like to contribute a blog post to our Golden Gate Birder blog, please email our Communications Manager, Melissa, at mramos@goldengatebirdalliance.org with your 800-1200 word essays.