Contributing to a Breeding Bird Atlas
By Brandy Deminna Ford
Have you ever really looked at a Mourning Dove—its grayish blue crown, pale rosy breast, and shimmering iridescence punctuated by myriad black spots on the wings? Have you paused to notice the slight differences between a male and female pair or listened to a female's low cooing call from a nest in a hollowed-out tree branch, continuing until a male approaches to replace her on the nest?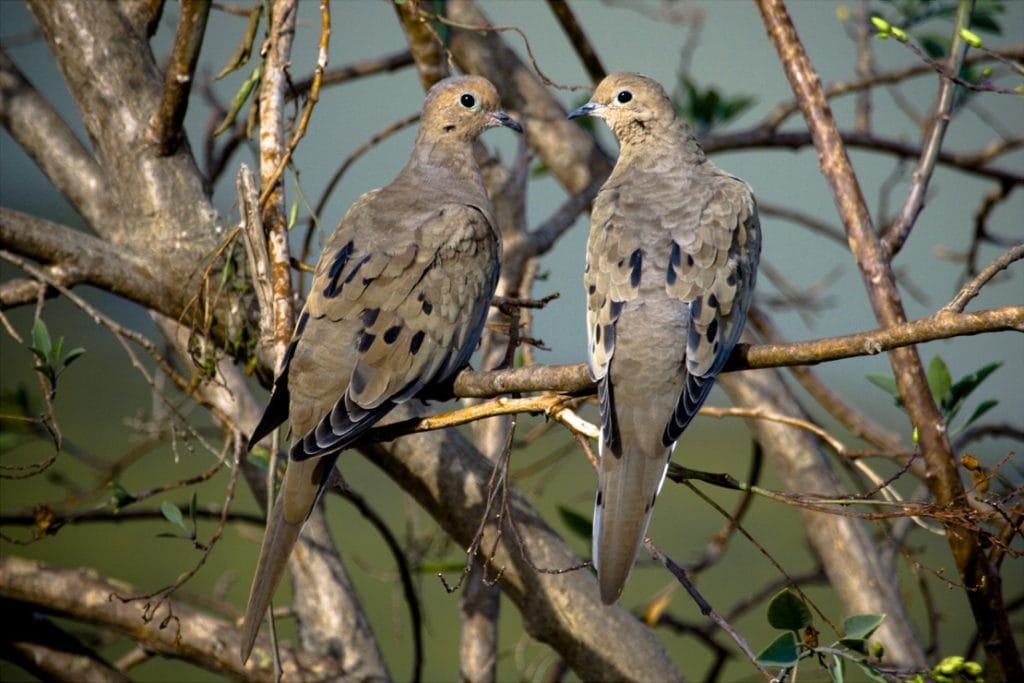 Busily birding, we often forget to look up from our species lists to really hear a familiar sound. Or catching a glimpse of a Mourning Dove in our periphery, we might not choose to take a closer look. But contributing to a breeding bird atlas isn't just birding. It's the chance to slow down, watch, and listen—and go from aspiring master birder to natural historian hopeful.
This breeding season, I have circled the Phyllis Ellman Loop Trail near Corte Madera a half dozen times, repeatedly walked along the public shore in Marin's Paradise Cay, and been a rare visitor to the shoreline at Blackie's Pasture in Tiburon—and I will be doing this for a little over a month more. It all began at the 2020 San Francisco Christmas Bird Count, when Atlas Coordinator Juan Garcia first introduced me to the idea of participating in the Marin County Breeding Bird Atlas.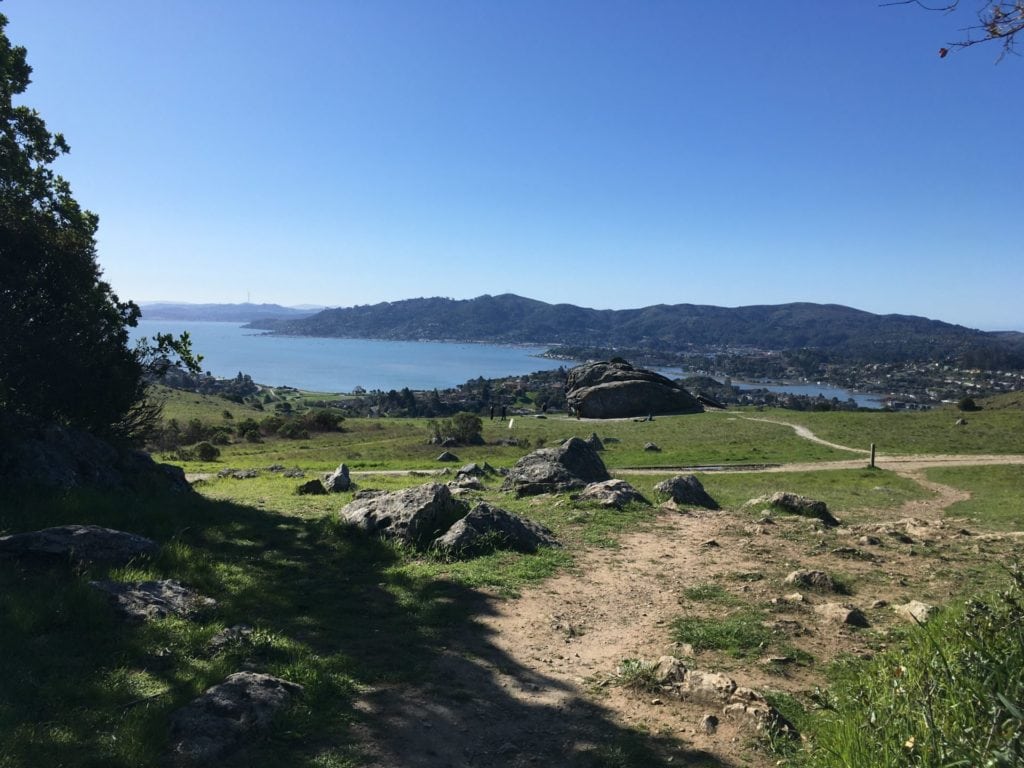 The main purpose of a breeding bird atlas is to collect data that reflect the geographical distribution of breeding birds in an area. These data provide conservationists and other avian enthusiasts with the information they need to understand how birds interact with the surrounding environment over time and what changes occur to bird populations in specific areas. A bird atlas is much more than a list of species: It typically includes maps and illustrations as well as extensive narrative text.
This isn't the first time a breeding bird atlas has been conducted in Marin County. During the breeding seasons of 1976, 1977, 1978, and 1982 organizers Bob Stewart and David Shuford assembled a group of dedicated volunteers to conduct the first bird atlas in western North America. After the initial bird atlas was completed in 1982, its findings were published in the Marin County Breeding Bird Atlas: a Distributional and Natural History of Coastal California Birds by David Shuford, a book that remains influential to this day.
Informed by this 40-year-old effort, Juan Garcia, William Wiskes, and other volunteers recently set out to recreate the atlas and gather a team of local birders who would walk in the footsteps of the first atlasers in the state. Through several months of planning and the development of high-tech digital maps and online training videos, volunteers were assigned to specific areas, or blocks, throughout the county.
Fully equipped with the necessary tools, volunteers journeyed into the field in early April and officially began recording breeding bird data at the start of the season on April 15. Each volunteer enters data into eBird as well as the California Avian Data Center, providing the exact coordinates of breeding birds and breeding bird behavior in each block.
I have been assigned to block 16-2 on the east side of Marin County, just above the Tiburon Peninsula and west to Blackfield Drive. I visit my block two to three times a month for three to five hours at a time. I tend to set out relatively early, affording me experiences like witnessing a Bald Eagle fly 100 feet above me on Ring Mountain with no one else around, or discovering a pair of Mourning Doves trading places on a nest in a hollowed-out tree branch (yes, the very same introduced at the beginning of this piece), or hearing the lone call of a nearby California Quail in the still morning air.
Heading out later in the day isn't bad either, giving me the chance to introduce fledgling naturalists to the beauty of a Hooded Oriole in a palm or join the fisherman at the edge of Paradise Cay to quickly doodle (I don't think my scrawls quite qualify as drawings) a Clark's Grebe.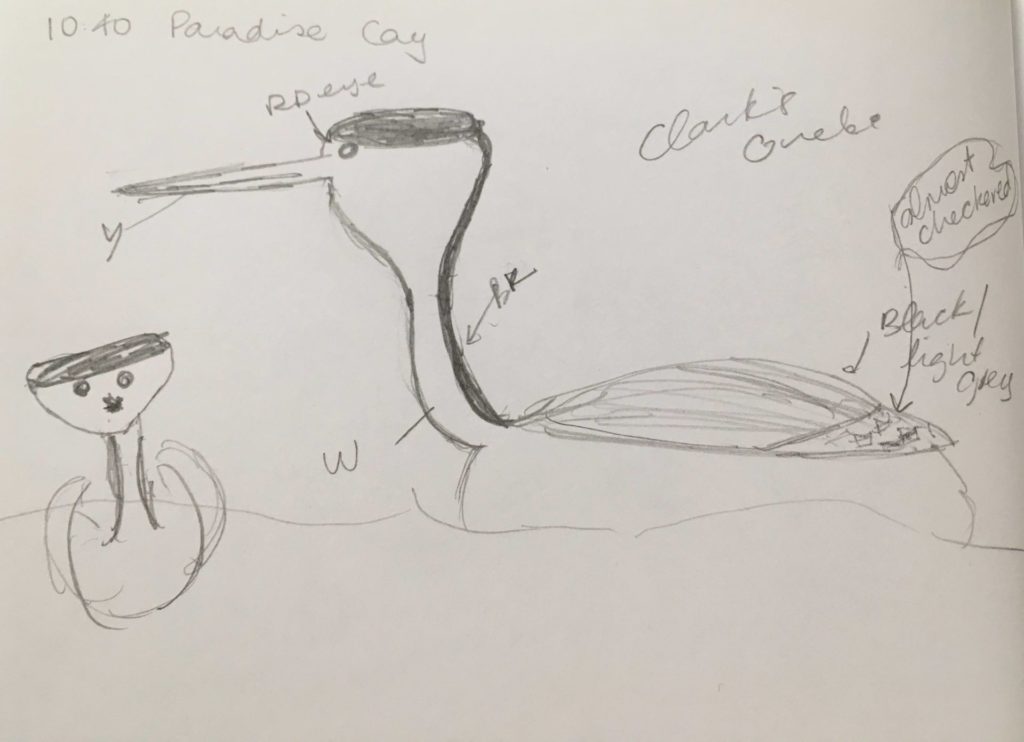 Since this is the first year of the four-year-long atlas, this project won't be complete at the end of the season. There is plenty of time for more volunteers to join us and for this project to flourish into its final form. If you are interested in becoming an atlaser and taking part in this effort, visit marinaudubon.org/birds/marin-county-breeding-bird-atlas/ where you'll find contact information for block leaders in all four regions: Novato, Tomales, Point Reyes, and Tamalpais. Reach out to the block leader of your choice to learn more about where you can make the most impact.
At the end of this project, atlasers hope to have created a public database that will be accessible through the California Avian Data Center as well as a short book updating David Shuford's earlier Marin County Breeding Bird Atlas. With so many birds and breeding seasons ahead, it's not too late to join this pivotal project … and maybe even see a Mourning Dove on a nest.
---
Brandy Deminna Ford is a Bay Area birder who is currently enrolled in the Master Birder program co-sponsored by Golden Gate Bird Alliance and the California Academy of Sciences. When she's not in the field gathering breeding bird data or enjoying a trip with her classmates, you can find her curled up with a good book and her two whippets.