California's 30×30 Goal
By Whitney Grover
What is 30×30?
In 2020 Governor Newsom signed executive order N-82-20, committing to protect 30% of California's land and coastal waters by 2030. In September of 2022 the state legislature passed, and Newsom signed into law, AB 2278 (sponsored by Assemblymember Ash Kalra), directing the California Natural Resources Agency to implement the program and report on its progress. The heart of the initiative is to prioritize nature based solutions to fight against climate change and protect California's incredible biodiversity as it faces significant threats.
The California Natural Resources Agency formed the 30×30 Partnership and hosted a kickoff meeting in Sacramento in early October. Legislators, agencies, land managers, indigenous communities, scientists, and nature organizations like Golden Gate Bird Alliance came together to get started and learn how best to contribute.
Where are we now?
So far the state has roughly 24% of terrestrial areas and 16% of marine areas conserved. Check out the Conserved Areas Explorer to dive in and see which areas near you are already protected. Below is a screenshot of Golden Gate Bird Alliance's terrestrial territory, the green areas are considered protected and included in the 24% assessment.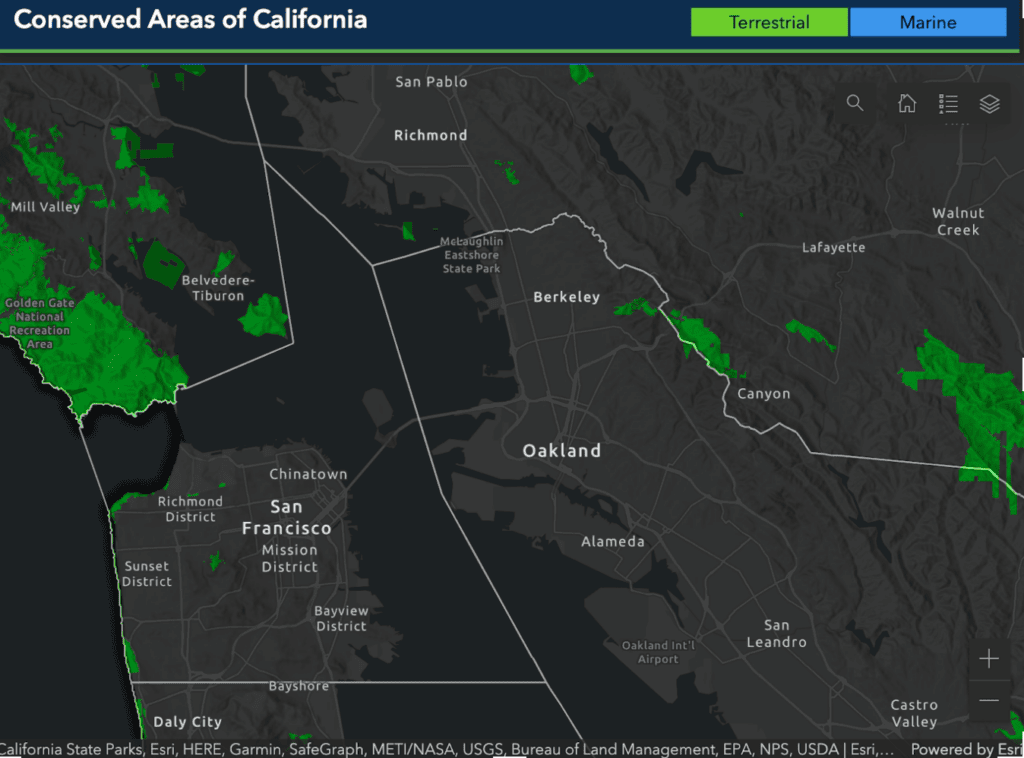 How do we get there?
In April of 2022, the California Natural Resources Agency published 30×30 Pathways, a document outlining specific actions and strategies, including a prioritization of 10 pathways to achieve the 30% preservation goal. But the real work in protecting additional land and water will happen regionally, in our local areas.
Here in the Bay Area we have unique challenges. You can read more about our current land use statistics and focus areas in the regional report. The designated San Francisco Bay Area Region encompasses 7.5 million people in 6,400 square miles, which is roughly 20% of the state's entire human population in 4% of the state's area!
Despite the urban and suburban development here, and this will come as no surprise to birders and naturalists, the majority of our area is also given a high biodiversity rating by the state. The Statewide biodiversity rating is determined by the California Department of Fish and Wildlife's Areas of Conservation Emphasis which considers native species richness, rare species richness, and irreplaceability.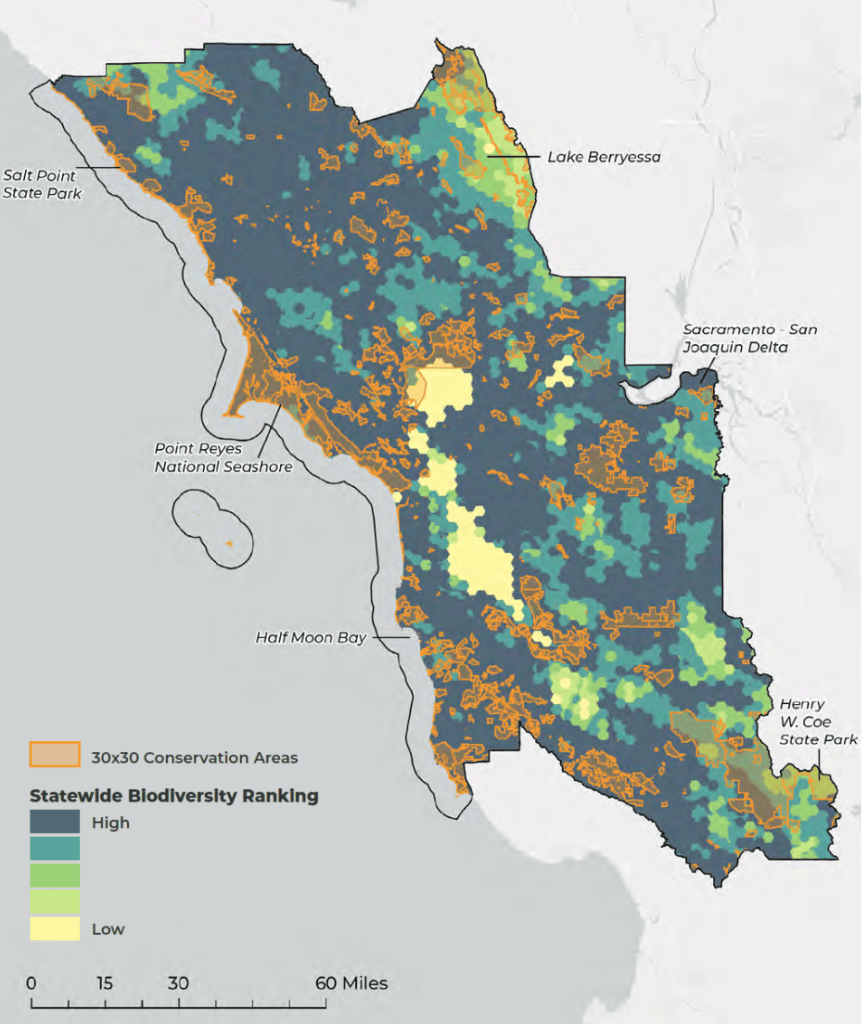 No one knows the Bay Area, its natural resources, and open spaces better than Golden Gate Bird Alliance members. 30×30 is prioritizing protection of areas already adjacent to protected areas, or areas that provide important corridors to wildlife. Funding, support, and resources are being allocated from the state to local regions through various agencies. If you have a patch in mind that we can help get protected, please reach out.
What can we accomplish as a state if we all come together on this common goal? I hope we get to 2030, 30% protected, and looking forward to even more ambitious goals. 50×50?
---
Whitney Grover is the Interim Deputy Director for Golden Gate Bird Alliance. Whitney Grover was previously a Board Member and the Chair of the San Francisco Conservation Committee. She is currently working on a Master's degree in Environmental Management at the University of San Francisco. Whitney participated in Golden Gate Bird Alliance's 2019 Master Birder class and is a founder of the SF Bay chapter of the Feminist Bird Club.