By David Assmann
Crissy Field Lagoon at dawn on a sunny day is the epitome of tranquility – herons and egrets feeding in a pristine lagoon with the Golden Gate Bridge perched majestically in the background. Seeing this birding jewel today, it can be hard to visualize its many previous incarnations, which included time as a military installation, a livestock display area, and a hazardous waste dump.
Prior to the arrival of Spanish settlers in 1776, what is now Crissy Field and Lagoon in San Francisco was a 130-acre salt marsh and estuary. The Ohlone lived in seasonal camps in the area, harvesting shellfish and fish from the marsh. Bird life was abundant. The Spanish, led by Captain Juan Bautista de Anza, established a military post to defend Spain's claim to San Francisco Bay and called it El Presidio Real de San Francisco ("the royal garrison of Saint Francis"). They removed native vegetation, planted crops, and grazed livestock.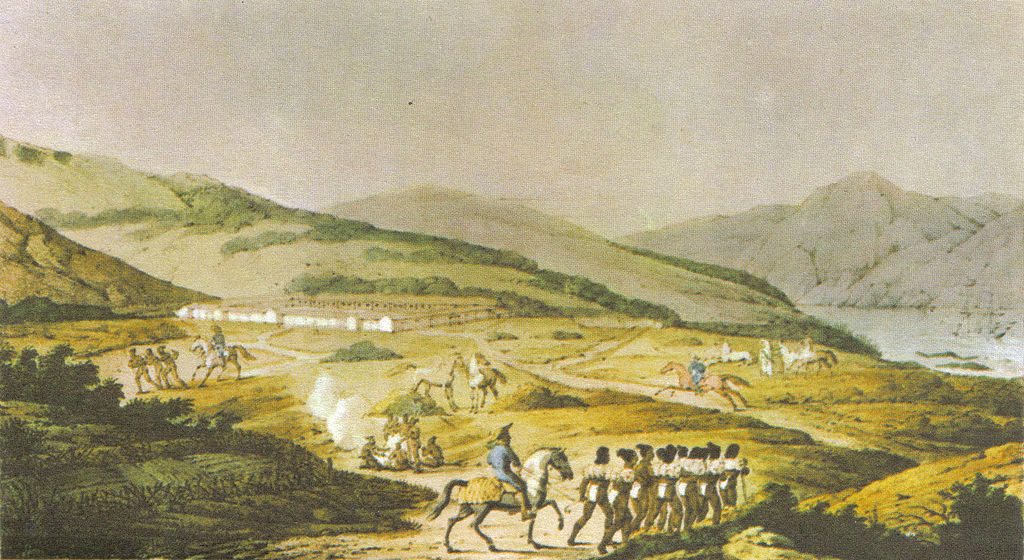 When the U.S. Army arrived in 1846, it maintained the Presidio as a military installation, complete with refuse dumps. The tidal sloughs were filled in 1912 so that the area could be used as a Grand Prix racetrack in advance of the 1915 Panama Pacific International Exposition. During the exhibition, the site of the lagoon was used for livestock exhibits for the fair. In 1921, an airfield was built on Crissy Field.
Over time, the Presidio gradually lost its utility as a military base. The airfield was closed in 1974, and in 1989 Congress voted to close the entire base. The Presidio was formally transferred to the National Park Service in 1994, and shortly thereafter the transformation back to a more natural state began.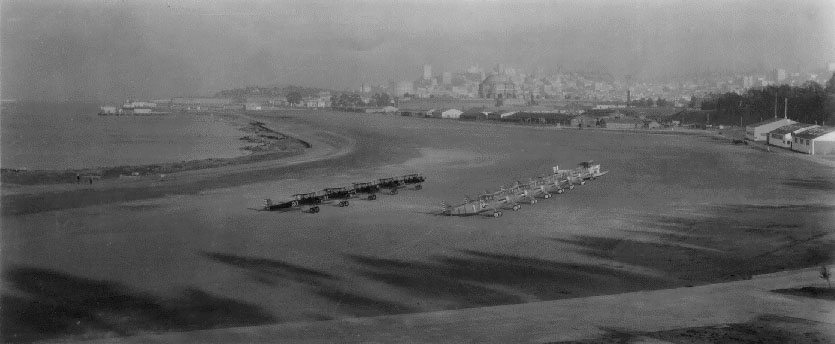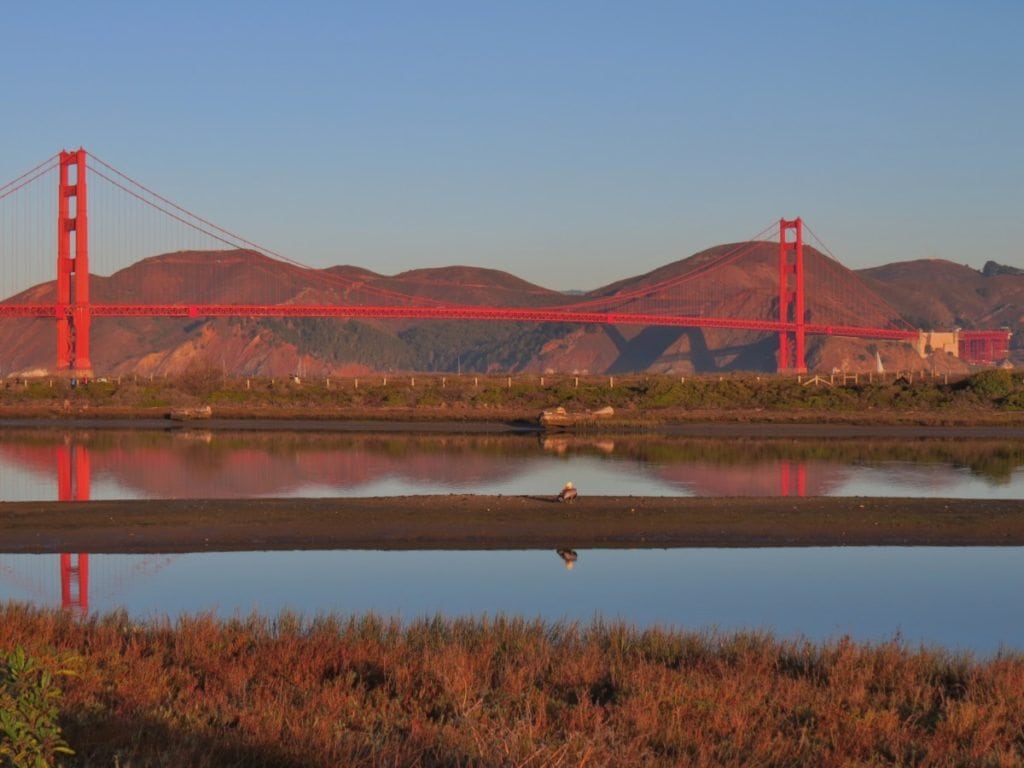 Converting a former military installation to a pristine park involved raising millions of dollars, removing thousands of tons of debris, and planting more than 100,000 native plants. Golden Gate Bird Alliance played a role in the restoration as one of the key environmental groups consulted in developing the environmental assessment for the restoration.
Today the 18-acre Crissy Field Lagoon provides a rich habitat for shorebirds, wading birds, and ducks. It has its own seasonal rhythm, as regular as the tidal flows, but on a different time scale. The summer is the slow season on the lagoon, but there are still plenty of birds. Great Egrets, Snowy Egrets, Great Blue Herons and Black-Crowned Night Herons are almost always present. The herons nest at the Palace of Fine Arts, which is nearby, and by late summer are bringing their young to the lagoon. Young Snowy and Great Egrets appear in late summer as well, with as many as 10 at a time coming from rookeries on Alcatraz Island.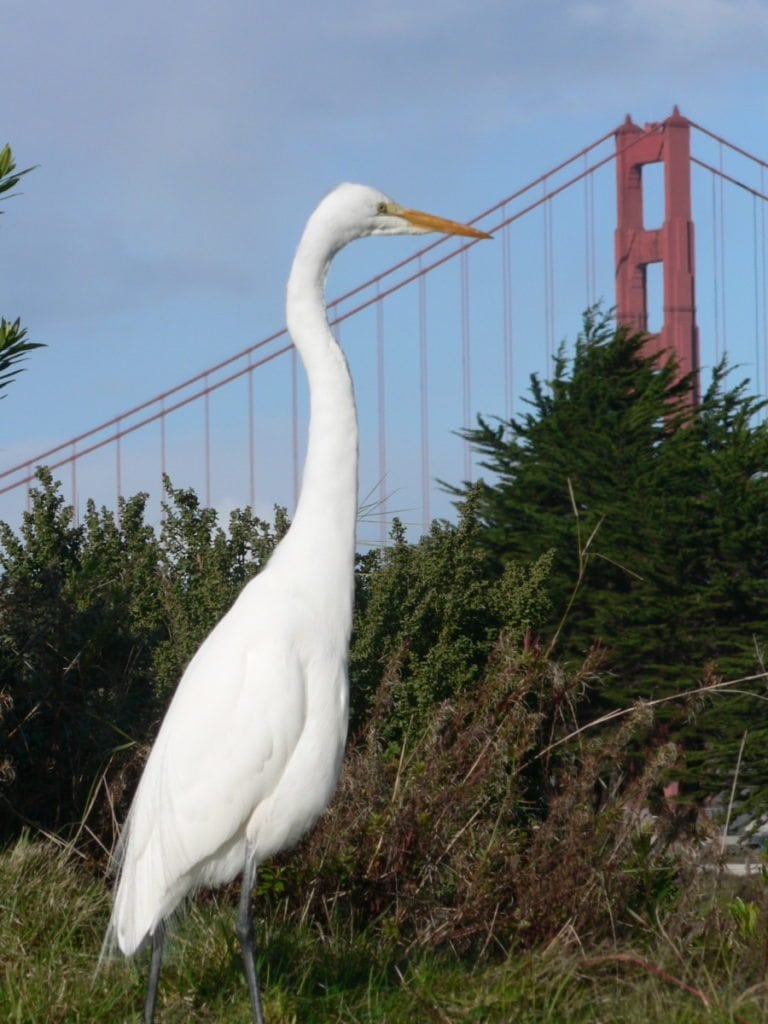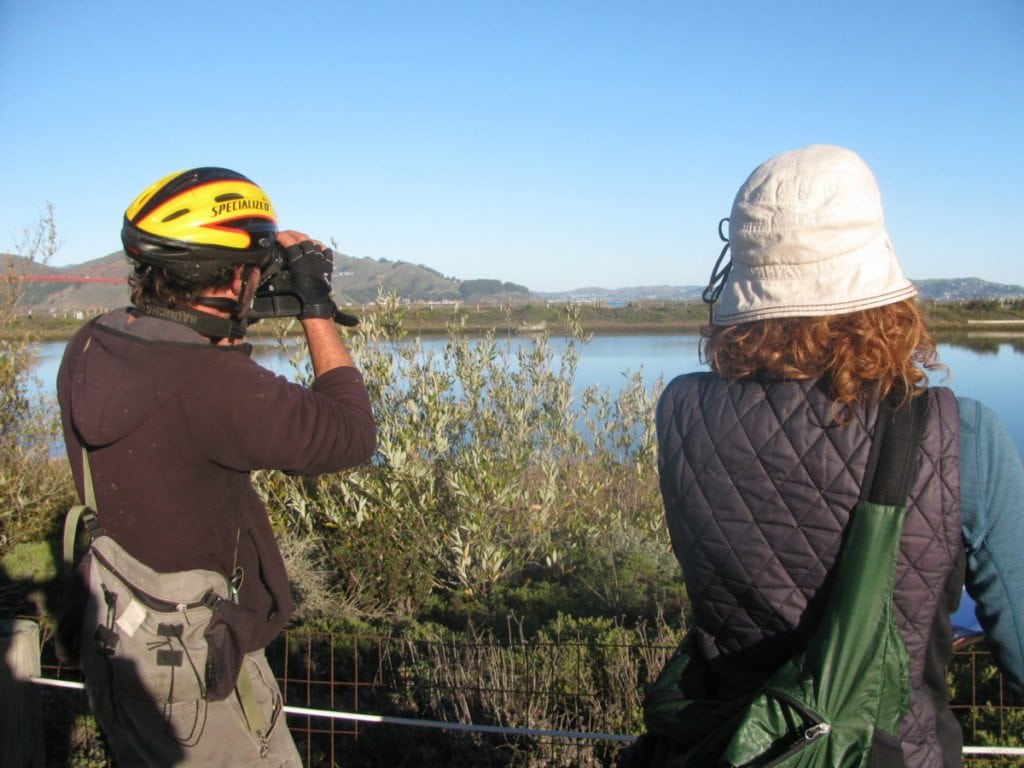 Four species of swallows can be seen hunting insects over the lagoon and field. Barn Swallows nest here, and in some years Cliff Swallows build nests on the back roof of the nearby Sports Basement.
Birding here is best when you take a slow walk around the lagoon, a distance of a little less than a mile. Killdeers raise their young on the shores of the lagoon, and, if you are lucky, you can see chicks running around in June. The only other shorebirds found in this month are usually Marbled Godwits or Whimbrels, which either didn't migrate, or are returning early. By July, other shorebirds begin to return, mostly passing through on migration. Black-Bellied Plovers, Short-Billed Dowitchers, Greater Yellowlegs, Willets, Long-Billed Curlews, Semi-Palmated Plovers, and Least and Western Sandpipers can all be seen in July and August. It may also be possible to see a rarity, like a Baird's Sandpiper or a Red-Necked Phalarope.
The lagoon attracts terns as well. Caspian Terns show up in spring and summer, peaking in late July. I counted 121 on the 23rd of July this year; a couple of days later, two-thirds were gone, to be replaced by incoming Elegant Terns, which are post-breeding migrants. These terns, along with Brown Pelicans and Heerman's Gulls, breed in southern California and then head north to feed from late summer until early winter. A small number of Forster's Terns can also be found at the lagoon from late summer until spring.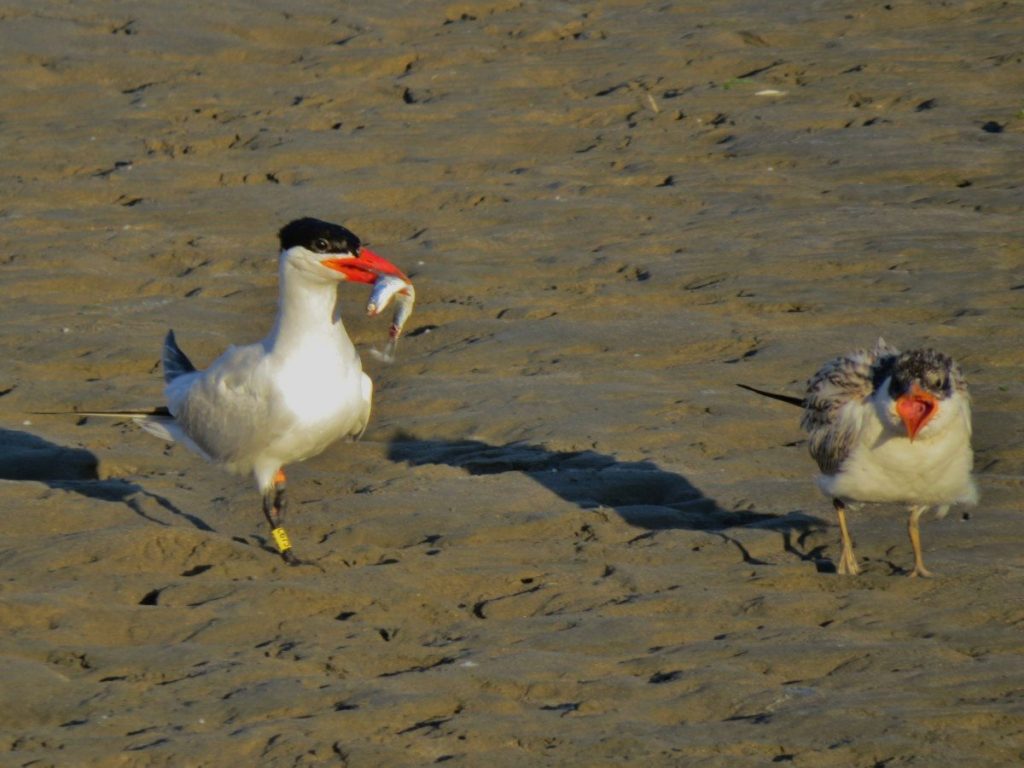 Fall brings a number of over-wintering species to the lagoon. Five species of grebes – Pied-Billed, Western, Clark's, Eared, and Horned – can often be found, and if you are lucky, a Red-Necked Grebe can be seen (not on the lagoon, but swimming off-shore in the Bay). Yellow-Rumped Warblers show up in large numbers in the trees and shrubs primarily on the south side, and unusual sparrows can come through in September (including Chipping, Clay-Colored and Vesper Sparrows).
Fall is a good time to also explore Crissy Field, the grassy area west of the lagoon, which, in addition to the usual blackbirds, can have American Pipit (a rare Red-Throated Pipit was once found there), Say's Phoebes and Western Meadowlarks.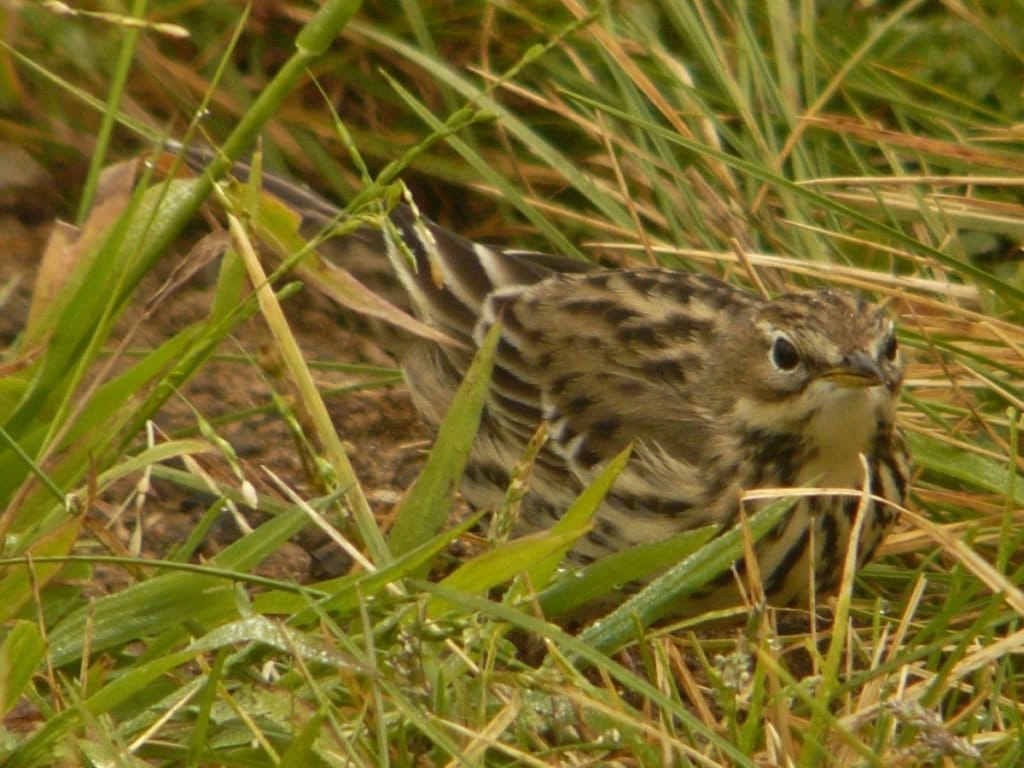 I know the rainy season is here when the ducks begin to arrive. The first wintering arrivals are usually Ruddy Ducks, with the males notable for their bright blue bills in alternate (breeding) plumage. Shortly after the Ruddy Ducks arrive, Greater Scaup and a few Lesser Scaup show up. Red-Breasted Mergansers with their shaggy crests and Buffleheads in their sharp black and white plumage join Common Goldeneyes and Hooded Mergansers to make the lagoon feel full. If you arrive at dawn, you can often find a Belted Kingfisher perched on the bridge crossing the lagoon. Wilson's Snipes overwinter as well, but are hard to find since they camouflage really well. It's much easier to find the overwintering Common Yellowthroats.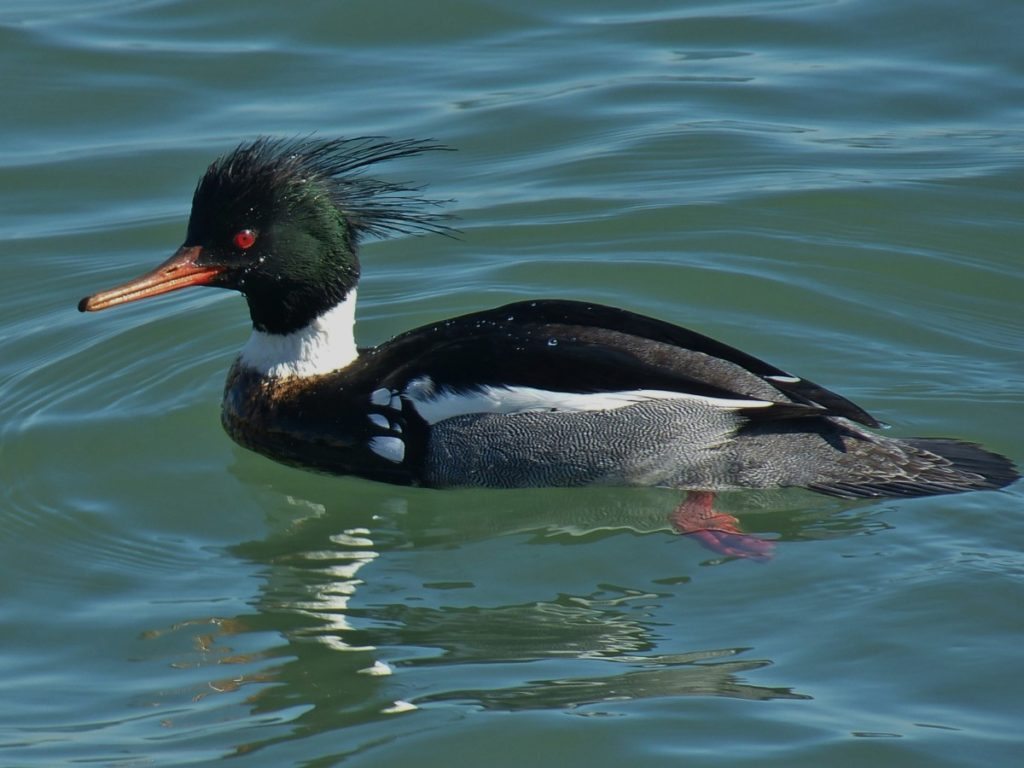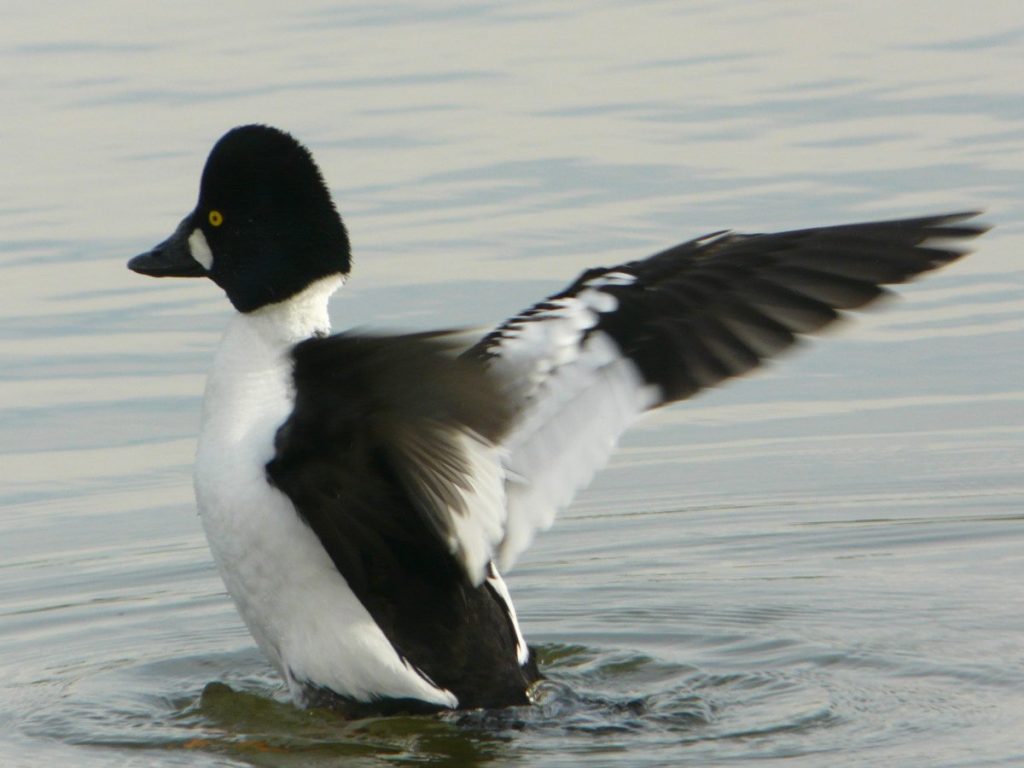 The Lagoon and Field are not the only birding spots in the vicinity. There is a protected area on the beach west of the Lagoon that is an overwintering spot for Snowy Plovers, often joined by Sanderlings and other shorebirds. The Bay can also have surprising birds: I've seen Brant in January, as well as Long-Tailed Ducks and Harlequin Ducks offshore.
One of the nice things about birding at Crissy Field is that surprising birds can show up any time during the day, although the best birds are usually found first thing in the morning. If it is not a foggy or rainy day, it's also a great place for bird photographers, since you can get fairly close to birds without disturbing them. Whenever you visit, you are likely to have a good birding experience.
Fast Facts
Location: San Francisco's northern waterfront near Old Mason Street, part of the Golden Gate National Recreation Area.
Hours/Fees: Open 24 hours, no fee.
Dogs: Dogs are allowed on much of the beach and pathways, but not in the fenced-off area of the lagoon.
Habitat: Urban park with a lagoon, adjacent to the bay.
Key Birds: 
Year-Round (birds that have been seen in every month): Canada Goose, Mallard, Surf Scoter, Pied-billed Grebe, Western Grebe, Brandt's Cormorant, Pelagic Cormorant, Double-crested Cormorant, Brown Pelican, Great Blue Heron, Great Egret, Black-crowned Night-Heron, Turkey Vulture, Red-tailed Hawk, Killdeer, Whimbrel, Marbled Godwit, Western Gull, California Gull, Rock Pigeon, Eurasian Collared-Dove, Mourning Dove, Anna's Hummingbird, Red-masked Parakeet, Black Phoebe, California Scub-Jay, American Crow, Common Raven, American Robin, European Starling, White-crowned Sparrow, Song Sparrow, California Towhee, Brewer's Blackbird, Brown-headed Cowbird, House Finch, Lesser Goldfinch, American Goldfinch and House Sparrow.
Summer (June – July, includes returning shorebirds and migrants, and spring lingering migrants): Red-Throated Loon, Common Loon, Red-Necked Grebe, Eared Grebe, American White Pelican, American Coot, Semi-Palmated Plover, Long-Billed Curlew, Least Sandpiper, Western Sandpiper, Short-Billed Dowitcher, Greater Yellowlegs, Willet, Pigeon Guillemot, Heerman's Gull, Ring-Billed Gull, Caspian Tern, Forster's Tern, Elegant Tern, Belted Kingfisher, Northern Rough-Winged Swallow, Tree Swallow, Violet-Green Swallow, Barn Swallow, Cliff Swallow, Chestnut-Backed Chickadee, and Hooded Oriole.
Winter (Dec – Feb): Green-Winged Teal, Ring-Necked Duck, Greater Scaup, Lesser Scaup, Bufflehead, Common Goldeneye, Hooded Merganser, Red-Breasted Merganser, Ruddy Duck, Red-Throated Loon, Pacific Loon, Common Loon, Horned Grebe, Eared Grebe, Red-Necked Grebe, Western Grebe, Clark's Grebe, Cooper's Hawk, Black-Necked Stilt, Black-Bellied Plover, Snowy Plover, Whimbrel, Long-Billed Curlew, Surfbird, Sanderling, Least Sandpiper, Wilson's Snipe, Western Sandpiper, Wandering Tattler, Greater Yellowlegs, Willet, Common Murre, Heerman's Gull, Herring Gull, Thayer's Gull, Glacous-Winged Gull, Forster's Tern, Belted Kingfisher, Northern Flicker, Say's Phoebe, Ruby-Crowned Kinglet, Western Bluebird, Hermit Thrush, Northern Mockingbird, Common Yellowthroat, Yellow-Rumped Warbler, Townsend's Warbler, Fox Sparrow, Golden-Crowned Sparrow, Western Meadowlark and Red-Winged Blackbird.
Spring Migration: American Avocet, Dunlin, Spotted Sandpiper, Allen's Hummingbird, Yellow Warbler, and Purple Finch.
Fall Migration: Heerman's Gull (post-breeding migrant), Elegant Tern (post-breeding migrant), Greater-White Fronted Goose, Cackling Goose, Ruddy Duck, Red-Breasted Merganser, Eared Grebe, Savannah Sparrow, Lincoln's Sparrow, and Western Meadowlark.
Ease of Access: Completely flat, with a wide paved path around the Lagoon. Parking at both ends. Click here for information on wheelchair accessibility.
Getting There: Turn into the parking lot on the north side of Old Mason street, accessed from the east from Marina Boulevard (go straight onto Old Mason Street instead of following Marina Boulevard when it curves left at Yacht Road). The parking lot has free, unlimited parking. If you are taking MUNI, take the 30 to Jefferson and Broderick, and walk (about a 7-8 minute walk). Google map link.
Nearby Services: Bathrooms on the east side of the lagoon.
Nearby cafes/restaurants: The Warming Hut, located west of the lagoon, sells sandwiches and snacks. The Beach Hut Cafe, on the east end, is closed for remodeling as of September 2016.
For more information: See the Golden Gate National Parks Conservancy web site at http://www.parksconservancy.org/visit/park-sites/crissy-field.html.
---
David Assmann is the former Deputy Director of the San Francisco Department of the Environment.  Since he retired, he has been able to devote more time to birding and photography.  He leads the Golden Gate Bird Alliance field trip at Fort Mason on the third Sunday of every month.