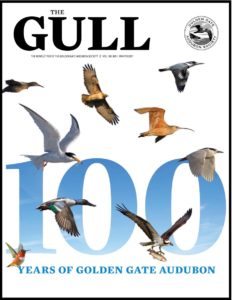 The new edition of The Gull newsletter for Winter 2017 is now available — a special 20-page issue celebrating the Centennial of our founding in 1917!
Read it for stories and images from 100 years of protecting Bay Area birds. Learn about our successful campaigns to prevent oil spills, create Audubon Canyon Ranch, and preserve Mono Lake, and meet past GGBA heroes such as Elsie Roemer, Paul Covel, and Junea Kelly.
Also get the scoop on our traveling Centennial museum exhibit, which will be on display at five public venues throughout 2017! We hope you'll celebrate this landmark year with us at the exhibit or at one of our other events throughout the year.
Of course this issue of The Gull also includes GGBA news updates and the calendar for our Speaker Series in January, February and March!
Click here to read it: TheGull_Winter2017.
P.S. If you're a GGBA member who gets the Gull online by email but would like a print copy of this special edition, contact our office at ggas@goldengatebirdalliance.org. We'll be happy to mail you one.