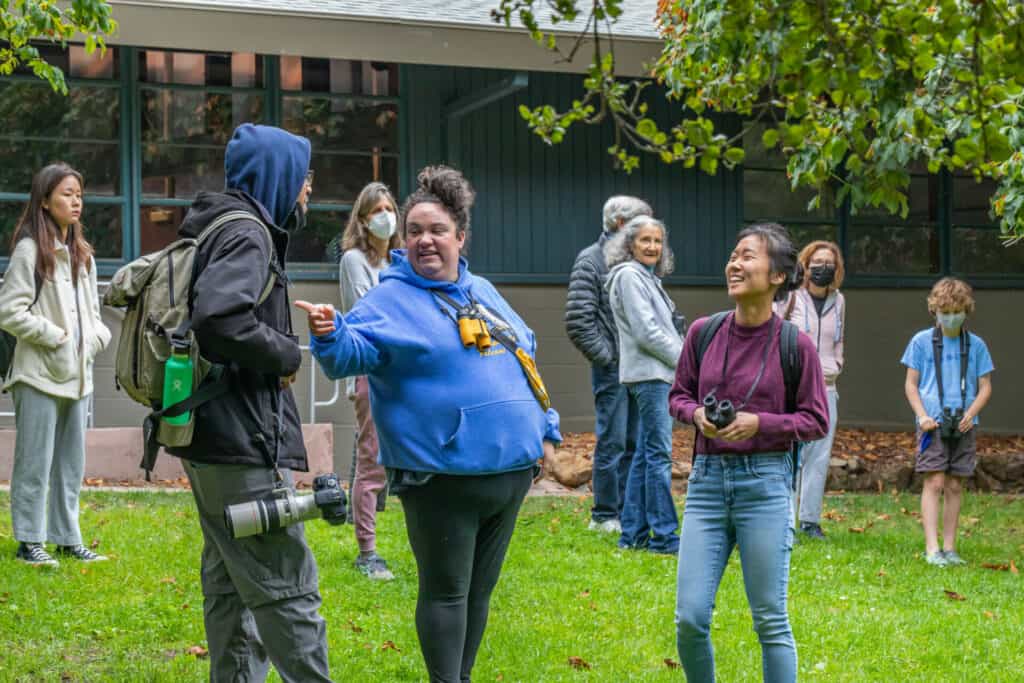 Welcome to Golden Gate Bird Alliance! 
After months of deliberation and outreach, our new name was ratified by members on August 17 during an Annual Member Meeting at the David Brower Center in Berkeley.
Throughout our process to find a new name, we were reminded over and over again from our members and the community-at-large that we don't do this conservation work alone. Rather, we do this work to protect birds and their habitat together. This is what it means to be an alliance.
Golden Gate Bird Alliance embodies our legacy, mission, and values.
— Golden Gate provides continuity with the past and honors our chapter's geographic region and ecology. The strait connecting San Francisco Bay with the Pacific Ocean reminds us that our work at a local level has impacts far beyond our own backyard.
— Bird explicitly conveys our mission. For those unfamiliar with our work, know that we work to protect birds and their habitats.
— Alliance implies collaboration by a broad community of people working together on behalf of birds and wildlife. Not only are we a part of a larger network of bird conservation organizations across the country, we also work alongside other environmental organizations, partner with local chapters, and depend on our own membership to grow and diversify to successfully achieve our mission.
---
How did we choose our new name?
1. A New Name Committee was formed. The committee was comprised of 3 Golden Gate Bird Alliance staff (Clayton Anderson, Ryan Nakano, and Whitney Grover), 2 Board Members (Eric Schroeder and Tara McIntire), and 7 members solicited from the Golden Gate Bird Alliance new name emails sent out in March and April 2023. The committee represented a range of ages, racial and ethnic identities, and familiarity levels with the organization.
The committee met weekly from May 24, 2023 – July 26, 2023. Transparency was an important part of our process, you can read the committee's full meeting minutes here. Our goal was to hear from the wide range of perspectives and voices across our region and beyond.
2. The committee built a framework for new names. Here is the framework.
3. Focus Group Feedback. With the assistance of a professional focus group moderator who offered her services pro bono, the New Name Committee created a list of questions to solicit feedback from 3 small focus groups. We enlisted the help of a community member outside the staff, board, or New Name Committee to recruit focus group members. Each group represented a community core to Golden Gate Bird Alliance's mission and vision: conservation scientists, the environmental justice community, and birders. The focus groups met at the end of June and you can read the summaries of the conversations here.
4. Community Survey. On July 7 a survey was sent to all constituents in our database with a valid email address, about 16,000 people. We received approximately 1,600 responses. Some of the key takeaways from the survey responses:
75% of you said it was at least somewhat important for our name to align with other chapters.
80% of you said it was important for our name to include the word "bird."
"Birds Connect" was not favored, with almost 50% of you disliking it and only 30% liking or loving.
From all respondents, your favorite words among those tested were Community, Friends, and Alliance (in order of preference). Respondents under 40 ranked the top three choices a bit differently: Community, Alliance, and Collective (in order).
5. Testing a list of names. Based on what we heard from the focus groups, community survey, applying our framework, as well as our own personal experience, each committee member proposed 3 names for serious consideration. With some overlapping favorites, this resulted in a list of 29 names. We created a rubric based on the framework and each committee member scored the 29 names. The rubric scoring was not the sole selection criteria, but rather one more consideration weighed with the other components of this process.
6. Narrowing the list. In our final meeting the committee members were asked to propose and defend one name, considering the feedback from all parts of our process. This resulted in 7 names for final consideration. Each committee member then listed their #1, #2, and #3 choice and based on this ranking process, 2 names emerged as most favorable to the committee. The top 2 names and the arguments in favor of each were presented to the Board of Directors.
7. Vote by the Board of Directors. On August 1, the Golden Gate Bird Alliance Board of Directors convened to consider the recommendation of the committee. After discussion, the Board voted unanimously to approve the top choice of the committee.
---
How this journey began
July 2020: National Audubon began exploring the history of John James Audubon. This initial exploration was rooted in a movement to make Audubon an antiracist organization.
September 2022: Golden Gate Bird Alliance's Board of Directors began discussing the name change issue, what it would mean for the organization and how decision making should proceed. At that time, the board decided to wait for National Audubon's announcement in the new year.
March 2023: Golden Gate Bird Alliance published a blog article, further detailing the history of John James Audubon.
March 13, 2023: Golden Gate Bird Alliance sent an initial survey to our members asking their opinion on the Name Change issue. 63% of respondents were in favor of the name change. More about the survey and its results can be found here.
March 16, 2023: National Audubon announced it would not be changing its name.
March 28, 2023: the Golden Gate Bird Alliance Board of Directors voted unanimously (with one member absent) to remove "Audubon" from our organization's name and begin selecting a new name.
April 20, 2023: Golden Gate Bird Alliance members vote 65% in favor of the name change.
---
Working together: Other chapters dropping the name
October 2022: Nature Forward (formerly Audubon Naturalist Society) announced their name change
December 2022: Madison Audubon's Board of Directors voted to remove "Audubon" from their name
February 2023: Chicago Audubon committed to changing their name
February 2023: Portland Audubon committed to dropping "Audubon" from their name
March 2023: Birds Connect Seattle (formerly Seattle Audubon) announced their name
March 2023: New York City Audubon's Board of Directors voted to drop the "Audubon" name
March 2023: DC Audubon Society publicly announced they will drop the "Audubon" name
---
Articles/Resources
https://www.audubon.org/news/the-myth-john-james-audubon
https://www.audubon.org/magazine/fall-2020/revealing-past-create-future
https://seattleaudubon.org/2023/03/28/a-new-name-for-an-inclusive-future/