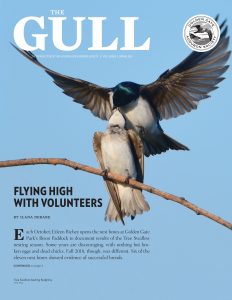 The new edition of The Gull newsletter for Spring 2019 is now available online.
Read about the contributions of GGBA volunteers and everything they do for Bay Area birds.
Also read about the Lesser Goldfinch, community science through SFBayOspreys.org, and everyone who is going above and beyond by fundraising and leading trips for Birdathon 2019.
Of course this issue of The Gull also includes upcoming GGBA events  and our Speaker Series in April, May and June.
Click here to read it: TheGull_Spring19.
P.S. If you're a GGBA member who receives the printed edition of The Gull by mail but would like to switch to online delivery by email, contact our office at ggas@goldengatebirdalliance.org. It saves postage and paper, plus you'll get your copy earlier than by post.