Behind the scenes at IBR – a Birdathon highlight
By Beth Moseley
The dictionary defines "behind the scenes" as:
1: working or happening privately without being known or seen by the public
As in:
Experience the amazing behind-the-scenes operations of International Bird Rescue (IBR).
Get a behind-the-scenes tour of IBR's specialized facilities and meet experts in water bird care.
Enjoy great birding at a behind-the-scenes surprise destination.
Golden Gate Bird Alliance's 2017 Birdathon will include a Behind the Scenes at International Bird Rescue Birdathon trip on Saturday, April 29. I had the good fortune to take part in this trip last year and highly recommend it.
International Bird Rescue is the world's leading rehabilitator of wild aquatic birds – cleaning, healing, and returning oiled or injured birds to the wild for over 45 years. The amount of work that goes into running IBR is extraordinary. IBR Executive Director JD Bergeron personally led us on a tour of their Fairfield facility, highlighting the work done by staff, veterinary students, and volunteers, and of course showcasing the rescued birds themselves.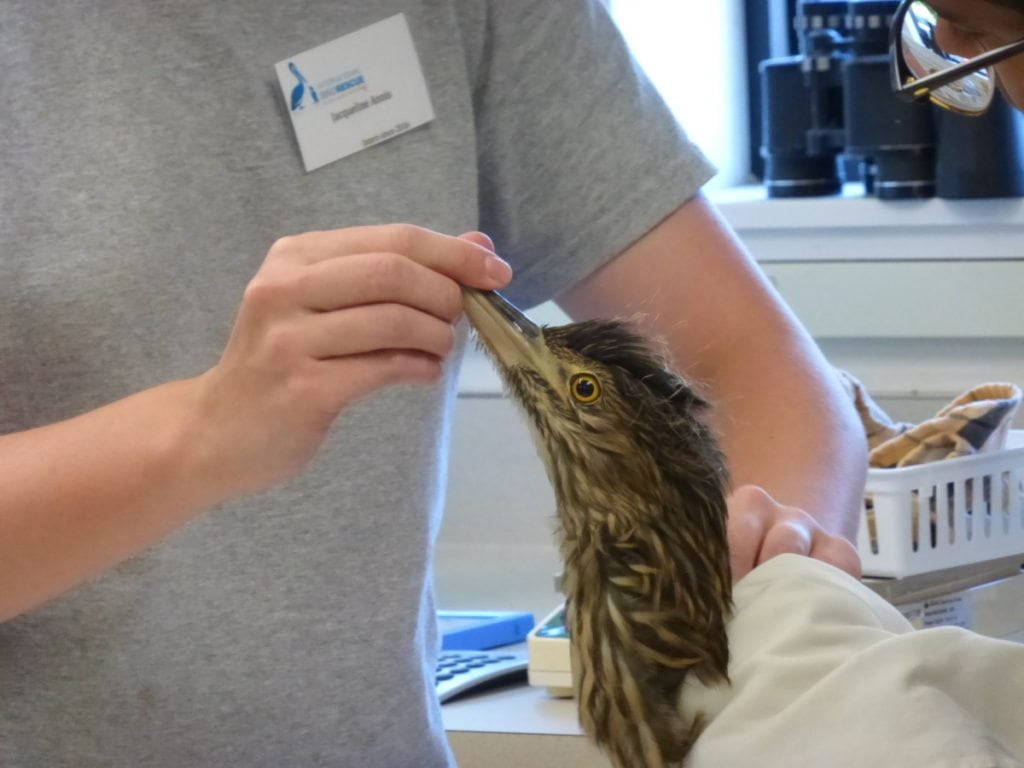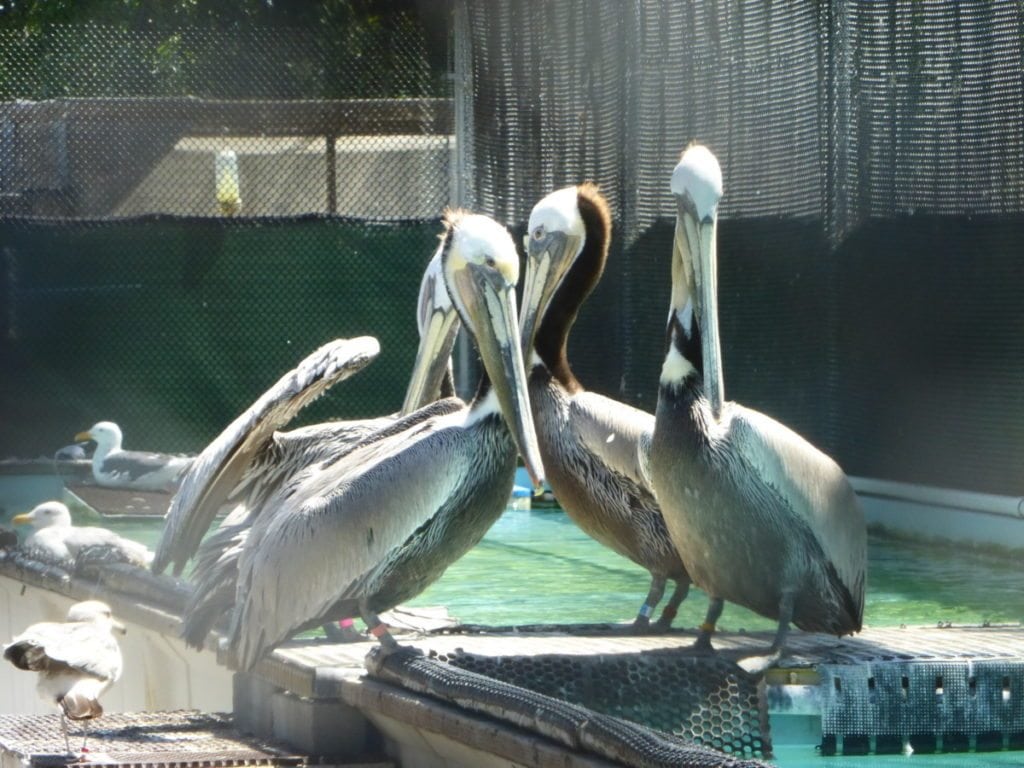 We learned about IBR's history – its founding in 1971 as a response to oil spills on San Francisco Bay, and its role rescuing birds around the world after oil spills including Exxon Valdez in Alaska, the Treasure oil spill in South Africa, and the BP Deepwater Horizon in the Gulf Coast.
We also had a chance to view rescued birds in the center's indoor and outdoor facilities. We saw a veterinary student do a physical exam on one of the rescued juvenile Black-crowned Night-Herons from Oakland. We visited Brown Pelicans in the outdoor pools and pens as they rehabilitated.
The highlight, for me, of the 2016 Behind-the-Scenes at IBR trip was participating in the release of several rehabilitated birds back into the wild at Fort Baker in the Golden Gate National Recreation Area.
I personally got to release a male Surf Scoter that day. What struck me was how light the box felt with the bird in it. I stood on the shore and watched the Surf Scoter take a few initial steps out of its box, then run wildly into the water. I felt so good knowing that I helped to return this bird to where it really wanted to be.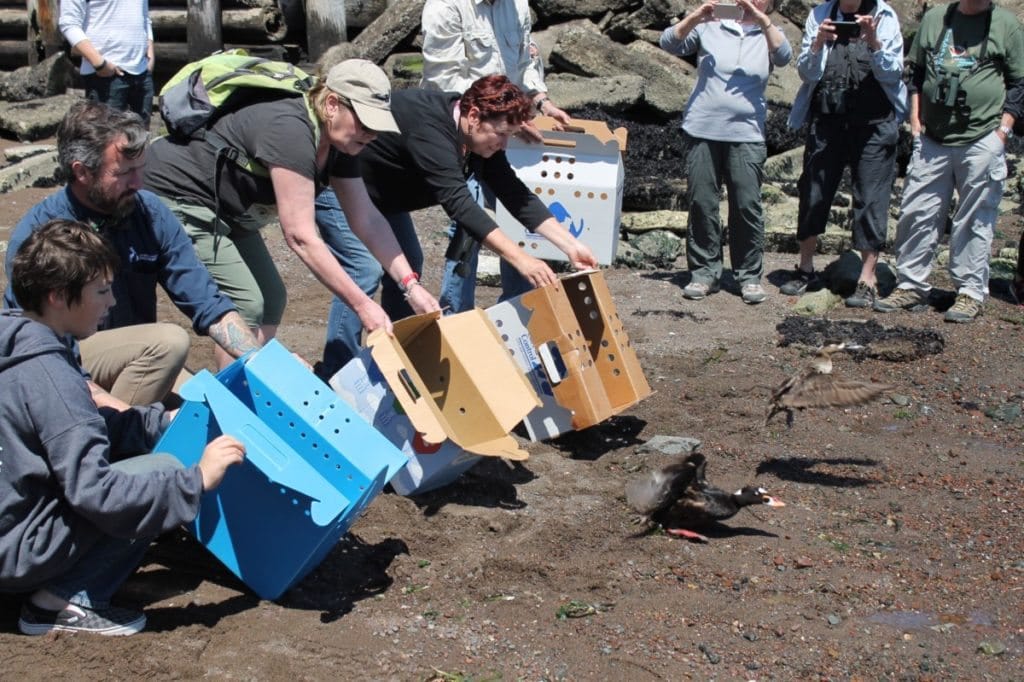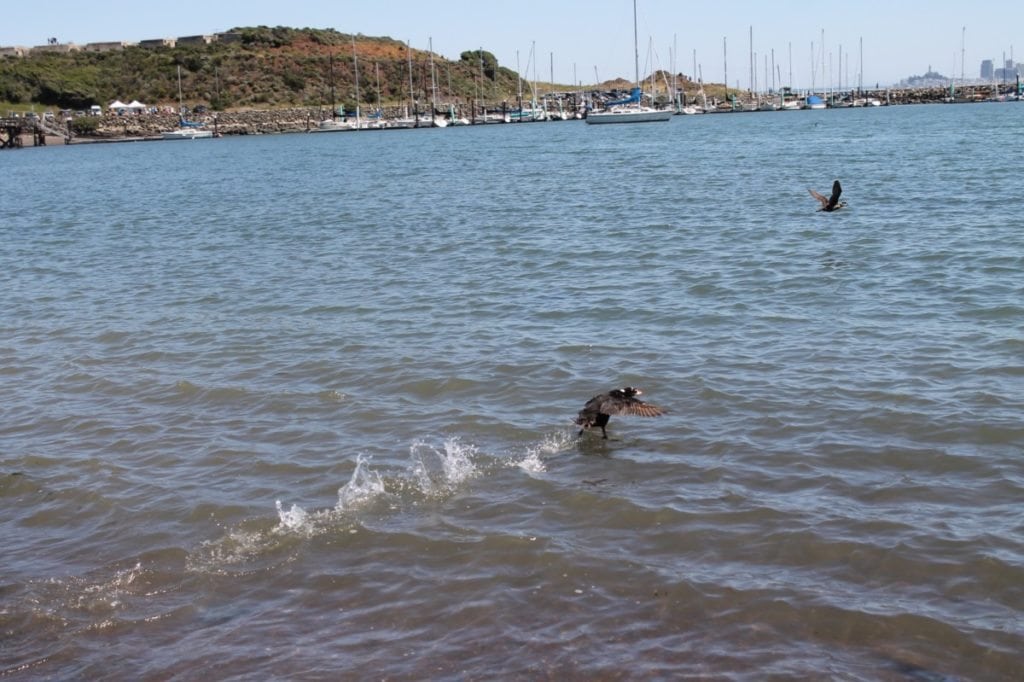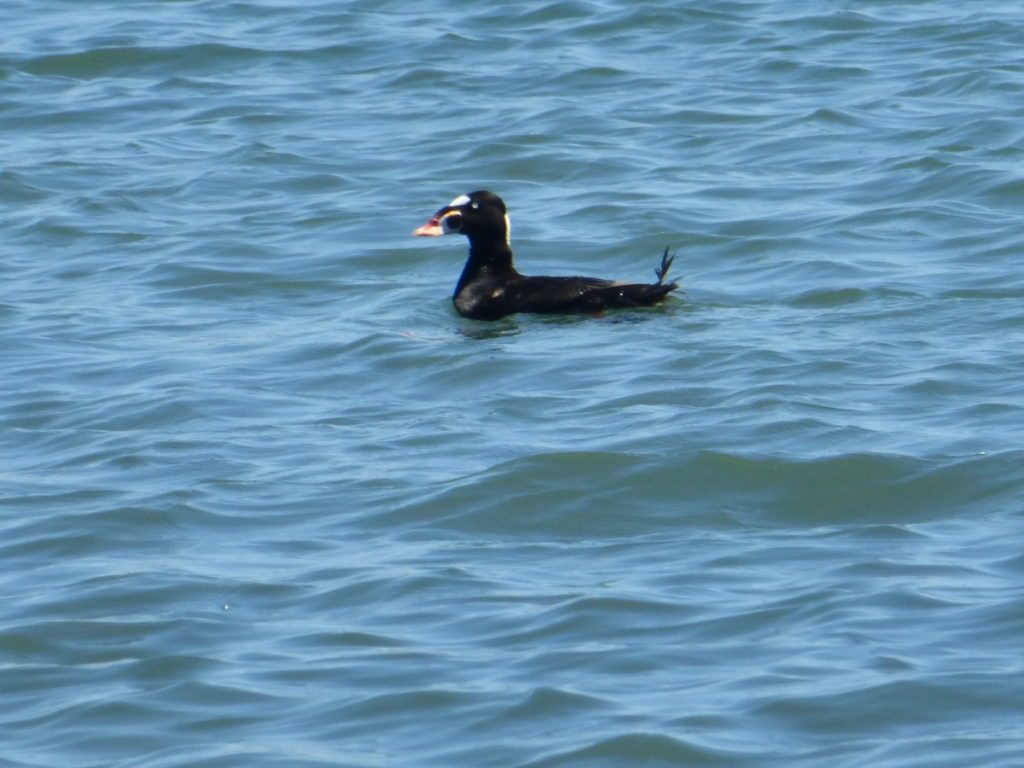 Of course this year's Birdathon trip to IBR won't be exactly the same – different birds, different rehabilitation challenges, and a different "secret birding site" after the tour of the facility. But let's return to the dictionary for a moment:
Amazing:
Causing great surprise or wonder
Startlingly impressive
If this year's Behind-the-Scenes at IBR trip is anything like my 2016 experience, it will be one of your most amazing birding days ever!
---
Funds raised by the IBR behind-the-scenes trip will benefit BOTH Golden Gate Bird Alliance and International Bird Rescue. Birdathon 2017, the biggest fundraiser of the year for Golden Gate Bird Alliance, will take place throughout the month of April. Choose from 23 different one-of-a-kind trips and behind-the-scene tours! See our Birdathon Trips page to sign up for a trip; then create a fundraising web page to raise money from friends, or make a tax-deductible donation yourself. 
Are you new to Birdathon or nervous about fundraising? We're offering a special fundraising training session on Sunday morning, March 12 — and, as a token of our appreciation, combining it with a Bob Lewis bird walk at Coyote Hills! Details and sign-up on the Birdathon Trips page, or email Ilana for more information at idebare@goldengatebirdalliance.org. 
---
Beth Moseley is the assistant to the Director of Research Development at UCSF at Mission Bay. When not yelling at her cat, she devotes volunteer time to habitat restoration projects with Golden Gate Bird Alliance and the San Francisco Recreation and Park Department Natural Resources Program as well as special event coordination for several non-profit organizations in the Bay Area. She has a photo of the released Surf Scoter on her desk.