From new birder to Birdathon maven
By Ilana DeBare
Caitlyn Schuchhardt had dropped out of grad school in English Literature and was looking for community when, in 2019, she discovered the Feminist Bird Club in Madison, Wisconsin. 
Birding brought wonder and joy into her life, and she loved the people she met through it. Schuchhardt started volunteering with Madison Audubon's nest watch program, got a part-time job on the chapter's staff, and then found full-time work coordinating the annual Great Wisconsin Birdathon. 
She became a Birdathon maven. (Or should we say raven?)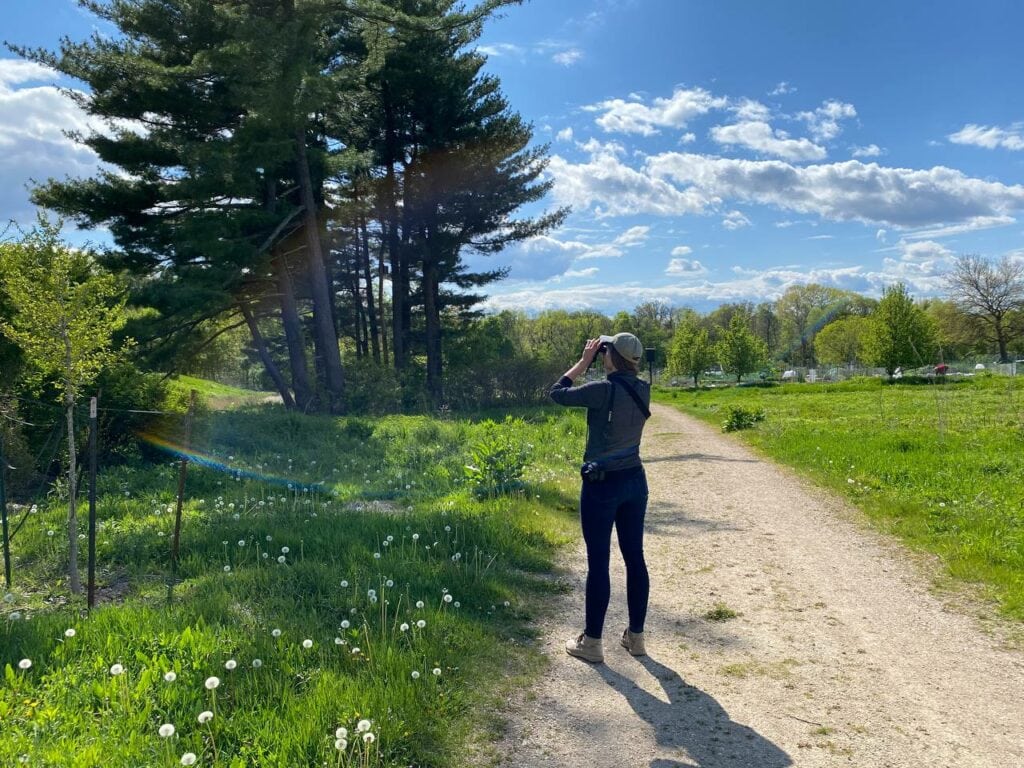 Like Golden Gate Bird Alliance's Birdathon, which starts this month, the Great Wisconsin Birdathon is the main fundraiser for a local conservation group—in their case, the Natural Resources Foundation. Also like our Birdathon, the Wisconsin one encourages people to raise money from friends and family.  
But the Wisconsin Birdathon was ahead of GGBA in one key way—under Schuchhardt's leadership, they started using new software that allowed donors to make per-species pledges. The total raised by the Wisconsin Birdathon rose from about $90,000 in 2020 to $117,000 in 2022.
Schuchhardt credits a lot of that increase to the Pledge It software they purchased, which Golden Gate Bird Alliance is using for the first time this year.
The software allows you to choose a birding goal—say 30 species on a particular outing, or 100 species over a period of time—and have friends pledge a certain amount like 50 cents or $1 for each species found. At the end of Birdathon, the software automatically bills each donor's credit card based on the number of species you found.
"Our old fundraising platform was a nightmare," Schuchhardt said. "Registering was hard, donating was hard, and collecting pledges was almost impossible. Pledge It makes the pledging process an absolute breeze, a smooth experience from start to finish."
Schuchhardt herself experienced a learning curve with fundraising. Like many people, she started out feeling shy and awkward about asking friends for money. In 2020, the first year that she took part in a Birdathon, she approached only her immediate family and raised about $150.
But she had an "a-ha!" moment when a non-birder friend heard about her Birdathon participation after the fact and said, "Why didn't you share that with me? I would have donated!"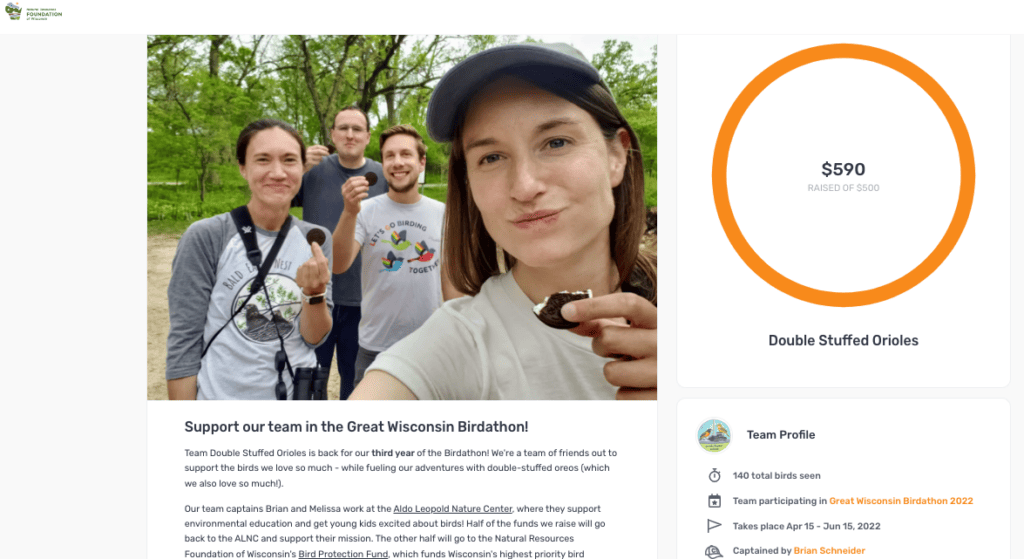 Schuchhardt realized that "everyone has been touched by birds in some way."
"They remember their awe when they saw their first Bald Eagle or found a nest in their backyard, so when you reach out they're likely to give," she said. "Deep down they know birds matter… If you make your passion clear, they'll get joy out of contributing to your joy."
The next year, Schuchhardt broadened her fundraising to include dozens of friends and family members. Her fundraising total rose into the hundreds of dollars. 
Wisconsin's Birdathon is slightly different from GGBA's, in that its focus is on participants creating their own teams and birding itineraries, rather than signing up for field trips organized by GGBA.
Last year, Schuchhardt joined three Birdathon teams, which were punningly called the Millennial Falcons, the Double-stuffed Orioles, and the Yes We Peli-Cans. She personally raised over $700, even though most of her time was spent helping other participants raise money.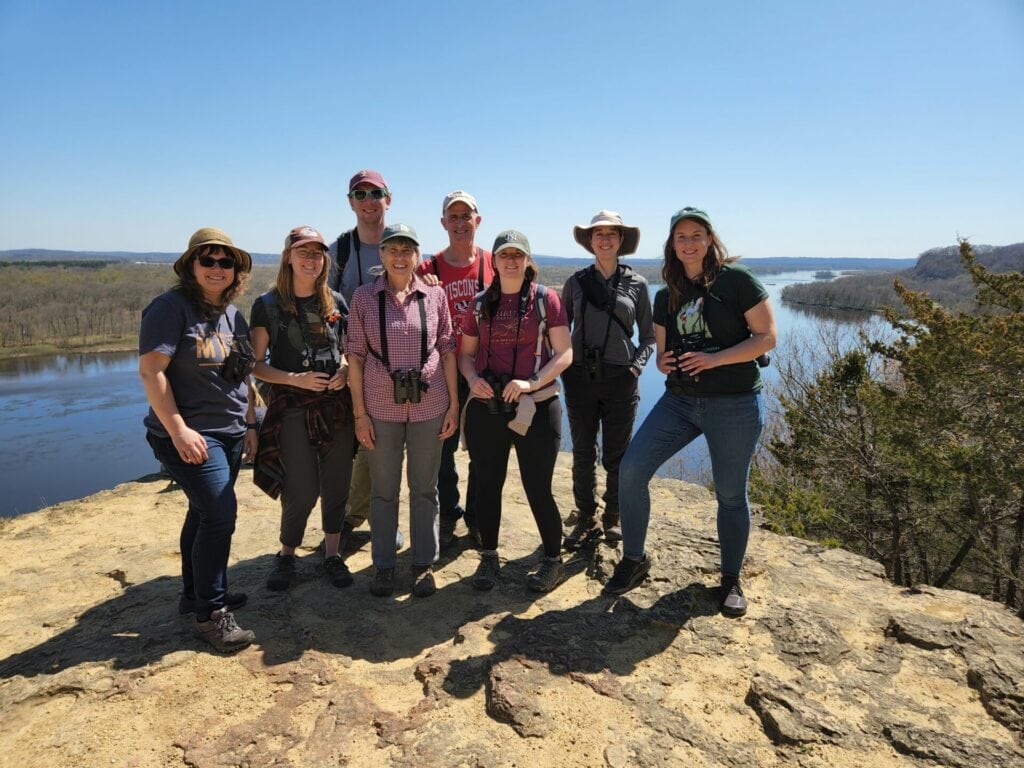 More recently, her experience as an organizer of Wisconsin's Birdathon led her in an unexpected career direction—a job with Pledge It's customer support, where she's helping other non-profits like GGBA, Seattle Audubon, and Columbus Audubon expand their fundraising ability.
Of course Schuchhardt is still birding. She is now one of the organizers of the Feminist Bird Club in Madison. And she's continuing to take part in the Great Wisconsin Birdathon as a rank-and-file fundraiser. 
This year, one of her teams aims to spot 130 species. Another hopes to match its 2022 total of 154. And for each of those species, Schuchhardt will have dozens of friends making donations, cheering her on, and helping support protection of Wisconsin's bird life.
---
Caitlyn Schuchhardt's Fundraising Tips
Give Birdathon fundraising a try this year! Our new software makes it easier and even fun. Here are some tips from Caitlyn Schuchhardt about per-species fundraising.
Don't overthink it or get intimidated by numbers. Set a modest goal for the number of species you hope to see, and then go out and have fun.

Customize your fundraising page with a photo of yourself. Add your own statement about why birds matter to you. "The more people see your passion, the higher your chance of success," she said.

Don't be afraid to ask anyone and everyone. "They may not give if times are tough, but I've never had anyone get mad that I asked," she said. "First-time fundraisers are often surprised by how easy it is. But you have to ask."

Use the fundraising page's "donor invitation" feature to solicit your friends. Input your personal message and friends' email addresses, and the software will send the request. If they don't pledge right away, it will send them a reminder in a few days. This kind of follow-up makes a huge difference: Wisconsin Birdathon found that people who used the donor invitation feature raised

five times

as much as those who didn't. "The first time, people will see your email and say, 'I'll do that later,' but later never comes," Schuchhardt said. "It's the second ask that gets the donation. People are busy, so you have to ask more than once."

Update your donors via the fundraising page. You can post about what you've seen on your Birdathon outing(s), so they feel included in your birding adventures.

There's a button you can select to send automatic thank-you messages to all your donors. (But a personal thank you note or email at the end of Birdathon is also a really nice gesture!)

Check out the "community" tab on your fundraising page. This is a place where you can share photos, sightings, or stories from the field with other Birdathon fundraisers. "This can help people feel like we're all in this together," she said.
---
You can do Birdathon fundraising whether or not you've signed up for one of our Birdathon Field Trips! See charity.pledgeit.org/Birdathon2023 to set up your own fundraising page.
If you're signed up for a GGBA Birdathon Field Trip: Ask your trip leader how many species they're aiming to see. You can use that to estimate a species goal on your fundraising page. (You can also set a dollar goal for how much money you hope to raise.)
If you're not signed up for a Birdathon Trip: Create your own birding outing, either solo or with friends. You can focus on a single outing ("I hope to see 20 species on Saturday at MLK Shoreline") or do your birding over a period of time ("I hope to see 100 species during the month of April"). You can even create a team with friends and raise money together.
Questions about how to set up your fundraising page? Contact GGBA Communications Manager Ryan Nakano at rnakano@goldengatebirdalliance.org. 
The Birdathon fundraising competition ends on May 15. We'll have prizes for the top fundraisers… but the biggest prize is knowing you've contributed to protecting Bay Area birds and their habitat. 
---
Ilana DeBare is on the board of Golden Gate Bird Alliance and co-chair of its 2023 Birdathon Committee. Her novel Shaken Loose will be published in July by Hypatia Press: see ilanadebare.com