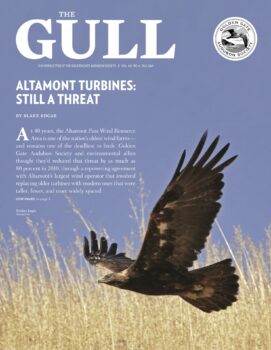 The Fall 2021 issue of our quarterly Gull newsletter is now available online, with stories on bird mortality at the Altamont Pass Wind Resource Area, our new Richmond Christmas Bird Count, and reintroducing native oysters at Pier 94. Plus our upcoming guest speakers and a feature on California Towhees!
To download and read this new issue of The Gull, click here.
P.S. If you're a GGBA member who receives the printed edition of The Gull by mail but would like to switch to online delivery by email, contact our office at ggas@goldengatebirdalliance.org. This saves postage and paper.
.
.