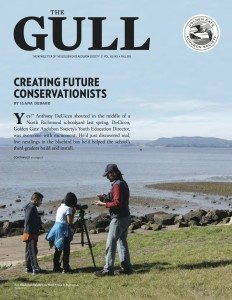 The new edition of The Gull newsletter for Fall 2015  is now available online. Read it to learn about how Golden Gate Bird Alliance  is fostering the next generation of conservationists through our Eco-Education program.
Also get the scoop on birding at Coyote Hills; the annual fly-in of Vaux's Swifts at McNear Brickyard in San Rafael; and our work on bird-safe buildings and wildlife protection in the Golden Gate National Recreation Area.
And of course it includes the calendar for our Speaker Series in October and November, as well as info on our 2015 Christmas Bird Count.
Click here to read it:  Gull_Fall15
Note: Because this is a large file, it may take a minute or two to download. Be patient.   🙂