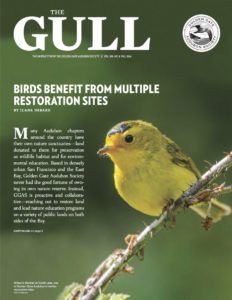 The new edition of The Gull newsletter for Fall 2016 is now available online. Read it to learn to learn about Golden Gate Bird Alliance's habitat restoration work at seven public sites on both sides of the Bay.
Also get the scoop on raptors in autumn; birding at Crissy Lagoon; protecting harbor seals in Alameda; the dynamic volunteers behind our Travel with GGBA program, and the upcoming 2016 Christmas Bird Count.
And of course it includes the calendar for our Speaker Series in October and November too!
Click here to read it: TheGull_Fall2016