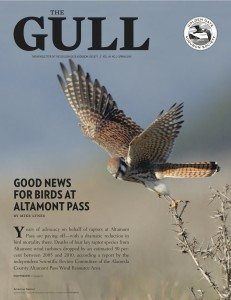 The new edition of The Gull newsletter for Spring  2013 is now available online, with a report on progress in protecting birds at the Altamont wind farm, profiles of Birdathon trip leaders, plus features on the Western Scrub Jay and the U.C. Botanical Garden as a birding site.
This is the first issue of our redesigned Gull — full color, more photos, quarterly, with more information than ever on Bay Area birds and birding.
Click here to read it:  Gull – Spring 2013
And let us know what you think! Please send your comments and suggestions to Communications Director Ilana DeBare and Gull Editor Judith Dunham at idebare@goldengatebirdalliance.org .